Sinquefield Cup 2022 R5: Hans Niemann tells his story
All four games of the fifth round ended in draws at Sinquefield Cup 2022. Then Hans Niemann told his entire story in a post-match interview of various rumored allegations, Carlsen's withdrawal tweet which had insinuations, what Nakamura said on his stream, chess.com rescinding their invitation to the Global Championship, why his accent changes during interviews, how he only adapted unfair means as a 12-year-old and afterwards never cheated in any online game. He also mentioned that he never cheated in any over-the-board games in his career, being ready to play the rest of the tournament in any condition he is required to ensure zero electronic transmission to him. Today is a rest day. Round 6 starts tomorrow Thursday 8th September at 1 p.m. local time, 11:30 p.m. IST. Photo: Lennart Ootes/Grand Chess Tour
"One day I am going to play him for free"
"...I have a lot of things to say. I have thought a lot about what I want to say and how I am going to say it. May be I will forget something. Let's just discuss a few things. First of all my accent - I am sorry this is just a funny thing... For the last two years I have lived in a suitcase travelling around Europe playing chess non-stop. I spend so much time working on chess that I simply don't go outside, socialize with people who speak fluent English." He also talked about 19.Qg3 against Firouzja in Round 4. "I did not elaborate this during the game. This is a purely psychological move. If clearly people don't know anything about Firouzja, his style, how to beat him, the way to beat him is to attack him. He really really hates being attacked. In the main ways he loses is being attacked." Intuitive players certainly likes to play like this, tapping on the psychological aspect of the sport.
Leinier - Niemann: 0.5-0.5
Leinier Dominguez got a significant advantage against Hans Niemann in a double rook and knight endgame.
According to the computer, White has a decisive advantage. 37.Ne6+ Kf6 38.Rf3+ Ke7 39.Rc4 Rxf3 40.gxf3 Na7 is how Black prevents the rook gaining an entry via the c8-square. However, Black's position is in shambles and it would not have been easy to hold on for long. The game continued 37.Nxb5 axb5 38.Rf3 Rfe7 39.Kf2 and it meandered into a draw.
"After the game, first of all you are extremely tired. It's extremely difficult sometimes to recollect. The things that you are talking about, the moves, variations, it's not like I am coming in here full of energy... The notion that I simply cannot speak chess in a high level is completely ridiculous. I am a very intuitive player. I made a gut call to play Qg3 and it paid off. Even if you look at the pattern of my games, I am clearly missing many many chances. It's extremely human chess." - Hans Niemann. He also admitted to adapting unfair means when he was 12-year-old during a Titled Tuesday event in chess.com and 16-year-old in unrated games on the same platform. He said, "After that I have never ever cheated in any over-the-board or online games. I am admitting this and I am saying my truth because I do not want any misrepresentation. I am proud of myself that I learned from that mistake. Now I have given everything to chess." Check out the entire interview where Hans Niemann tells his side of the entire story.
Hans Niemann also tweeted after his interview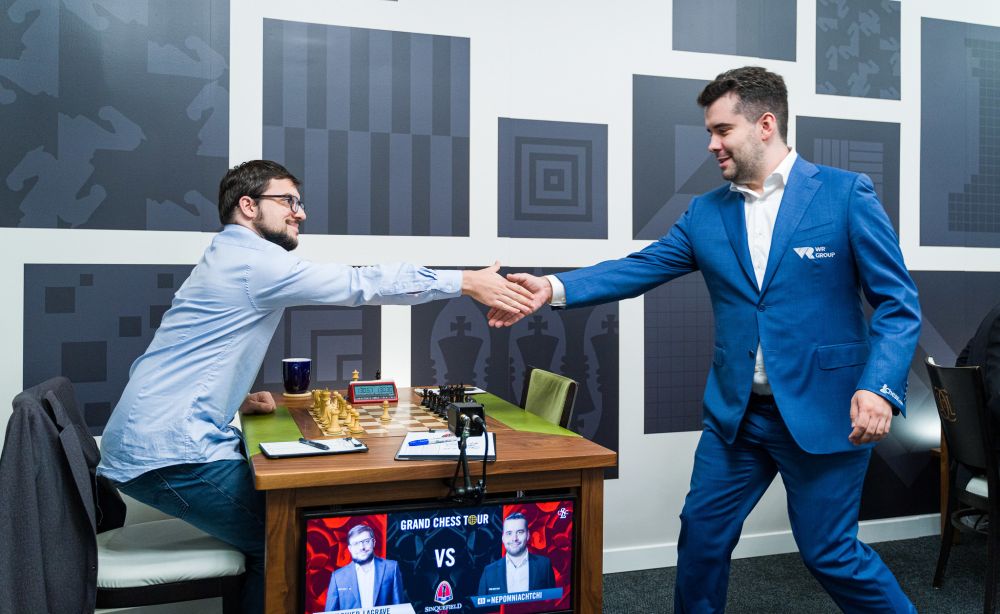 Replay the live stream
Prize
The total prize fund is US$ 350000 with the first prize being US$ 100000.
Replay Round 5 games
Round 5 results
Standings after Round 5
Links
---