Vishy Anand makes a fabulous comeback at Croatia Rapid and Blitz GCT
Vishy Anand has once again proved his detractors wrong as he scored 21.0/36, secured clear second position at Croatia Rapid and Blitz Grand Chess Tour. Until this event, the legend had not played any over-the-board chess tournament for almost one and a half years. On the final day, he scored an unbeaten 6.5/9, same as the winner of the tournament, Vachier-Lagrave. Anand had also beaten Kasparov twice on consecutive days, the last time Anand won against Kasparov in a tournament was 1998. That's not all, Anand performed at 2871, gained a massive 40 rating points, taking his live rating to 2825 and climbing to World no.5 in the Blitz ranking in the live ratings list. Perhaps a World Blitz title is on the horizon for Anand. Photo: Lennart Ootes/Grand Chess Tour
Vachier-Lagrave wins Croatia Rapid and Blitz GCT
Both Vachier-Lagrave and Anand remained unbeaten on the final day of the blitz to score an identical 6.5/9. However, the Frenchman won the tournament with a round to spare and he did not slow down in the final round. He played till the end and beat Korobov, when he could have taken just a draw like any other chess player at his situation generally would have preferred to do. One thing is sure, Vachier-Lagrave is back in business as he is now World no.4 in the Blitz rankings with a performance of 2911 and live rating of 2850.
"It just happened. I felt I was playing well in the rapid, against Anish I came close to saving it. Then there is the other loss but in the blitz I was apprehensive because when you have been away for a long time, you don't know how you will play but it went fabulously. Yesterday I was already pleased with a +2. Today I started off brilliantly. I should have beaten both Anish and Duda, completely winning positions and I drew both. They say, if you don't score, someone or your opponent will. So I was kind of nervous but this four wins in-a-row. Look I am happier than anyone else, I can tell you." - Vishy Anand on his stellar performance at the tournament.
"I think it's easy to explain. It's not just me being rusty, these guys are professionals. I am an amateur. I spent a little bit of time with Peter Svidler, just few days before the tournament. I was going through the opening theory. In chess960, I am far more comfortable because I don't have to overload my brains with all these opening theories. I have to say that, in last few days I was shocked because we looked at some of the positions that I analyzed before some of the participants in this tournament was born and then in one minute, the engine tells you that everything I did preparing for Nigel in 1993 is a crap." - Kasparov, the legend on his tournament and the man whose brainchild is this Grand Chess Tour event.
Round 9: Kasparov - Jorden: 1-0
Kasparov started the final day with a victory over Jorden van Foreest.
Black went wrong early in the middlegame. 14...Nxe5 runs into 15.Bd2 Qb6 16.Ba5 Qa6 17.Bc3 and now Black cannot avoid losing material. Kasparov not being in his best shape, was unable to spot it and played 15.a3 instead. Eventually he got a decisive advantage in a major piece ending, which he won, scoring his first win of the event.
Anand - Giri: 0.5-0.5
Anand almost avenged his first two losses against Giri in this event.
29...Ra2 allowed White to gain the upper hand, 30.Nf5 Qe5 31.Qc3 Qxc3 32.Rxc3 Nf4 33.Rxc7 Rxg2+ 34.Kf1 Rb2 35.Rxb7 Nxh3 36.Nxd6 Ng5 and Black is completely but Giri somehow managed to escape with a draw by forcing an almost perpetual check.
Round 11: Grischuk - Kasparov: 1-0
Kasparov's ambitious approach did not work against Grischuk.
17...Bxh3 does not work because White has 18.Bxd4 Bxd4 19.Rxe4 and now both d4 and h3-bishop are hanging. 19...e5 20.gxh3 Rf8 21.Rxd4 and it's all over for Black. Grischuk was the only player who was left to beat Kasparov in this event, he managed to accomplish that.
Vachier-Lagrave - Giri: 1-0
Vachier-Lagrave scored a fine technical victory over Giri.
If you know which pawn to save here, you can win this comfortably. Of course, Vachier-Lagrave made the right decision and went on to win the game.
Duda - Anand: 0.5-0.5
Anand was completely winning against Duda but time scramble in the end cost him a half point.
Black is completely winning in multiple ways. 33...Kh6 and Ng6 are two of the options, but the game continued 33...Ng4 34.Rg2 and Black got another opportunity later.
One of the best and final chance in the game for Black was in the above diagram. Try to find out the winning combination for Black here. The text 44...Rd4 allowed White to escape with a perpetual check 44.Qe8+ Kg7 45.Qe7+ and draw was forced.
Round 12: Kasparov - Duda: 0-1
Kasparov got a fantastic position against Duda.
26.Qb3 and White is in driver's seat. White's advantage dwindled after 26.Bc4 allowed Black to get rid of the bad knight 26...Nb2 27.Rc1 Nxc4 28.Rxc4 and now Black launched a counter-attack of his own.
Giri - Nepomniachtchi: 1-0
Nepomniachtchi was not having his best day as he suffered his second consecutive defeat of the day.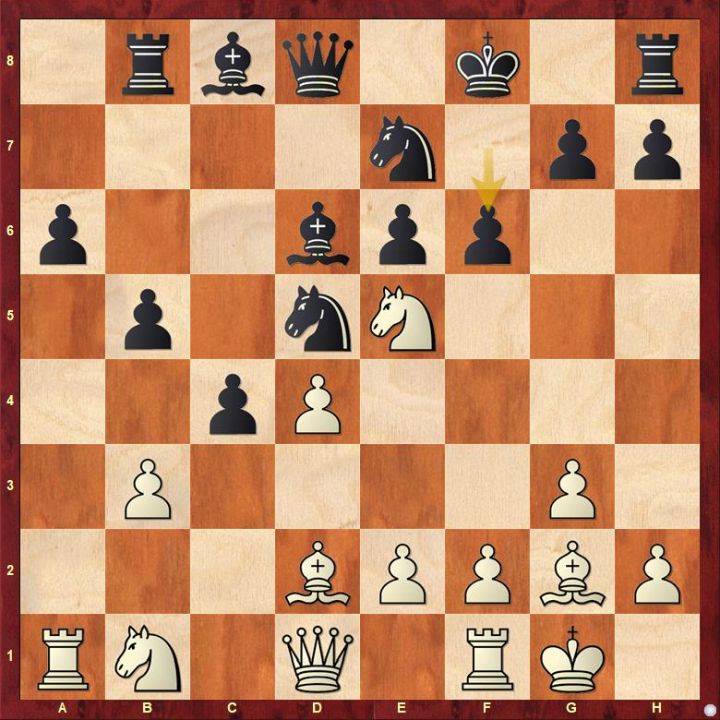 Black should have taken on b3 and everything would have been fine. However, 15...f6 weakens Black's king and allows White's onslaught.
White allowed Black to get back in the game with 36.Kf2. Instead 36.e4 leads to a comfortable win for as Black cannot take the e4-pawn as it is tactically defended.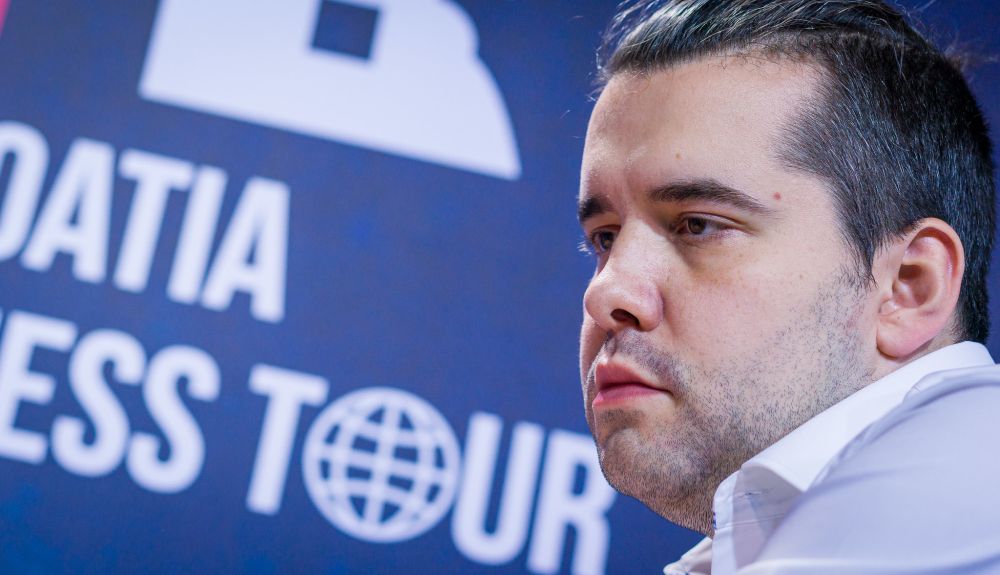 Anand - Vachier-Lagrave: 0.5-0.5
Anand made a brilliant save in a completely lost position in the endgame against Vachier-Lagrave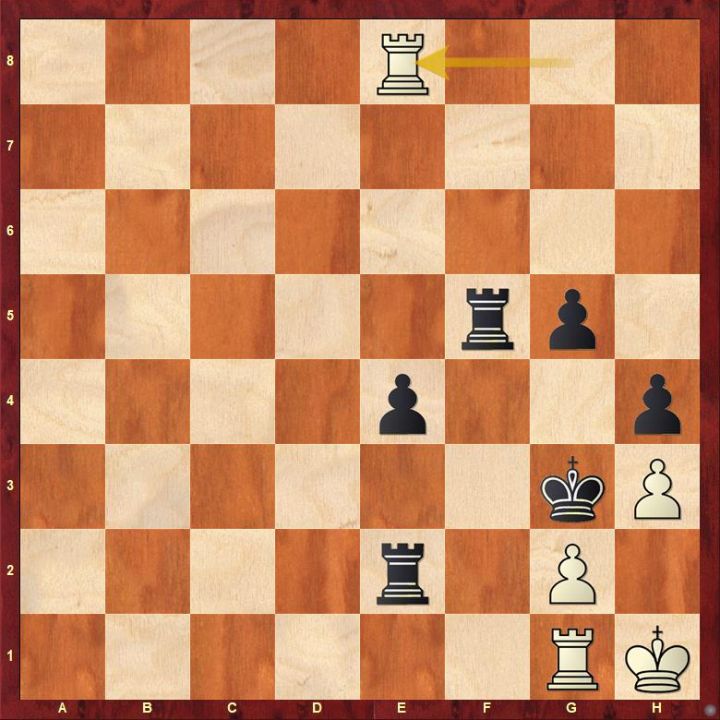 Black made the mistake of playing 71...g4. After 72.hxg4 White is back in the game and eventually salvaged a draw.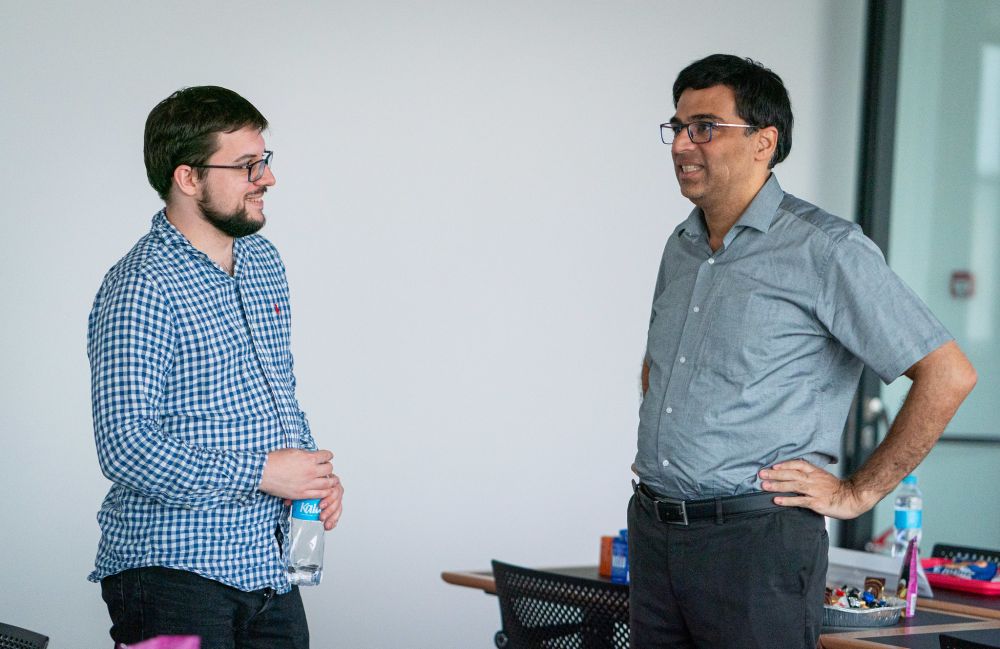 Kasparov - Anand: 0-1
Anand beat Kasparov for the second consecutive day. Until this event, the last time Anand had won against Kasparov in a tournament was in 1998.
16.e4 was nothing more than scare tactics. The ambitious sacrifice was easily thwarted 16...fxg6 17.Nxg6 Nxe5 18.Nxf8 Kxf8 and there is nothing for White to go on. White resigned in another nine moves.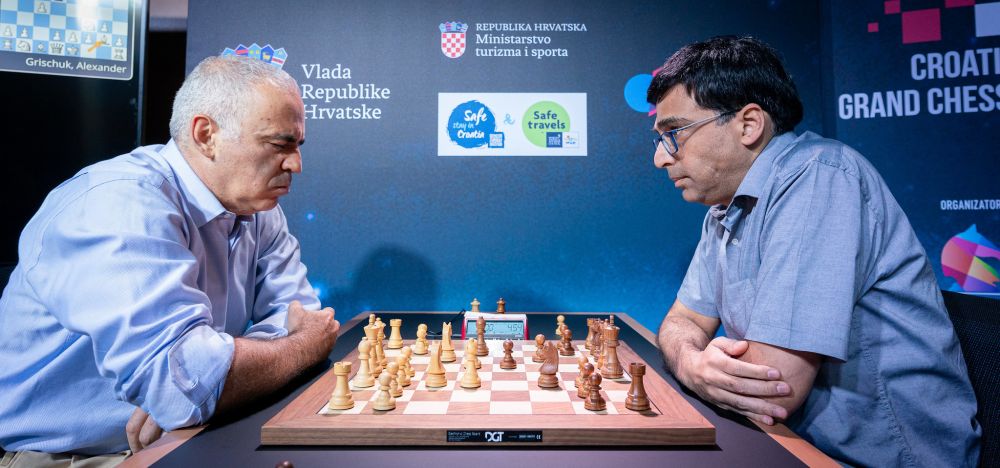 Nepomniachtchi - Vachier-Lagrave: 0.5-0.5
It is clear that Nepomniachtchi was not in his element as he missed a simple win against Vachier-Lagrave.
Find out the winnning continuation for white in the above position. Black needed to play 40...g5 to save the game.
Round 14: Anand - Nepomniachtchi: 1-0
Nepomniachtchi made a sacrifice to launch an attack on Anand's king but did not follow through correctly.
26...Nd7 may not be perfect but after 27.Bxg7, Black needed to play 27...Qe3+ 28.Kg2 Rg8 and now Black is not as much trouble as he got himself into with a direct 27...Rg8. Anand beautifully wove the position in his favor by making the correct practical decisions.
Korobov - Kasparov: 1-0
Korobov's biggest win of the day would be beating Kasparov in just 17 moves, although it was Kasparov who self-destructed his position.
Round 15: Kasparov - Mamedyarov: 0-1
Kasparov lost his fifth game in-a-row, it was against Mamedyarov this time.
Duda - Giri: 1-0
In a seemingly equal endgame, Giri crumbled and did everything he should not have done.
A simple 60...f6 suffices for a draw. The game continued 60...Kd6 61.Bg4 and now comes the blunder 61...Ne8. Losing control of the f5-square and allowing the white king to invade is a strict no-no. 62.Kf5 Ke7 63.Ke5 Nc7 64.Bf5 and now Black is in zugzwang. Sure there is a4 but White can wait forever as there are plenty of waiting moves unfortunately that is a luxury for Black. Duda won the game in another six moves.
Korobov - Anand: 0-1
Anand scored a very nice technical victory over Korobov who struggled with his rook and bishop pair against Anand's rook and two knights.
40.Bc6 does not add anything to the position for White. It only invites trouble 40...Ng3 which White needed to prevent by moving 41.Rg4.
Round 16: Giri - Kasparov: 0.5-0.5
Kasparov ended his losing streak by making a draw with Giri.
Anand - Jorden: 1-0
Anand beat Jorden for the third time in this event.
46.Nxh6+ is a nice way to finish the game.
Vachier-Lagrave - Duda: 1-0
Vachier-Lagrave won a grueling battle against Duda.
Round 17: Duda - Nepomniachtchi: 1-0
Duda beat Nepomniachtchi in an exciting game where the latter blundered in the final moments of the game.
Round 18: Giri - Mamedyarov: 1-0
Giri finished the event with a win against Mamedyarov who erred in the seemingly equal endgame.
Vachier-Lagrave - Korobov: 1-0
Although Vachier-Lagrave had already won the tournament, he did not make a quick draw. In fact, he fought till the end and won against Korobov.
Jorden - Duda: 0-1
Jorden lost a completely winning game against Duda.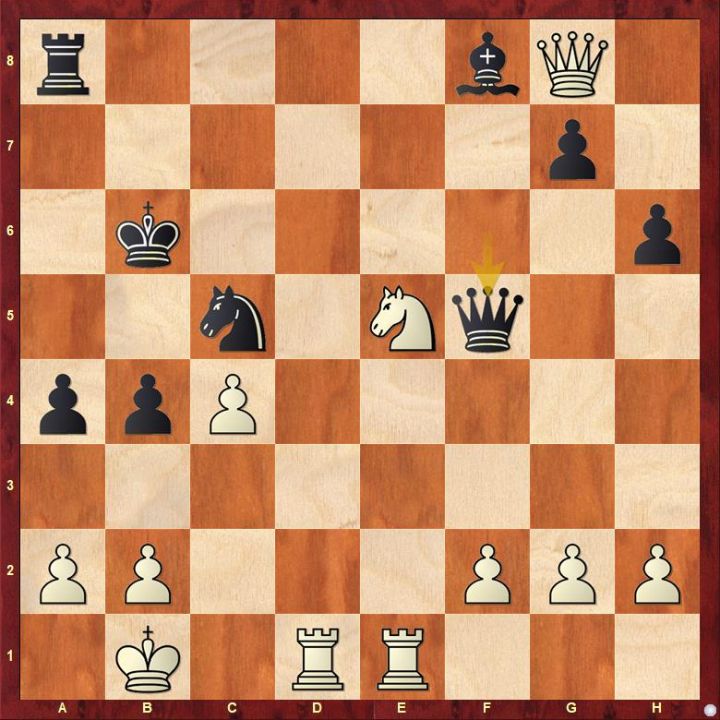 What is the only correct way for White to save the king from the check?
Scoring for the Rapid section: Win - 2 points, Draw - 1 and Loss - 0.
Scoring for the Blitz section will be usual, Win - 1 point, Draw - 0.5 and Loss - 0
How the world reacted to Anand's brilliant comeback
Dutch no.1 and World no.8 Anish Giri:
Anand's trainer and one of the seconds, Grzegorz Gajewski:
India no.3 Vidit Gujrathi:
Anand's former second Surya Sekhar Ganguly:
Replay Round 10-18 games
Replay the livestream
Final Standings after Round 18 Blitz
Prize list
GCT Standings
Links
Grand Chess Tour official site
LIVE coverage on Kasparov chess
---