Croatia Rapid and Blitz Day 1: Nepomniachtchi takes sole lead 5.0/6
The first day of the Croatia Rapid and Blitz witnessed seven decisive games out of 15. White won in all of them. Nepomniachtchi started the day with two victories and a draw with Anand to take the sole lead 5.0/6. He is looking stronger by the day on the board as his World Championship approaches. Seven players share the second place after the third round in Rapid with a 50% score, 3.0/6. Croatia no.1 Ivan Saric made a good finish to his day 1 as he beat Dutch no.1 Giri, showing his endgame endurance. Round 4 starts today from 6:30 p.m. IST. Photo: Lennart Ootes/Grand Chess Tour
Anand makes a winning start
Vishy Anand played his first over-the-board tournament game in almost one and a half years against Jorden van Foreest. He started with a win, lost the second game against Vachier-Lagrave and drew the third against Nepomniachtchi. The world championship challenger Nepomniachtchi scored two emphatic victories against Korobov and the in-form Mamedyarov before making a draw.
Round 1: Nepomniachtchi - Korobov: 2-0
Nepomniachtchi launched a premature attack but Korobov was unable to thwart it.
Black should have taken 22...Nxd4 immediately, but he did it after two moves and the effect was obviously not the same.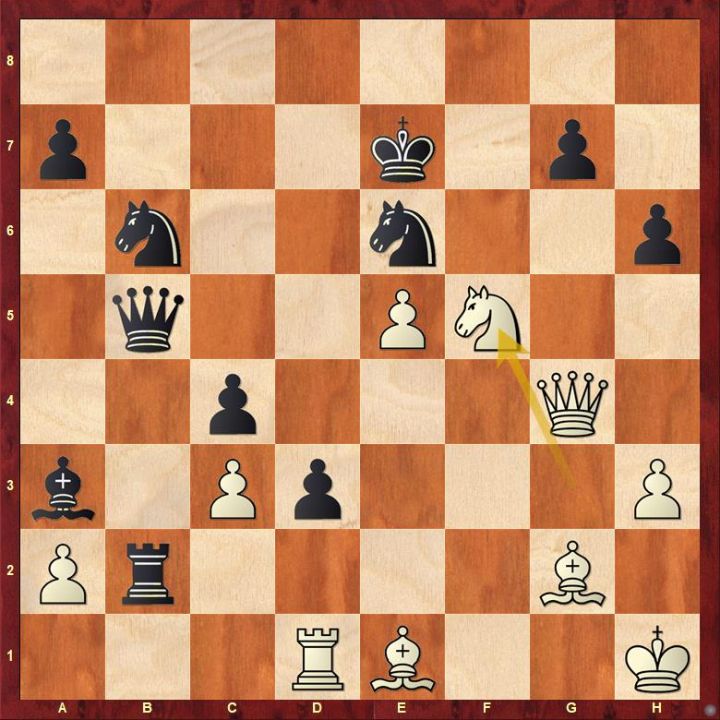 It is not over for Black yet. Find out the only safe square for the king in the above diagram.
Mamedyarov - Vachier-Lagrave: 2-0
Azerbaijan no.1 and World no.6 Mamedyarov hit his top form last month as he won Superbet Chess Classic 2021. It was evident from his opening game of the event.
17...Bg6 allows White to propel his attack on the kingside starting with 18.Bxf4 gxf4 19.Qg4. Mamedyarov being an attacking player, had no difficulty converting his advantage.
Anand - Jorden: 2-0
Vishy Anand's first over-the-board tournament game in almost 1.5 years was against Tata Steel 2021 winner Jorden van Foreest.
Anand made his intentions clear that he wants to start his tournament with a win as he played 26.g6.
If you were not convinced earlier, 29.Nxf5 should definitely make you understand that computers may not under the reason behind this move but it is definitely effective against human in a practical game of chess which was proved eventually as Anand won the game. The only way for Black to survive and capitalize on the opportunity was 29...Rh8, but it's not easy to see it thoroughly especially when the clock is ticking down and your opponent is the maestro.
Duda - Saric: 1-1
Croatia no.1 Ivan Saric at one point had a very good position against Poland no.1 Jan-Krzysztof Duda.
Saric needed to go on the offense and play 18...b5 in the above position, but he went for the calm 18...Na6 and allowed White to regroup and provide safety to the king. The game eventually ended in a draw.
Round 2: Korobov - Saric: 2-0
In a seemingly equal endgame, Saric went wrong against Korobov.
Black needed to play 29...Ra3 or Rb2 and things would have been fine. 29...Be4 unnecessarily loses tempo and White gets to attack the black king.
Vachier-Lagrave - Anand: 2-0
Delaying the development of his kingside rook cost Anand valuable time in the endgame.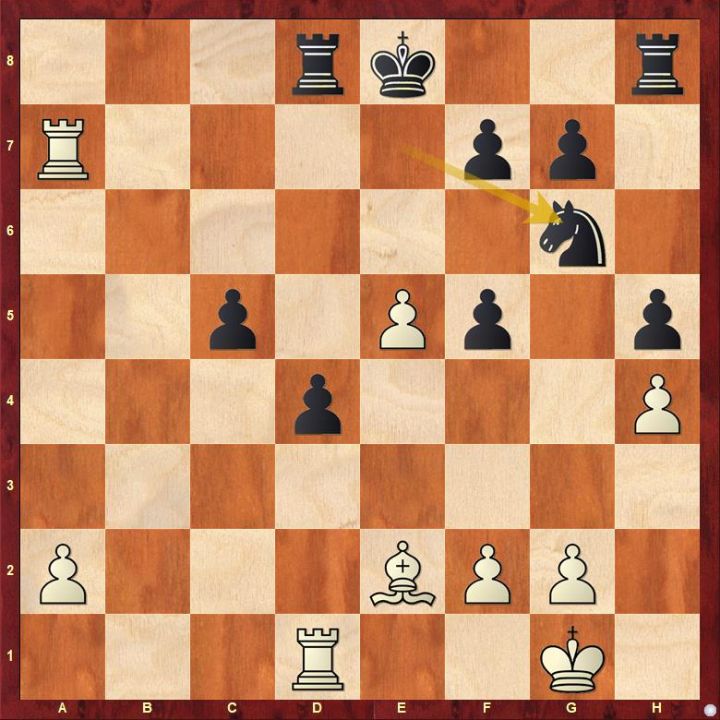 Black needed to play 21...Rh6 and keep the sixth rank vacant for the rook. 21...Ng6 allows White to gain the upper hand 22.Bb5+ Kf8 23.f4 and now Black is forced to lose tempo because the g6-knight will be blocking the h8-rook's path. White converted his advantage of the passed a-pawn into a victory.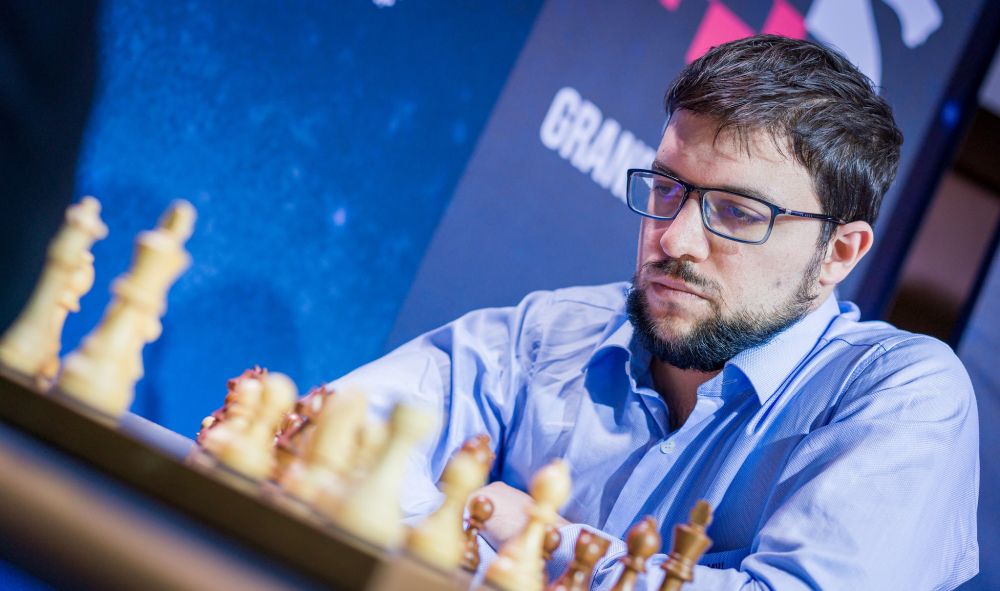 Nepomniachtchi - Mamedyarov: 2-0
Ever since winning the Candidates 2020, Nepomniachtchi has played some rock solid chess. He defeated Mamedyarov with a confident play.
White does not recover the piece immediately after 17...Nh5 but White certainly has strong compensation for the lost knight as 17...bxc3 18.Nxc3 Nh5 19.g4 Bf8 20.Qd2 Ng7 21.Nd5 f6 22.Rad1 fxe5 23.f5 is the reason behind White not taking the knight at f6 on move no.18.
The position is much easier to play as white than with black pieces because white's plans and moves flow naturally while Black needs to be extremely cautious. The world championship Challenger had no trouble converting his advantage into a victory.
Round 3: Anand - Nepomniachtchi: 1-1
Anand and Nepomniachtchi had a relatively calm draw.
Duda - Jorden: 1-1
Duda and Jorden van Foreest had a well-fought draw. Although Duda had a good opportunity in the endgame.
36.Nxf7 would have been a better continuation for White instead of the text 36.Rb6. Jorden eventually blundered a piece and Duda got another opportunity.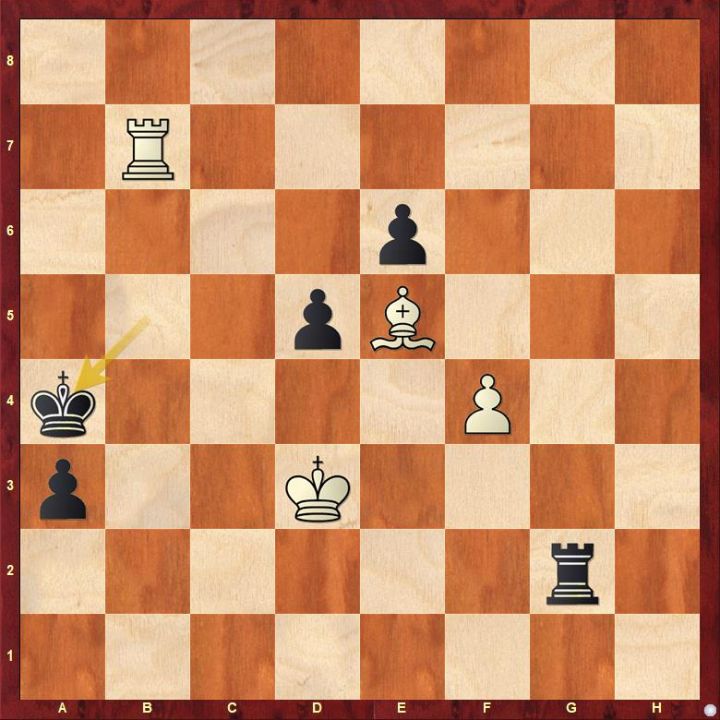 Find out the winning continuation for White in the above diagram. The game continued 54.Kd4 and Black managed to salvage a draw eventually.
Saric - Giri: 2-0
Giri had a good position out of the opening and was better in the early part of the middlegame against Saric. However, he made a tiny error in the endgame which the Croatia no.1 seized upon.
36...Rb6 completely turned things into White's favor. Find out why it is a mistake and what Black should have played instead. Saric converted his advantage beautifully and scored his first win of the event.
Photo Gallery
Kasparov published a heartfelt in memoriam about his coach and dear friend Yury Dokhoian on his site.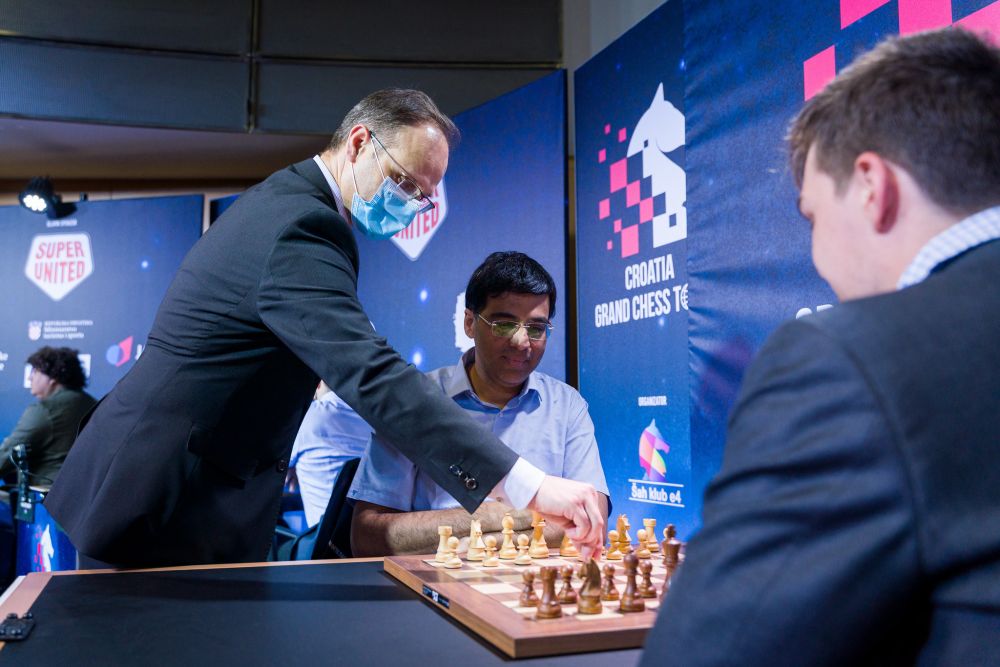 Scoring for the Rapid section: Win - 2 points, Draw - 1 and Loss - 0.
Scoring for the Blitz section will be usual, Win - 1 point, Draw - 0.5 and Loss - 0
Replay Round 1-3 games
Replay the livestream
Standings after Round 3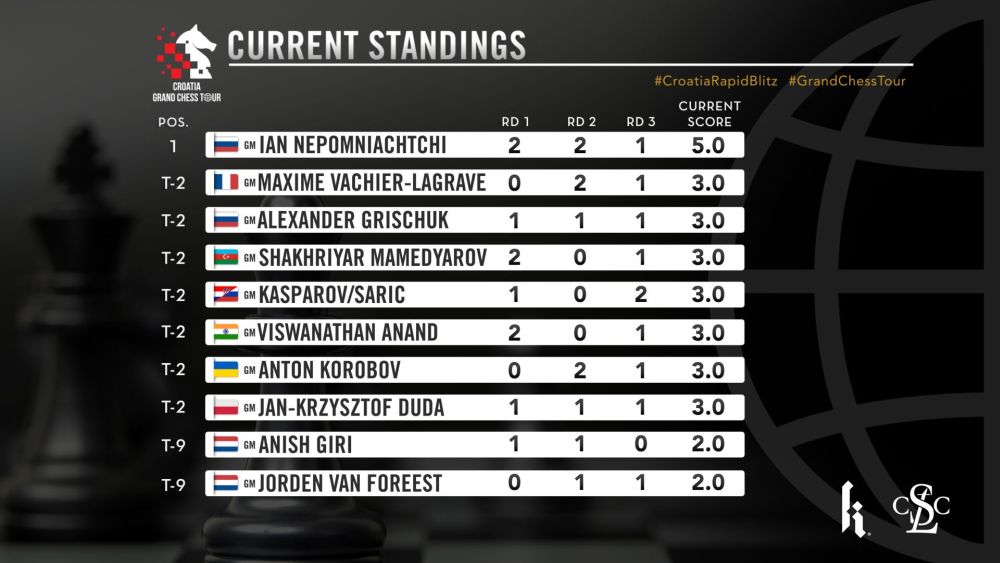 Links
Grand Chess Tour official site
LIVE coverage on Kasparov chess
---