Sinquefield Cup R1: Caruana scores a brilliant win
The fifth and final leg of the Grand Chess Tour 2021 is Sinquefield Cup. The first round had three winners - Caruana, Leinier and Vachier-Lagrave. While MVL and Leinier scored relatively comfortable victories over Svidler and Swiercz respectively, Caruana scripted a beautiful win over Shankland which is definitely an early contender for the brilliancy prize worth US$ 5000. Mamedyarov made the biggest escape of the day against So as he was completely lost in the endgame till the American loosened his grip and let him escape with a draw. Round 2 starts tonight from 1:30 a.m. IST. Photo: Austin Fuller/Grand Chess Tour
Three decisive games
The eighth edition of Sinquefield 2021 witnessed three decisive games. One of the draws could have been decisive too, if only So capitalized on his advantage. Unfortunately for him, Mamedyarov made an escape with a draw.
So - Mamedyarov: 0.5-0.5
Mamedyarov got himself in deep trouble in the endgame after he made an incorrect decision about his isolated queen's pawn.
Black's d5-pawn is under attack, how should he respond? Mamedyarov played 28...d4 which landed him in quite a bit of trouble.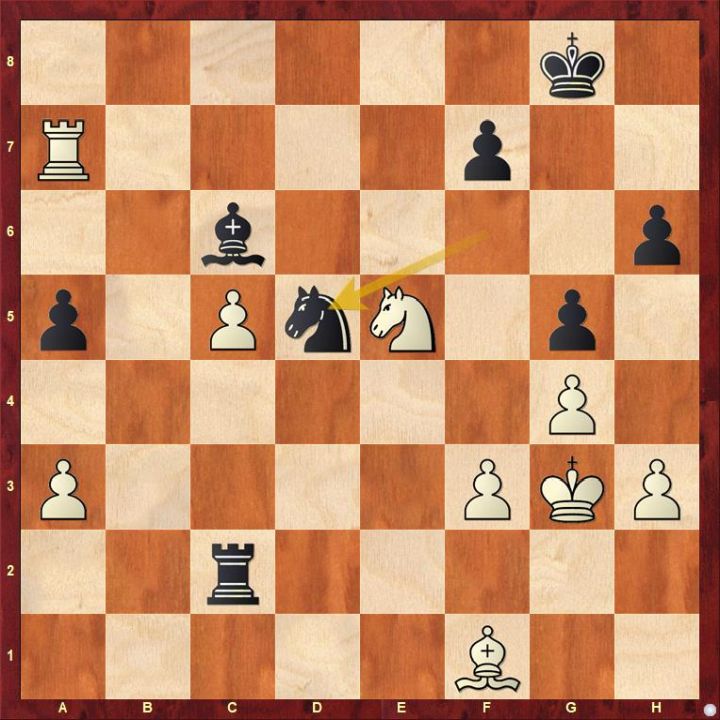 White is completely winning here. Find out the best continuation. So opted for 39.Bd3 which allowed Black to get back in the game 39...Rxc5 and White's all advantage evaporated.
Vachier-Lagrave - Svidler: 1-0
Svidler made a strange retreat in a seemingly equal endgame which cost him the game.
Try to figure out why 25...Ne8 is a huge mistake and what Black could have done instead. Vachier-Lagrave wrapped up the game in another six moves.
Caruana - Shankland: 1-0
Caruana launched a beautiful attack after Shankland made a positional inaccuracy in an already difficult position.
27...Ndf5 does not serve the purpose with which Black played the move. Instead, it only helps White. How? Black was already in dire straits. Perhaps 27...Rxf2 was a relatively better option. Caruana converted his advantage into a win comfortably.
Swiercz - Leinier: 0-1
Swiercz misplayed in the queen and minor piece endgame, which allowed his opponent Leinier to create a passed pawn.
37.Bd1 is a mistake, as Black gets to create a passed pawn via 37...b4. White should have played 38.d5 instead which would have kept things fine.
Photo Gallery:
Replay Round 1 games
Round 1 results
Standings after Round 1
Links
Grand Chess Tour official site
---