The Vision of AICF for the next three years (2021-23)
After a prolonged rift at the All India Chess Federation, the elections were held on the 4th of January 2021. At the end of it, Bharat Singh Chauhan and Sanjay Kapoor became the Secretary and President of AICF respectively. Bharat Singh Chauhan was already the secretary of AICF in the previous years, while Sanjay Kapoor is currently the Chairman of the Kanpur Cricket Association. Vishy Anand has joined in as the advisor of the Federation. In this article we acquaint you with the new AICF team as well as tell you about their vision in the upcoming three years (2021-23).
Bharath Singh Chauhan continues his reign as AICF Secretary, Sanjay Kapoor is the new President
On 4th of January 2021, the elections of the All Indian Chess Federation (AICF) were held. These were the results: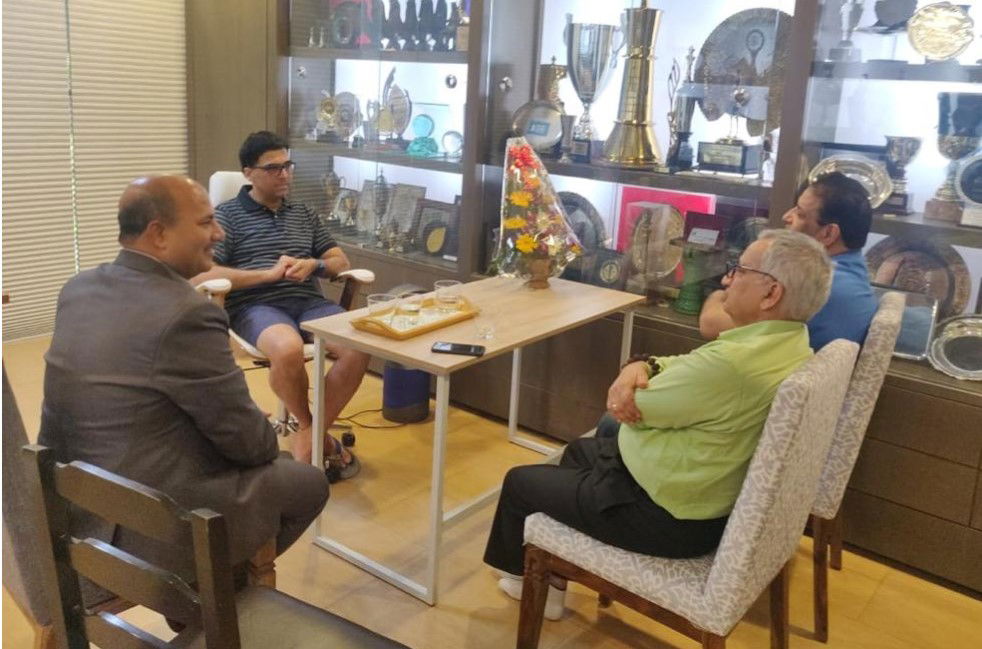 AICF's Vision for the next three years:
The All India Chess Federation has a vision document and where in the Secretary of the organization mentions, "We strongly believe that India has enormous potential in the game and we have not yet explored the same at its full potential. We have the entire wherewithal for spreading the game to every part of the country to unearth more talents to produce many titled players, who can bring laurels to our beloved nation."
This is their vision for the next three years:
1. More support to State Associations
Support of All India Chess Federation to State Association to become self-sufficient to administer the game at their respective states which will provide a right atmosphere for the game at grass root level.
2. Corporate sponsorships
Explore avenues for sponsorship from corporates for Indian teams participating in world events and for National Championships.
3. Government Funding
Explore the possibilities to get more funds from Government of India for the game of chess.
4. Arjuna and Dronacharya award
Right approach at Government level for consideration of our players and coaches for Arjuna and Dronacharya Awards. Presently, the award committee giving low priority to Chess due to a non-Olympic event.
5. Chess for everyone and Smart Girl events
More thrust will be given for the conduct of Chess for Everyone and Smart Girl events for the development of the game at grass root level.
6. Training camps, Arbiter and Trainer seminars
Conduct of coaching camps, Arbiter Seminar, Trainer Seminar etc at various parts of the country.
7. Use online tools better
Use of online medium to its full potential for the development of the game.
8. More norm events
Conduct of more Norm Tournaments in India to provide opportunity to players.
9. Chess In Schools and Anti Cheating Measures
Thrust will be given for the Chess in School program and Anti Cheating measures.
10. Reduction in Tournament registration fee
Reduction of Tournament Registration Fee for conduct events.
11. Registration system
Single Player Registration System for District, State and National level with proportional fee sharing method.
12. Support to states for conducting state level events
Support for states for conducing Sub-Junior/Junior/Senior state events as FIDE Rated event.
13. Group Insurance for AICF registered personnel
Exploring the feasibility of Group Insurance for all AICF registered personnel.
14. Purification of Data with FIDE and AICF
Purification of player's data at FIDE and AICF record as well as uploading photos of all players.
15. Appointment of coaches and arbiters
Transparency and accountability in appointment of Arbiters and Coaches.
16. Chess League and Super GM events
Thrust will be given for conduct of Professional Chess League as well as Super GM event annually.
17. Timeline for AICF staff
Work execution timeline for all the staffs of AICF for timely achieving the tasks.
18. Players' grievance cell
To set up a players' grievance cell to address the issues related to players.
19. Committees under committed volunteers
To set up committees under committed volunteers for the betterment of administration and to look after the development of the game across the country.
20. Rs. 10 lakh per year to each State Affiliate for next 3 years
For Chess in School program we propose to give Rs. 10 Lakh per State Affiliate unit per year for the next three years.
21. Chess taught to school teachers
Partnering up with Central/State Govt/Private Entities to train all sports teachers / physical instructors in school about chess by conducting short term coaching camps to popularize and familiarize chess.
22. Chess kits to schools in remote areas
AICF will distribute chess kits to schools situated in remote areas of the country.
23. Chess in Teachers' Training Institutions
With the help of Central /State Government/Private Entities Chess will be introduced in teachers' training institutions.
24. Job opportunities
AICF will take initiative with the help of State Associations to create job opportunities for chess players in all sectors.
25. Boost to non active states
Active participation of AICF Officials to boost up the progress in states where chess is still in its initial stage.
26. Centre of Excellence in North East India
Work out feasibility of establishing a Centre of Excellence at North Eastern state
27. Inter School and college events with State Education Department
Thrust will be given for conduct of Inter School /Inter College by every state Association within joint collaboration with State Education Department
---