Candidates 2022 R14: Nepomniachtchi remains unscathed, Ding Liren second
Ian Nepomniachtchi completely decimated the field in the Candidates 2022. The last time someone won the Candidates by remaining undefeated was Vishy Anand in 2014. Nepomniachtchi played two Candidates in his career and he won both of them. His seconds were revealed in his instagram photo. They are - Peter Leko, Nikita Vitiugov and Ildar Khairullin. His timeless confidante, Vladimir Potkin and Evgeny Tomashevsky's names were also mentioned. Ding Liren defeated Nakamura to finish second 8/14. All four of his wins came in the second half of the tournament. Radjabov scored his third victory of the event to finish third 7.5/14, edging past Nakamura on tie-breaks. Photo: Steve Bonhage/FIDE
Dormammu, I have come to bargain
No, these words were not uttered by any chess player at the Candidates 2022, at least not to the common knowledge of the public. These are the words of Doctor Strange in the same titled movie to the antagonist, Dormammu. Ian Nepomniachtchi tweeted a gif image, referencing to his triumph at the Candidates and his shot at Magnus Carlsen's World title. Now whether the rematch takes place or not, only Magnus Carlsen and time can answer that.
Rapport - Radjabov: 1-0
Richard Rapport's (HUN) imaginative attack on the kingside did not work out against Teimour Radjabov (AZE).
19.g5 is interesting. Although a conventional approach 19.Nh4 followed by Nf5 probably would have been a safer choice. Rapport is known for his creative play which is what he did in the final round. 19...fxg5 20.Nxg5 hxg5 21.Rxg5 Qf6 22.Rag1 Bf8 things did not work out in White's favor as he did not have sufficient pieces to continue the attack. Black eventually won the game.
Caruana - Firouzja: 0-1
Fabiano Caruana (USA) suffered his fourth loss in the last seven games of the tournament. Alireza Firouzja (FRA) did not seize his first opportunity correctly, however he did not miss the second one.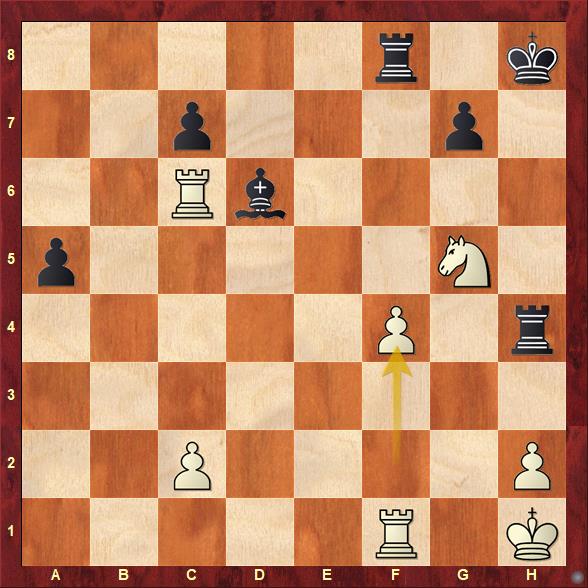 37...Bxf4 was the optimum way for Black to continue. 37...Rhxf4 was played, which is not bad either. It just delayed Black's win.
60.Nf3 keeps White in the game. Find out the winning continuation for Black after 60.Ne4.
Ding Liren - Nakamura: 1-0
The game between Ding Liren (CHN) and Hikaru Nakamura (USA) seemed to have headed towards a draw until the latter made some inaccuracies in the endgame.
35...Rd8 forces the exchange of rooks as White cannot avoid the trade due to the threat of Rd3. 35...Bd8 unnecessarily makes the position passive for Black. A few more inaccuracies turned things completely in White's favor.
Magnus Carlsen's coach and arguably the most successful chess coach of all time, Peter Heine Nielsen congratulated Nepomniachtchi
Ian Nepomniachtchi made an interesting tweet. It is a clip from the Doctor Strange movie which is my favorite MCU movie. Now we all know how the scene played out. If we take the clip at the face value, it is apt considering Nepomniachtchi is attempting to beat Carlsen in his second attempt. However, if we consider the rest of the scene and the movie, we know that it took countless or infinite attempt for Strange to defeat Dormammu. The exact number is not revealed and it is open to interpretation.
When it comes to achieving a goal against an extremely difficult opponent, the scene 'How many seconds in eternity' from the 'Heaven Sent' episode of Doctor Who comes to mind. Whovians would certainly be familiar with this scene and episode, which is arguably one of the best scenes and episode of the cult-classic series.
One of his seconds, GM Nikita Vitiugov tweeted
Replay Round 14 games
Round 14 results
Bo.
No.
Rtg
Name
Result
Name
Rtg
No.
1
8
2764
GM
Rapport Richard
0 - 1
GM
Radjabov Teimour
2753
4
2
3
2783
GM
Caruana Fabiano
0 - 1
GM
Firouzja Alireza
2793
5
3
2
2806
GM
Ding Liren
1 - 0
GM
Nakamura Hikaru
2760
6
4
1
2750
GM
Duda Jan-Krzysztof
½ - ½
GM
Nepomniachtchi Ian
2766
7
Final standings after Round 14
| | | | | | | | | | |
| --- | --- | --- | --- | --- | --- | --- | --- | --- | --- |
| Rk. | SNo | | Name | FED | Rtg | Pts. | TB1 | TB2 | TB3 |
| 1 | 7 | GM | Nepomniachtchi Ian | FID | 2766 | 9,5 | 62,00 | 5 | 0,0 |
| 2 | 2 | GM | Ding Liren | CHN | 2806 | 8,0 | 52,00 | 4 | 0,0 |
| 3 | 4 | GM | Radjabov Teimour | AZE | 2753 | 7,5 | 52,00 | 3 | 0,0 |
| 4 | 6 | GM | Nakamura Hikaru | USA | 2760 | 7,5 | 50,25 | 4 | 0,0 |
| 5 | 3 | GM | Caruana Fabiano | USA | 2783 | 6,5 | 46,50 | 3 | 0,0 |
| 6 | 5 | GM | Firouzja Alireza | FRA | 2793 | 6,0 | 39,50 | 2 | 0,0 |
| 7 | 1 | GM | Duda Jan-Krzysztof | POL | 2750 | 5,5 | 38,50 | 1 | 0,0 |
| 8 | 8 | GM | Rapport Richard | HUN | 2764 | 5,5 | 37,75 | 1 | 0,0 |
Links
---