Candidates 2022 R10: Nakamura vanquishes Firouzja
Hikaru Nakamura lived up to his prediction of beating Firouzja at the Candidates 2022. He might have said it nonchalantly, however, one cannot discount the fact that he won the FIDE Grand Prix too. Ding Liren and Jan-Krzysztof Duda were the other two victors of the round. The World no.2 defeated Rapport in his own game by creating imbalance and playing creatively. Caruana's ambitious approach against the FIDE World Cup 2021 winner, did not turn out the way he wanted. Duda's brave play earned him a full point convincingly. Nepomniachtchi now has a 1.5 point lead 7/10, over Caruana, Nakamura and Ding Liren at 5.5/10 each. Round 11 starts today at 3 p.m. local time, 6:30 p.m. IST. Photo: David Llada/FIDE
Bounce backs and sharp chess
Both Jan-Krzysztof Duda and Hikaru Nakamura bounced back from there previous round loss and went on to win their respective tenth round games. It definitely speaks volumes about them as players. A tournament of the highest possible level in current times, Candidates is where you have no time to recover. Both of them used the rest days to their advantages, which certainly helped them. Radjabov and Nepomniachtchi continue their streak of no decisive result in their Classical encounters
Rapport - Ding Liren: 0-1
Richard Rapport (HUN) sacrificed his king to weaken his opponent Ding Liren's (CHN) king lying at the middle of the board.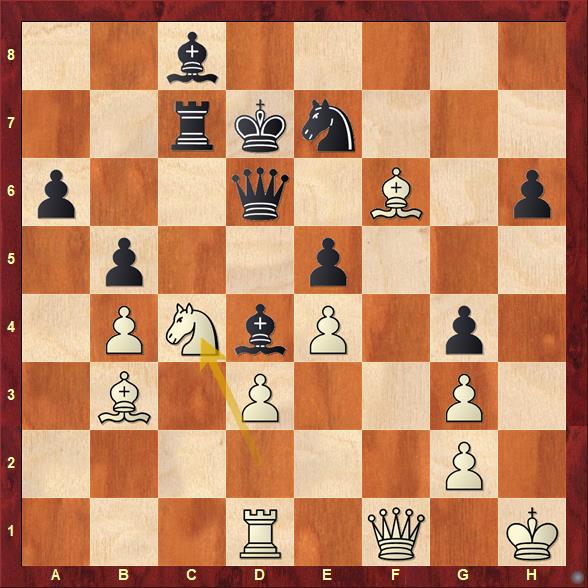 The idea behind 33.Nc4 is bxc4 34.dxc4 followed by c5, Bxe5. However, Black found a precise remedy 34...Rc6! 35.Ba4 Kc7 36.Bxc6 Nxc6. Since White was the one who was attacking, Black was happy to exchange his rook for two minor pieces. Eventually White liquidated into a lost opposite color bishop endgame.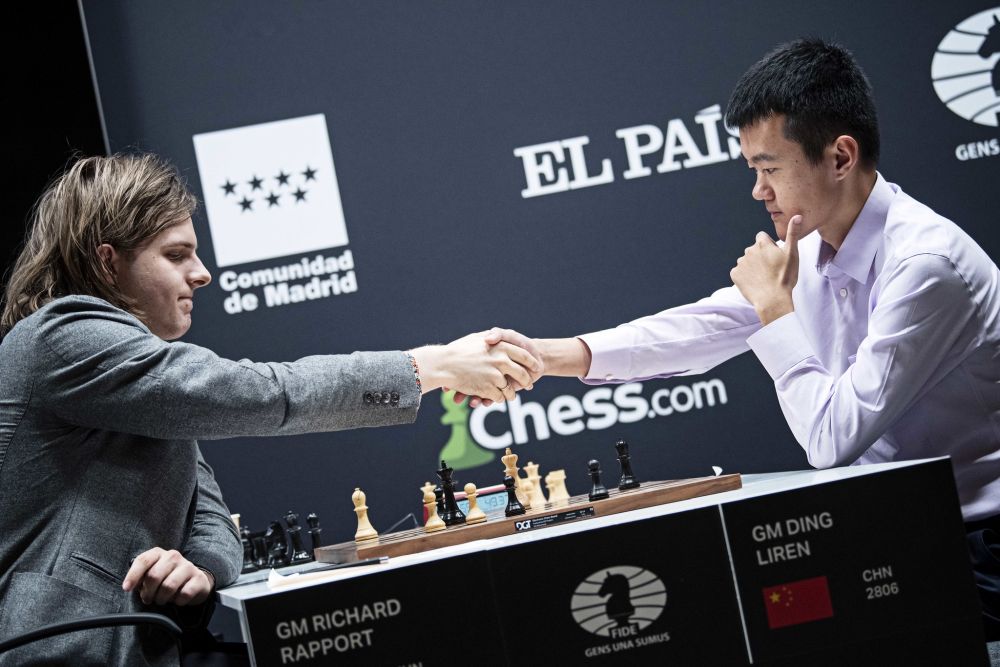 Duda - Caruana: 1-0
It is evident from the game that Fabiano Caruana (USA) was only playing for a win against Jan-Krzysztof Duda (POL).
Computer says 19...h5 turns things completely in White's favor. Perhaps, it was part of Duda's preparation too. 20.g3 Qf6 21.Rad1 Rg7 22.Kh1 Rf8 23.dxe5 dxe5 24.h4 gxh4 25.gxh4 the knights have such a stronghold that Black is unable to make a breakthrough on the kingside despite it being completely open. Rest was just a matter of time and technique which Duda had no trouble converting into a win.
Radjabov's good friend Anish Giri tweeted his prediction before the game
Nakamura - Firouzja: 1-0
Hikaru Nakamura (USA) got a substantial advantage in the middlegame against Alireza Firouzja (FRA). Then the Speed King decided to sacrifice an exchange to accentuate his advantage.
There is no good capture for Black after 23.Nxd4. He opted for the less damaging one 23...Qxd5 24.Nf5 Qe4 25.Qh5. It is evident that White has a significant decisive advantage. He converted it in another seven moves.
Back in November 2021, Nakamura predicted that he will win Grand Prix and beat Firouzja at the Candidates, that is exactly what he did. Magnus Carlsen is trying to boost Firouzja before he faces Nepomniachtchi in Round 11
Replay Round 10 games
Round 10 results
Bo.
No.
Rtg
Name
Result
Name
Rtg
No.
1
8
2764
GM
Rapport Richard
0 - 1
GM
Ding Liren
2806
2
2
1
2750
GM
Duda Jan-Krzysztof
1 - 0
GM
Caruana Fabiano
2783
3
3
7
2766
GM
Nepomniachtchi Ian
½ - ½
GM
Radjabov Teimour
2753
4
4
6
2760
GM
Nakamura Hikaru
1 - 0
GM
Firouzja Alireza
2793
5
Round 11 pairings
Bo.
No.
Rtg
Name
Result
Name
Rtg
No.
1
6
2760
GM
Nakamura Hikaru
GM
Rapport Richard
2764
8
2
5
2793
GM
Firouzja Alireza
GM
Nepomniachtchi Ian
2766
7
3
4
2753
GM
Radjabov Teimour
GM
Duda Jan-Krzysztof
2750
1
4
3
2783
GM
Caruana Fabiano
GM
Ding Liren
2806
2
Standings after Round 10
| | | | | | | | | | |
| --- | --- | --- | --- | --- | --- | --- | --- | --- | --- |
| Rk. | SNo | | Name | FED | Rtg | Pts. | TB1 | TB2 | TB3 |
| 1 | 7 | GM | Nepomniachtchi Ian | FID | 2766 | 7,0 | 33,00 | 4 | 0,0 |
| 2 | 3 | GM | Caruana Fabiano | USA | 2783 | 5,5 | 27,75 | 3 | 0,0 |
| 3 | 6 | GM | Nakamura Hikaru | USA | 2760 | 5,5 | 26,25 | 3 | 0,0 |
| 4 | 2 | GM | Ding Liren | CHN | 2806 | 5,5 | 25,25 | 2 | 0,0 |
| 5 | 4 | GM | Radjabov Teimour | AZE | 2753 | 4,5 | 23,25 | 1 | 0,0 |
| 6 | 1 | GM | Duda Jan-Krzysztof | POL | 2750 | 4,0 | 20,00 | 1 | 0,0 |
| 7 | 8 | GM | Rapport Richard | HUN | 2764 | 4,0 | 18,50 | 1 | 0,0 |
| 8 | 5 | GM | Firouzja Alireza | FRA | 2793 | 4,0 | 18,00 | 1 | 0,0 |
Links
---