Ian Nepomniachtchi wins Candidates 2022 with a round to spare
Ian Nepomniachtchi won the FIDE Candidates 2022 with a round to spare. This is his second consecutive Candidates triumph. He drew his penultimate round game comfortably against Richard Rapport. He will face Jan-Krzysztof Duda in the final round. However, that result will be a non-factor because no one can equal Nepomniachtchi's score 9/13. Hikaru Nakamura scored the sole victory of the round. He defeated Duda to move to sole second place 7.5/13. Nakamura will face Ding Liren in the final round. A win guarantees the Speed King a sole second place, while a draw should also be enough for the same, as he has better tie-breaks. Final Round 14 starts today at 3 p.m. local time (6:30 p.m. IST). Photo: Steve Bonhage/FIDE
Nakamura keeps things interesting
Ian Nepomniachtchi might not have been the odds on favorite. So did Nakamura. However, despite not playing Classical chess for quite sometime until the FIDE Grand Prix, Nakamura not only won the event and qualified for Candidates, but also on the verge of a second place finish. Why second place is so important? In case the current World Champion, Magnus Carlsen decides not to defend his world title for whatever reason, Nakamura will face Nepomniachtchi for the World Championship. Of course, Nakamura has to finish second in that case. We all know, if Carlsen is not playing in the World Championship Match, Nakamura getting included in it will definitely be a big-money match. He has already proved on multiple occasion that he can draw very good numbers.
"I am extremely happy and extremely thankful to everybody who helped me. I am also extremely exhausted, it's a very long tournament. Basically it's not over yet. I still have a game tomorrow. I think we partially have this feeling that the main goal is achieved but still it's a game tomorrow. I don't want to spoil it like last year." - Ian Nepomniachtchi on winning the tournament
Nakamura - Duda: 1-0
Hikaru Nakamura (USA) sacrificed a pawn in the middlegame to get some activity against Jan-Krzysztof Duda (POL). He felt that it would be worth more than the pawn. It turned out not to be the case.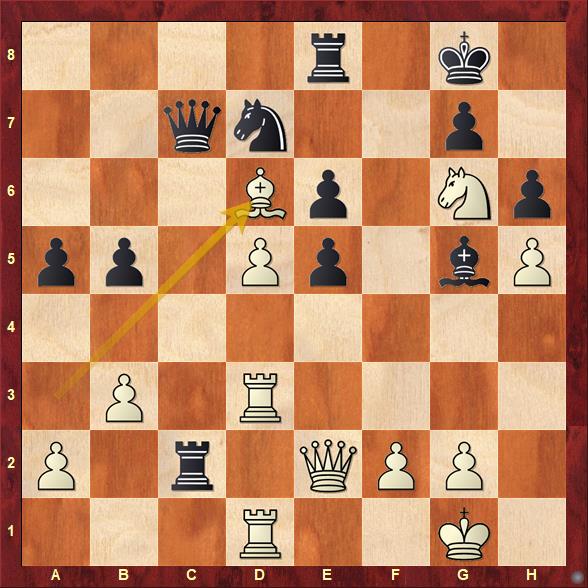 After about a minute thought, White decided to play 35.Bd6 because it avoids any kind of danger. He felt that he might have to do it eventually, so why not now? The game continued 35...Rxe2 36.Bxc7 Nc5 37.d6 Nd7 38.Bxa5 and White got a long term advantage with a strong passed pawn at d6. 37...Nxd3 38.d7 Ra8 39.Rxd3 a4 would have been better for Black to get a draw.
"He is playing very well. He is making the most of his chances. There have been many interesting games but he has converted all of his advantages very well and saved bad positions. So he has been by far the best... No I didn't expect it. I thought he was criminally underrated by the pundits and betting odds but I still thought that Ding and Fabiano were bigger favorites. But kudos, he has done very well." - Carlsen on Nepomniachtchi winning the Candidates 2022.
Replay Round 13 games
Round 13 results
Bo.
No.
Rtg
Name
Result
Name
Rtg
No.
1
7
2766
GM
Nepomniachtchi Ian
½ - ½
GM
Rapport Richard
2764
8
2
6
2760
GM
Nakamura Hikaru
1 - 0
GM
Duda Jan-Krzysztof
2750
1
3
5
2793
GM
Firouzja Alireza
½ - ½
GM
Ding Liren
2806
2
4
4
2753
GM
Radjabov Teimour
½ - ½
GM
Caruana Fabiano
2783
3
Round 14 pairings
Bo.
No.
Rtg
Name
Result
Name
Rtg
No.
1
8
2764
GM
Rapport Richard
GM
Radjabov Teimour
2753
4
2
3
2783
GM
Caruana Fabiano
GM
Firouzja Alireza
2793
5
3
2
2806
GM
Ding Liren
GM
Nakamura Hikaru
2760
6
4
1
2750
GM
Duda Jan-Krzysztof
GM
Nepomniachtchi Ian
2766
7
Standings after Round 13
| | | | | | | | | | |
| --- | --- | --- | --- | --- | --- | --- | --- | --- | --- |
| Rk. | SNo | | Name | FED | Rtg | Pts. | TB1 | TB2 | TB3 |
| 1 | 7 | GM | Nepomniachtchi Ian | FID | 2766 | 9,0 | 54,25 | 5 | 0,0 |
| 2 | 6 | GM | Nakamura Hikaru | USA | 2760 | 7,5 | 46,00 | 4 | 0,0 |
| 3 | 2 | GM | Ding Liren | CHN | 2806 | 7,0 | 42,00 | 3 | 0,0 |
| 4 | 4 | GM | Radjabov Teimour | AZE | 2753 | 6,5 | 43,00 | 2 | 0,0 |
| 5 | 3 | GM | Caruana Fabiano | USA | 2783 | 6,5 | 42,75 | 3 | 0,0 |
| 6 | 8 | GM | Rapport Richard | HUN | 2764 | 5,5 | 35,25 | 1 | 0,0 |
| 7 | 1 | GM | Duda Jan-Krzysztof | POL | 2750 | 5,0 | 31,25 | 1 | 0,0 |
| 8 | 5 | GM | Firouzja Alireza | FRA | 2793 | 5,0 | 30,50 | 1 | 0,0 |
Links
---