Candidates 2022 R1: Caruana and Nepomniachtchi start with a win
Fabiano Caruana and Ian Nepomniachtchi are the two victors in the first round of FIDE Candidates 2022. Hikaru Nakamura imploded against his compatriot Caruana. The former abandoned his king safety and stayed true to his style. He had to pay a heavy price for it. Nepomniachtchi won against the super-solid Ding Liren comfortably when his opponent decided against taking a central pawn, which eventually played a key role in his defeat. Duda got an early advantage against Rapport and Radjabov gave a scare to Firouzja. However, both Rapport and Firouzja survived them. Round 2 starts today at 3 p.m. local time, 6:30 p.m. IST. Photo: Niki Riga/FIDE
Fighting chess from the get-go
Candidates 2022 is a tournament where everyone has their eyes on. The time control of no increment till move no.60 in a double round-robin format with an exciting lineup is bound to produce some exciting games.
Duda - Rapport: 0.5-0.5
It certainly seemed like Jan-Krzysztof Duda (POL, 2750) got a better position out of the opening against Richard Rapport (HUN, 2764).
At the top level, it is not easy to extract anything substantial out of an early advantage, especially when the battle is between two of the most creative players in the world at the moment. 10...Bg7 11.cxd6 Qxd6 12.0-0 Be6 13.Na3 Rd8 14.Be2 Qxd1 15.Rfd1 Rxd1+ 16.Bxd1 and the game eventually ended in a draw.
Ding Liren - Nepomniachtchi: 0-1
Sometimes inaction at the right time can eventually haunt you. Something similar happened with World no.2 Ding Liren (CHN, 2806) against the former World Championship Challenger, Ian Nepomniachtchi (2766).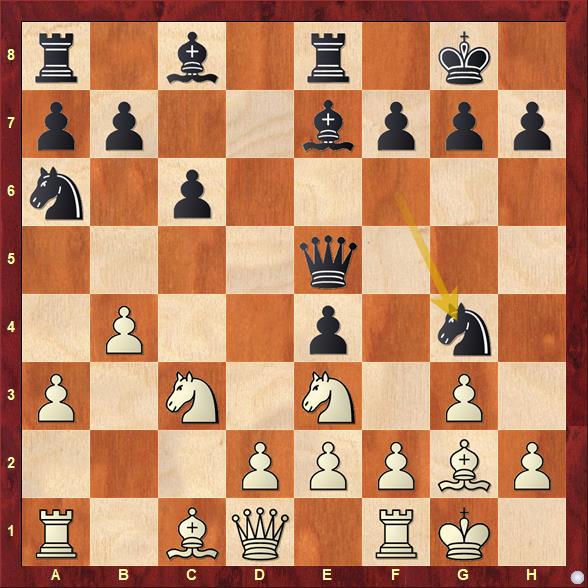 Nepomniachtchi offered his e4-pawn in a typical position arising out of the English Opening. Ding Liren declined the offer to take the pawn, played 13.Bb2 instead. In retrospect, he certainly felt that he should have taken it because eventually that pawn played a crucial role in crippling White's position. 13.Bxe4 Nxe3 14.fxe3 Bh3 15.Rf2 would have been fine for White and certainly better than the game continuation. If Black did not want to take on e3, then also White would have remained devoid of any trouble.
Caruana - Nakamura: 1-0
Hikaru Nakamura (USA, 2760) played boldly against his fellow countryman and former World Championship Challenger, Fabiano Caruana (USA, 2783).
White decided to open up a file on the kingside because his opponent's king is vulnerable 22.f3 Qg7 23.fxg4 hxg4 24.Rad1. Black needed to stabilize the position. Instead, he remained true to his style and decided to break the center 24...d5 25.exd5 cxd5 26.Rde1 e4 27.Rxf8+ Rxf8 28.c4. Black seemed to have barely holding the center together. While the position soon became sharp which is what Nakamura prefers, however, things were in favor of Caruana, who had no trouble converting it into a win.
Magnus Carlsen tweeted on Nakamura's game
Anish Giri did not want to be left behind
Radjabov - Firouzja: 0.5-0.5
Teimour Radjabov (AZE, 2753) had been saving his true style of play for this event, for a very long time. Finally we got to see it against Alireza Firouzja (FRA, 2793).
Position after 24.h4
Vintage Radjabov unleashed 24.h4 without a care of returning the exchange Bb4. Of course, he did not miss it, he was unfettered by it. He continued 25.h5 Bxd2 26.Qxd2 h6 27.hxg6 hxg5 28.gxf7+ Kxf7 29.Nxg5+ Ke8. Things heated up, however it did not yield any decisive result, the game eventually ended in a draw.
Replay Round 1 games
Round 1 results
Bo.
No.
Rtg
Name
Result
Name
Rtg
No.
1
1
2750
GM
Duda Jan-Krzysztof
½ - ½
GM
Rapport Richard
2764
8
2
2
2806
GM
Ding Liren
0 - 1
GM
Nepomniachtchi Ian
2766
7
3
3
2783
GM
Caruana Fabiano
1 - 0
GM
Nakamura Hikaru
2760
6
4
4
2753
GM
Radjabov Teimour
½ - ½
GM
Firouzja Alireza
2793
5
Round 2 pairings
Bo.
No.
Rtg
Name
Result
Name
Rtg
No.
1
8
2764
GM
Rapport Richard
GM
Firouzja Alireza
2793
5
2
6
2760
GM
Nakamura Hikaru
GM
Radjabov Teimour
2753
4
3
7
2766
GM
Nepomniachtchi Ian
GM
Caruana Fabiano
2783
3
4
1
2750
GM
Duda Jan-Krzysztof
GM
Ding Liren
2806
2
Links
---