Nodirbek Abdusattorov wins the Blitz event
Nodirbek Abdusattorov (UZB) started the day with a draw against Shakhriyar Mamedyarov (AZE). Then he had four consecutive 1-0 results, the losses were against Hikaru Nakamura (USA) and Magnus Carlsen, the wins were against Fabiano Caruana (USA) and Aryan Tari (NOR). He defeated last year's Blitz event winner, Wesley So (USA) in Round 6. In the seventh round, the 44th Olympiad Gold medalist drew against Alireza Firouzja (FRA), then he won the following two games against Anish Giri (NED) and D Gukesh.
Round 2: Carlsen - Gukesh: 0-1
D Gukesh (2629) could have won the game much earlier against Magnus Carlsen (NOR, 2852).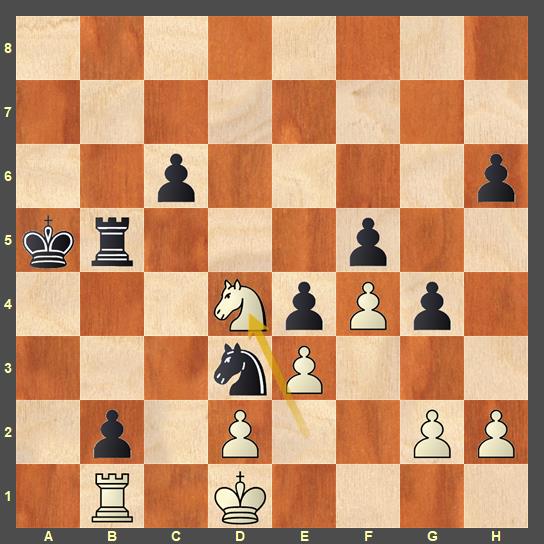 Black could have played 49...Ka4! 50.Nxb5 cxb5 51.Kc2 Ka3 idea is Ka2 followed by Nb4+ and rook moving away in the base rank will be met by Ka2, b4, b3+ to displace the king. The game continued 49...Rb6 50.Kc2 c5? and White got a chance to get back in the game 51.Nxf5. Eventually, Carlsen blundered in the resultant knight endgame, allowing Gukesh to promote a queen. It was still not easy as he had to play carefully in the queen vs knight and connected center passed pawns endgame.
Round 6: Giri - Gukesh: 0-1
D Gukesh (2629) scored his first-ever win against Anish Giri (NED, 2807) in a rated game.
20.Qxg7?? is a blunder. Find out why. Gukesh executed a beautiful combination.
Round 7: Gukesh - Nakamura: 0.5-0.5
Last year at Tata Steel India Blitz 2022, Gukesh has had both decisive results against Hikaru Nakamura (USA, 2885). The third result remaining was a draw. It happened at this event. Gukesh provided staunch defence to draw his game.
Photo Gallery
Highlights
Replay Blitz Round 1-9 games
Schedule
Blitz Round 1 starts on 29th May 2023. Round 1 starts at 7 p.m. local time, 10:30 p.m. IST.
Classical games will be played from 30th May to 9th June 2023. Everyday game starts at 5 p.m. local time, 8:30 p.m. IST. 2nd and 7th June are the rest days.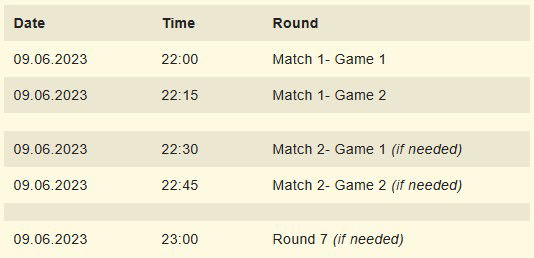 Links
---