11th Norway Chess 2023 R8: Gukesh crushes Tari, now World no.13
D Gukesh is having the tournament of his life at 11th Norway Chess 2023. He defeated Aryan Tari in a beautiful game where his c and d-pawns reached the seventh rank in the middlegame. Yes, you have to see it to believe it. The teenager scored the only Classical victory of the round. This win not only propelled him to the third place in the tournament standings, but also moved him up to World no.13 in the live ratings. That day is not very far when Gukesh will break into World top 10 and surpass Vishy Anand to become the new India no.1 too. Magnus Carlsen defeated Shakhriyar Mamedyarov in Armageddon. Thus, he is out of the championship race. Fabiano Caruana defeated Wesley So in Armageddon to maintain his lead. Round 9 starts today from 5 p.m. local time, 8:30 p.m. IST. All photos in this article are by Lennart Ootes/Norway Chess unless stated otherwise.
Gukesh moves to third place
Fabiano Caruana (USA) maintained his sole lead 16/24. He is followed by Hikaru Nakamura 13.5/24 and Gukesh 13/24. Caruana just needs to draw his final round Classical game and he will win the tournament, even if Nakamura wins his Classical game in the last round.
Gukesh - Tari: 3-0
D Gukesh (2732) had faced Aryan Tari (2642) only in Blitz rated games twice. He lost on both occasions. The last one was at this event. It was time to settle the score.
What an amazing move 17.e4! is. Black has the choice of capturing four pawns in the extended center, yet, every single one of them leads to White getting the upper hand. 17...Nxe4 18.cxd5 Qxd5 19.Nxe4 Qxe4 20.d5 the rise of the unstoppable connected passed pawns. 20...Nf6 21.Bf3 Qf5 22.d6 e4 23.Be2 Nd5 24.Rc1 Nb4 25.c7 just look at the way the pawns are rolling. 25...Bd4 26.Qa4 a6 27.d7
Two pawns on the seventh rank, in a middlegame, certainly speaks volumes about White's positional prowess. White won the game in another ten moves.
Mamedyarov - Carlsen: 1-1.5
Magnus Carlsen (NOR, 2853) made a quick draw against Shakhriyar Mamedyarov (AZE, 2738) in their Classical game. He then went on to win the Armageddon.
Mamedyarov - Carlsen, Armageddon
Find out how should Black continue here and see if you can match Carlsen's thoughts.
Replay Round 8 games
Round 8 results
Standings after Round 8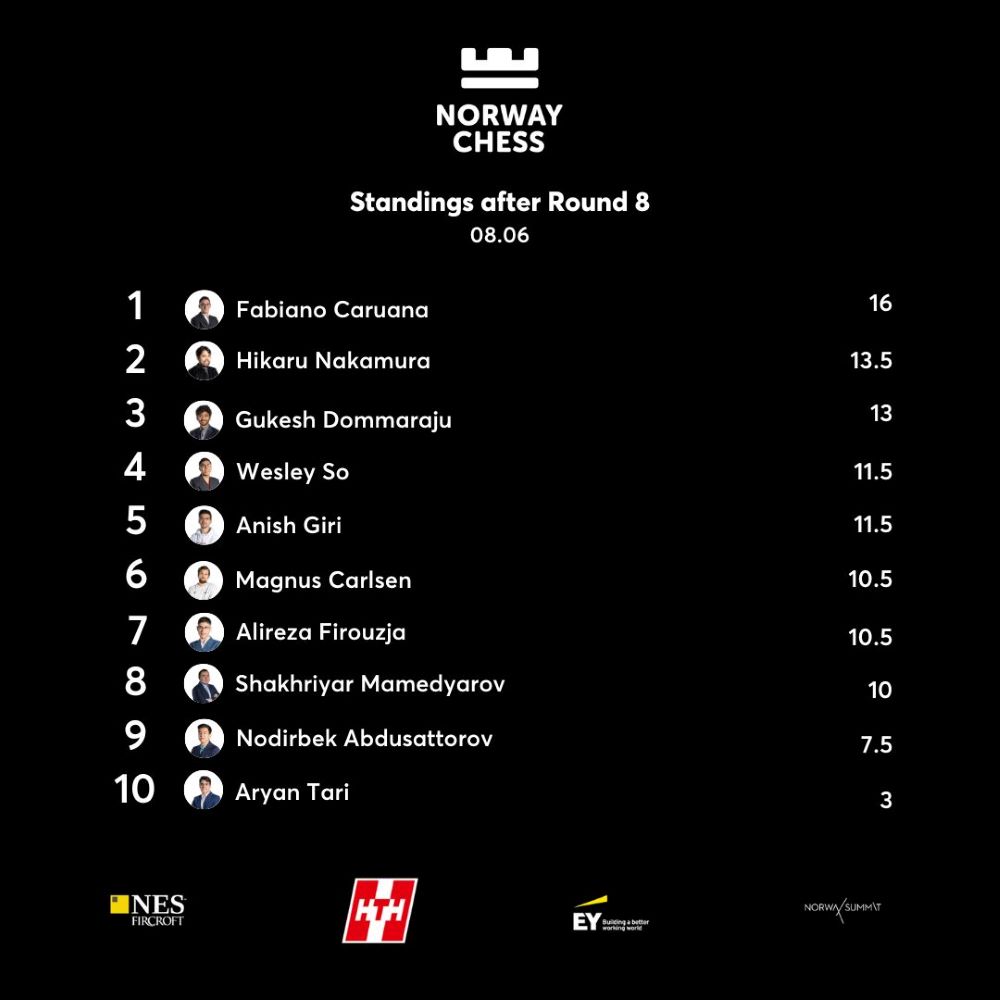 Schedule
Blitz Round 1 starts on 29th May 2023. Round 1 starts at 7 p.m. local time, 10:30 p.m. IST.
Classical games will be played from 30th May to 9th June 2023. Everyday game starts at 5 p.m. local time, 8:30 p.m. IST. 2nd and 7th June are the rest days.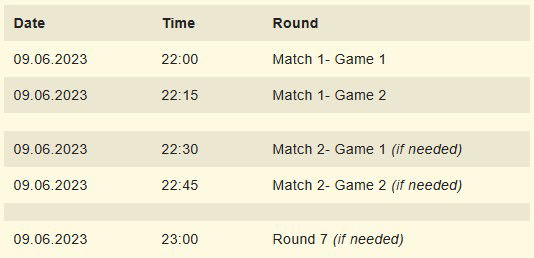 Links
---