11th Norway Chess 2023 R4: Gukesh draws the Classical against Carlsen
D Gukesh drew his second Classical rated game ever against Magnus Carlsen. Earlier this year, he drew against the world no.1 at 85th Tata Steel Masters 2023. In the Classical battle, Gukesh navigated the queen endgame quite well. It lasted more than 50% of the entire game. The Armageddon was a chaotic encounter which saw Gukesh sacrificing his queen in a must-win game and eventually losing the game after blundering a piece. The result might have gone in the Norwegian's favor. However, Gukesh showed once again, that he is ready to take Carlsen in any format of the game. Fabiano Caruana scored the sole Classical victory of the round against Alireza Firouzja. Round 5 starts today from 5 p.m. local time, 8:30 p.m. IST. All photos in this article are by Lennart Ootes/Norway Chess unless stated otherwise.
Caruana extends his sole lead 10.5/12
Four games of Round 4 required Armageddon. Magnus Carlsen, Hikaru Nakamura and Shakhriyar Mamedyarov defeated D Gukesh, Anish Giri and Nodirbek Abdusattorov in Armageddon, while Wesley So drew against Aryan Tari with the black pieces. Thus, So won the match.
Gukesh - Carlsen: 1-1.5
D Gukesh (2732) has played only one Classical rated game against Magnus Carlsen (NOR, 2853). It was earlier this year at the 85th Tata Steel Masters 2023. It ended in a draw. This time also the result was same. The game was far from easy. It reached a queen endgame after the 30th move and it lasted for another 52 moves of fight where both tryin to one up each other.
Gukesh - Carlsen, Classical
The above complex queen endgame had a lot of tricks and threats. However, both players did not budge and it ended in a draw. Thus, Armageddon was played.
Gukesh - Carlsen, Armageddon
Carlsen tempted Gukesh into sacrificing his queen. Guess what did Gukesh do? He did sacrifice his queen 27.Qxa2 Qxa2 28.Nxd7 Rd8 29.Nf6+ Kf7 30.e5 Qd2 31.f3 Qxb4 and Black eventually went on to win the game after Gukesh blundered his knight. Nevertheless, it was a thrilling encounter and Gukesh played really well.
Firouzja - Caruana
The last encounter between Alireza Firouzja (FRA, 2785) and Fabiano Caruana (USA, 2764) ended in a draw at Superbet Chess Classic last month. 22...Rb2 taunted White into capturing the h8-rook via Qa8+ skewer. Firouzja fell for it. 23.Bd2 Rg8 24.Rf1 would have kept White in the game. 23.Qa8+ Kf7 24.Qxh8 Qxc2 25.Bd2 Qe4+ 26.Kf1 Qd3+ and Black went on to win the game by munching a lot of pawns.
On rest day, 11th Norway Chess 2023 participants had a knitting competition
The winning design by the team of Anish Giri and Nodirbek Abdusattorov
Hikaru Nakamura and Magnus Carlsen were a team
Highlights
Replay Round 4 games
Round 4 results
Standings after Round 4
Round 5 pairings
Schedule
Blitz Round 1 starts on 29th May 2023. Round 1 starts at 7 p.m. local time, 10:30 p.m. IST.
Classical games will be played from 30th May to 9th June 2023. Everyday game starts at 5 p.m. local time, 8:30 p.m. IST. 2nd and 7th June are the rest days.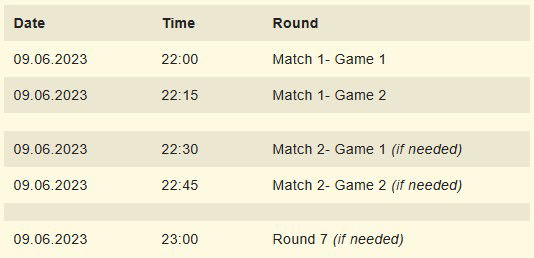 Links
---