11th Norway Chess 2023 R2: Firouzja survives Mamedyarov's exciting attack
D Gukesh lost the second round of 11th Norway Chess 2023 against Hikaru Nakamura. The teenager made a couple of incorrect bishop retreat. First one cost him a pawn, second one lost his opportunity to stay in the game. Shakhriyar Mamedyarov launched a very exciting attack on Alireza Firouzja's kingside. The former World Rapid champion could not realize his advantage and eventually lost the game. Aryan Tari also missed his opportunity against another former World Rapid champion, Nodirbek Abdusattorov. Later he went on to lose the game. Magnus Carlsen and Fabiano Caruana won their respective Armageddon against Wesley So and Anish Giri. Round 3 starts today from 5 p.m. local time, 8:30 p.m. IST. All photos in this article are by Lennart Ootes/Norway Chess unless stated otherwise.
Caruana becomes early sole leader 4.5/6
The most exciting game of the round 2 was between Firouzja and Mamedyarov. After playing such an exciting game, not getting the desired result, caused him an immense pain as can be seen by an excellent capture by Lennart Ootes.
Gukesh - Nakamura: 0-3
D Gukesh (2732) faced the reigning World Fischer Random champion, Hikaru Nakamura (USA, 2775) in only Rapid and Blitz games. This was their first Classical rated game against each other.
The isolated queen's pawn created out of Semi-Tarrasch became a weakness. 39.Bd3? dropped it Ba2 40.Nf4 Bxd4 41.Qd2 Be5 42.Ng6 Bf6
48.Bf1 was the last opportunity White had to stay in the game. 48.Be2 Qe4 49.Qxe4 fxe4 50.Kf1 Bf6 51.Rxd8+ Bxd8 soon Black's bishops became menacing. Eventually he forced exchange of pawns until Black got one more for the good measure and White had no choice but to call it a day.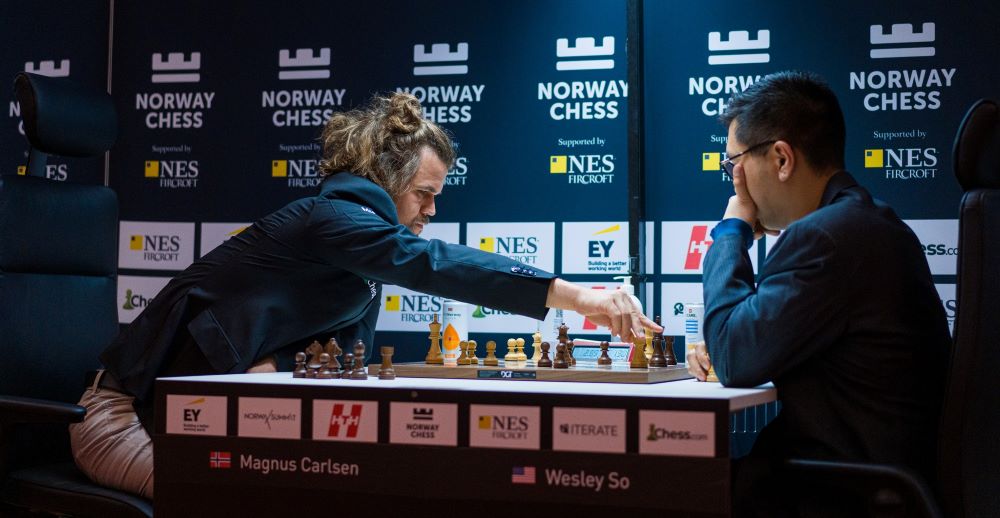 Firouzja - Mamedyarov
Shakhriyar Mamedyarov (AZE, 2738) sacrificed his knight at g2 to wreck his opponent Alireza Firouzja's (FRA, 2785) kingside. 30.dxc5 Qc6 31.Bd4 Ne3? Black had to play Nf4 32.Bxf6 Qxf6 33.Ra2 Nd3 and things would have been fine. 32.Rf2 Nd1 33.Rg2 g5 34.Be4 Rxe4 35.Bxf6 Re3 36.Rxd1 Rxf3 37.Qb8+ Kf7 38.Bd4 Rf4 39.Rdd2 Qf3 40.h3 Qxh3+ and White resigned. What an amazing battle!
Highlights
Replay Round 2 games
Round 2 results
Standings after Round 2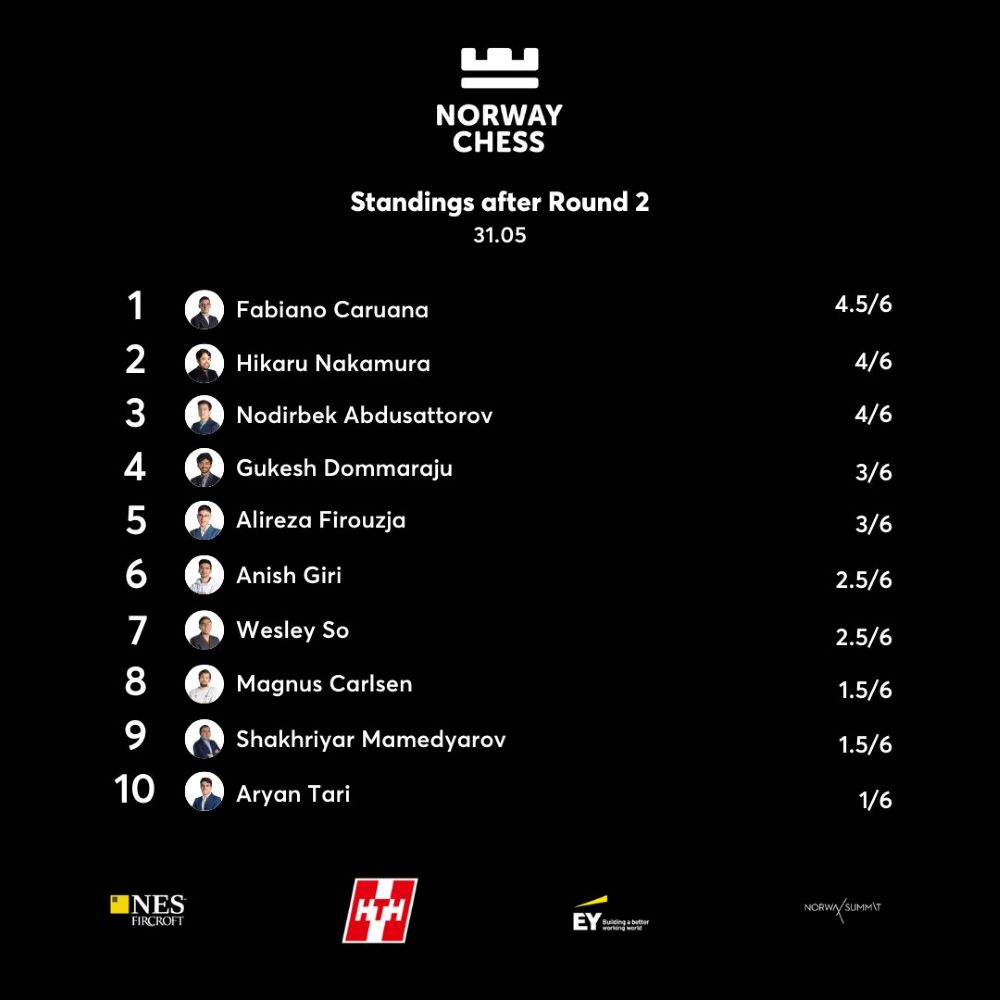 Schedule
Blitz Round 1 starts on 29th May 2023. Round 1 starts at 7 p.m. local time, 10:30 p.m. IST.
Classical games will be played from 30th May to 9th June 2023. Everyday game starts at 5 p.m. local time, 8:30 p.m. IST. 2nd and 7th June are the rest days.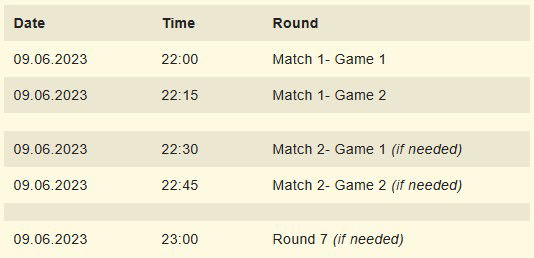 Links
---