Nakamura wins 11th Norway Chess 2023 in a photo finish, Gukesh third
Hikaru Nakamura spoiled Fabiano Caruana's fantastic run at 11th Norway Chess 2023 by winning against him in the final round. Despite leading the tournament for the better part of it, Caruana gave away a pawn in the middlegame, for which he never got any compensation. The Speed King is someone who does not let these opportunities slip by. He converted his advantage very neatly without giving any fragment of opportunity for his opponent to bounce back. Thus the former World Championship Challenger had to be content with a second place finish. For the first time since 2019, Norway Chess had a new winner. D Gukesh drew both Classical and Armageddon against Wesley So. He won the Armageddon as per the rules of the match and went on to finish third. This is undoubtedly Gukesh's best performance in a super tournament featuring the world no.1 Magnus Carlsen. All photos in this article are by Lennart Ootes/Norway Chess unless stated otherwise.
Nakamura reclaims World no.2 again, Gukesh World no.13
D Gukesh keeps improving his game in various aspects. This might be his third Classical tournament, but he played like somehow who has been a World-Class elite level player for years. Why? Here are the statistics - Out of 15 games combining Classical and Armageddon, he has lost only two. Whom did he lose against? The eventual winner - Nakamura and World no.1 - Magnus Carlsen. Who are the players he beat? Alireza Firouzja (Classical), Shakhriyar Mamedyarov (Armageddon), Anish Giri (Armageddon), Fabiano Caruana (Armageddon) and Aryan Tari (Classical). Meanwhile, Magnus Carlsen did not manage to register a single Classical victory in the tournament. He finished the event by running out of time in Armageddon and then signing on the clock. This performance undoubtedly cements Gukesh's place currently among the world's best and it goes without saying, he should be a common feature in the elite events going forward.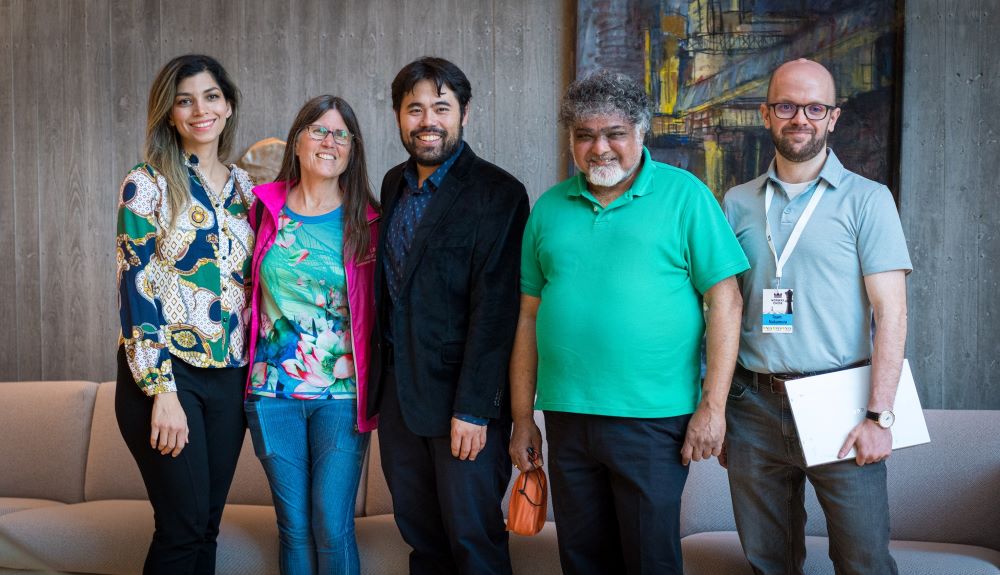 Nakamura - Caruana: 3-0
The Classical rated encounter between the Americans, Hikaru Nakamura (2775) and Fabiano Caruana (2764) was at Candidates in June 2022. Nakamura won it. The result was the same in the final round of 11th Norway Chess 2023 too.
17...f5? sacrificing the c5-pawn without any compensation turned out to be a not-so-good idea. 17...Nb4 is the common move which is recommended by computers and has been played in ten games found in Mega Database. Surprisingly Black won only once out of them and that also a 2232-rated player won against a 1930. It certainly begs the question - why did Caruana go for this after having such a great tournament and form since last month? Well, decisions are always correct, only in retrospect we find what could have been done differently. Black never got any compensation or counterplay for the pawn. Nakamura eventually went on to win the game with precise play.
Nakamura tweeted after his triumph
Gukesh tweeted on his fantastic performance
The maestro, Vishy Anand congratulated him
Photo Gallery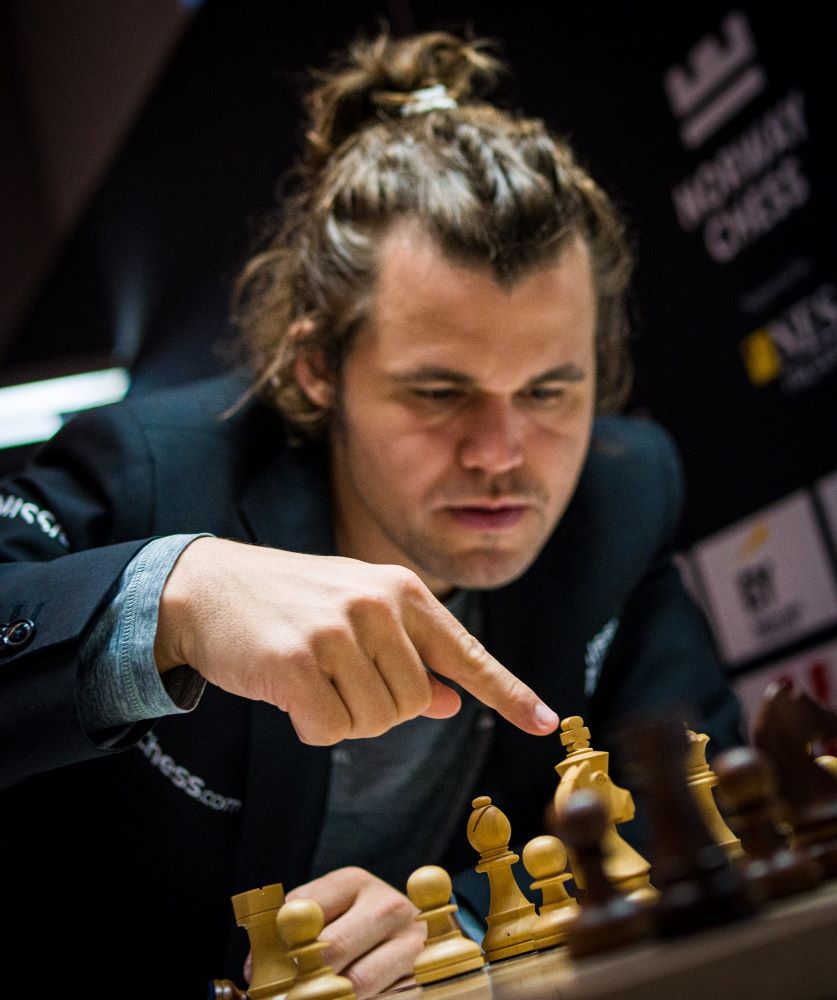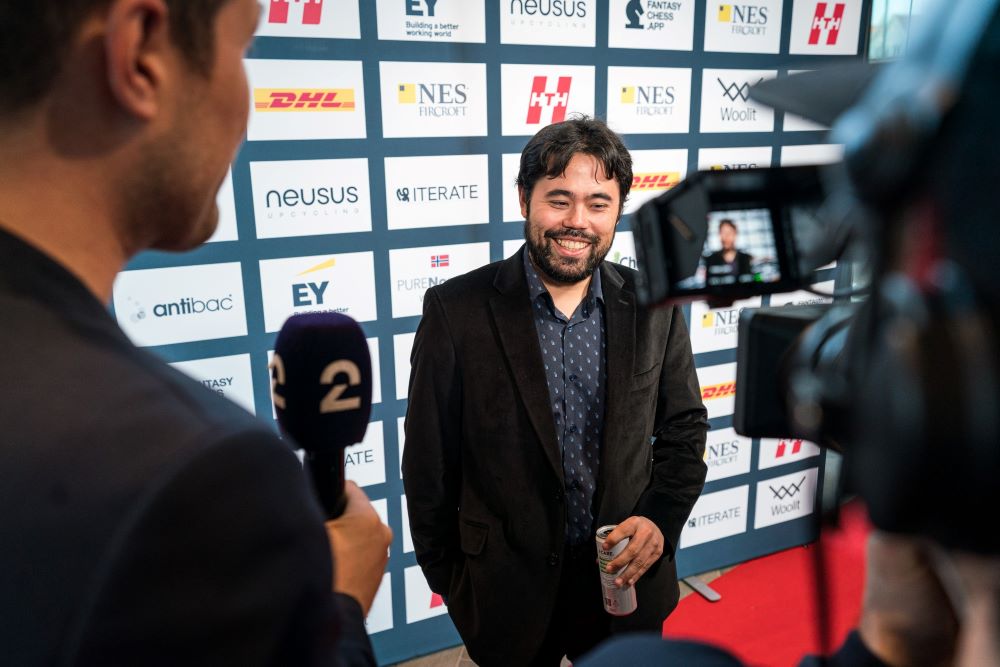 Highlights
Replay Round 9 games
Round 9 results
Carlsen - Abdusattorov: 1-1.5
So - Gukesh: 1-1.5
Nakamura - Caruana: 3-0
Giri - Mamedyarov: 1.5-1
Tari - Firouzja: 3-0
Final standings after Round 9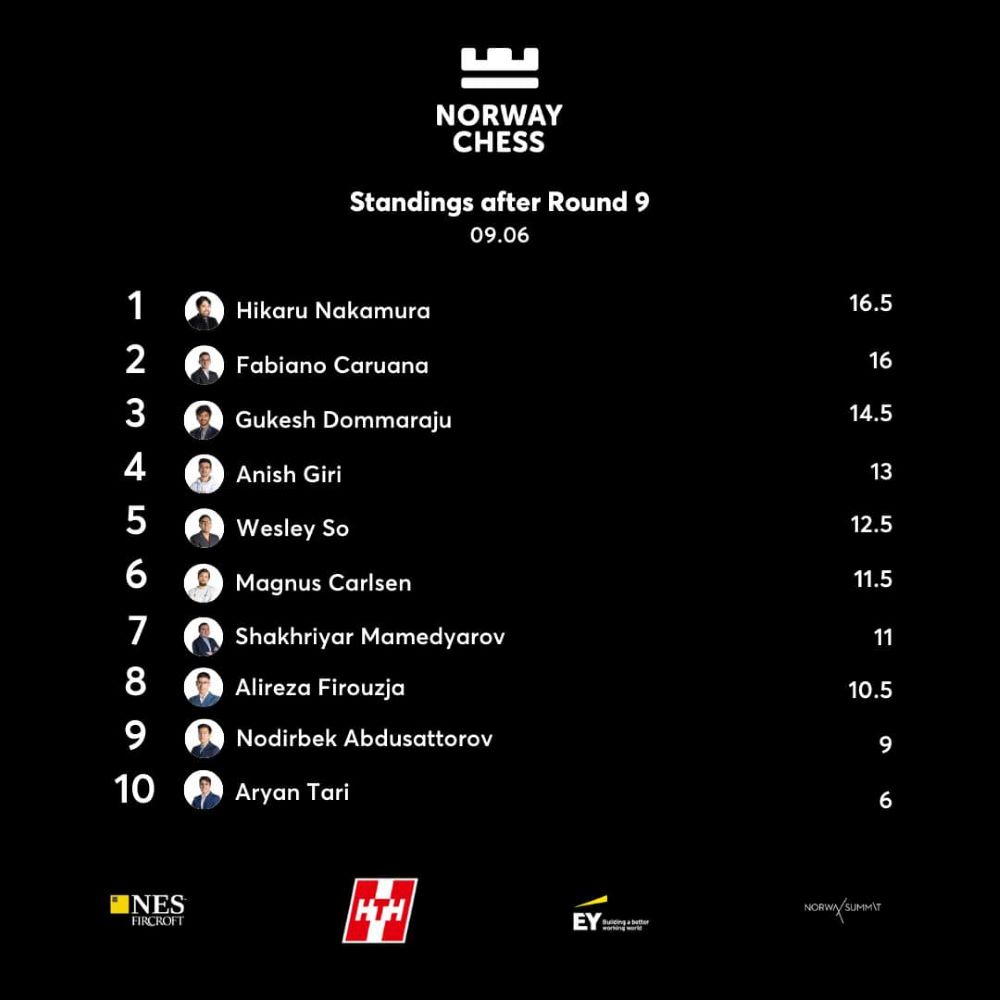 Schedule
Blitz Round 1 started on 29th May 2023 at 7 p.m. local time, 10:30 p.m. IST.
Classical games were played from 30th May to 9th June 2023. Everyday game started at 5 p.m. local time, 8:30 p.m. IST. 2nd and 7th June were the rest days.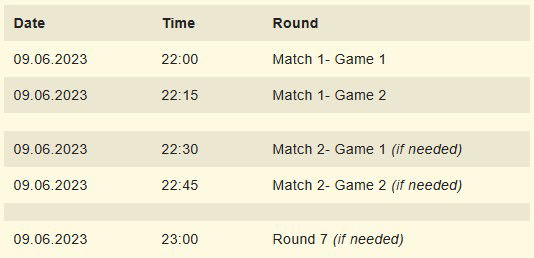 Links
---