11th Norway Chess 2023 R7: Caruana loses on time in Armageddon against Gukesh
D Gukesh continues his great run at 11th Norway Chess 2023. The 44th Chess Olympiad Gold medalist, drew the Classical game against the tournament sole leader, Fabiano Caruana. In the Armageddon, the teenager was lost in the queen endgame. However, the American ran out of time and lost the game. Thus, Gukesh won the match. Caruana is still in sole lead 14.5/21 followed by Hikaru Nakamura 12.5/21. Nakamura defeated Shakhriyar Mamedyarov in a thrilling Armageddon in a back and forth game. Magnus Carlsen continues to struggle winning a Classical game at this event. He defeated Alireza Firouzja in Armageddon. Today is the final rest day. Round 8 starts tomorrow Thursday 8th June from 5 p.m. local time, 8:30 p.m. IST. Photo: Norway Chess
So leapfrogs to third place
Nodirbek Abdusattorov suffered his second consecutive loss, third overall in Classical games at this event. This win allowed Wesley So to jump to the third spot in the standings 10.5/21.
Caruana - Gukesh: 1-1.5
D Gukesh (2732) and Fabiano Caruana (2764) scored a win each against the other in Classical games. Caruana had won the Blitz game on the first day of this event. Their seventh round Classical game ended in a draw. In the Armageddon, Caruana ran out of time in a winning position against Gukesh.
Carlsen - Firouzja: 1-1.5
Magnus Carlsen (NOR, 2853) had a decisive advantage against Alireza Firouzja (FRA, 2785) for the better part of the Classical game. The last Classical rated game they had was at the very same event in September 2021 which was won by the world no.1.
Carlsen - Firouzja, Classical
White has a firm grip of the position, space advantage, well-placed pieces. Black does not have much going for him except one hxg3 break. Even that won't result in anything substantial. The game continued 29.a3 a5 30.Rfd1 hxg3 31.hxg3 Bxf4 a desperate sacrifice 32.gxf4 Nxf4 33.Qb3 Qxb3 34.Rxb3 Black would certainly be happy to trade the queens. 34...a4 35.Rb4 Rh7 36.Rf1 Nh3+ 37.Kg2 Ng5 38.Nxc6 Ne4 39.Rxe4? this exchange sacrifice was not required. It allowed Black to get back in the game and salvage a draw.
Carlsen won the Armageddon after Firouzja blundered in an already inferior position.
So - Abdusattorov: 3-0
The only two Classical rated games ever played between Wesley So (USA, 2760) and Nodirbek Abdusattorov (UZB, 2731) had ended in draws. Earlier Abdusattorov had defeated So in Blitz at this event. So managed to avenge it.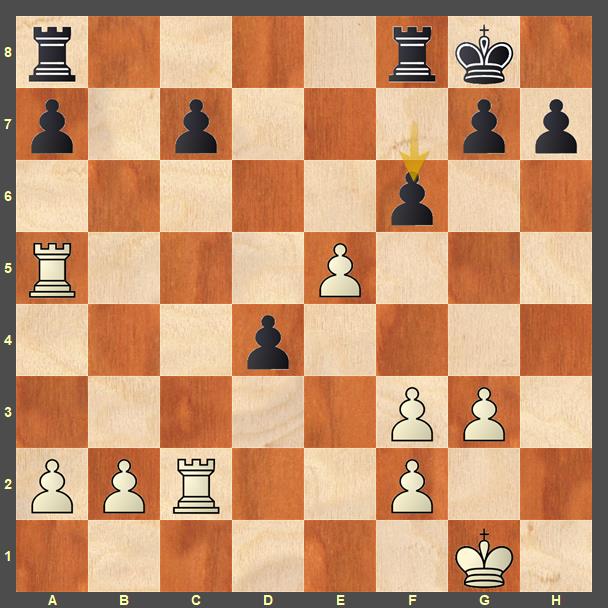 Giving up pawns for no real compensation turned out to be fatal for Black. 23...f6 24.Rxc7 Rf7 25.Rxf7 Kxf7 26.exf6 Rd8 27.Kf1 d3 28.Ke1 and Black resigned as he lost too many pawns for nothing.
Highlights
Replay Round 7 games
Round 7 results
Standings after Round 7
Schedule
Blitz Round 1 starts on 29th May 2023. Round 1 starts at 7 p.m. local time, 10:30 p.m. IST.
Classical games will be played from 30th May to 9th June 2023. Everyday game starts at 5 p.m. local time, 8:30 p.m. IST. 2nd and 7th June are the rest days.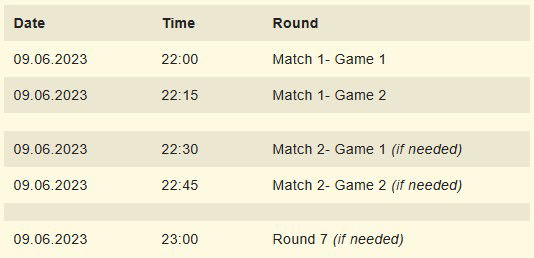 Links
---