11th Norway Chess 2023 R1: Gukesh douses Firouzja at his own game, now World no.15
D Gukesh had lost the only game he played against Alireza Firouzja back in 2018. He is not the same player anymore. The teenager has improved by leaps and bounds. After the world no.4 missed his opportunity to strike first at Gukesh's kingside, the world no.18 seized his opportunity. He just played fiercely and made the most out of his fantastic positional advantage. This win moved Gukesh up to world no.15 in the live ratings. Fabiano Caruana broke his eight-year-long jinx not being able to beat the world no.1. He defeated Magnus Carlsen after he made a mistake in a double rook and knight endgame which was already spiraling out of control. Round 2 starts today from 5 p.m. local time, 8:30 p.m. IST. All photos in this article are by Lennart Ootes/Norway Chess unless stated otherwise.
Caruana overcomes his eight-year-long jinx
Shakhriyar Mamedyarov (AZE), Anish Giri (NED) and Wesley So (USA) won their respective Armageddon against Aryan Tari (NOR), Nodirbek Abdusattorov (UZB) and Hikaru Nakamura (USA) respectively. Fabiano Caruana (USA) is certainly making a resurgence in Classical chess. He won the Superbet Chess Classic 2023 a couple of weeks ago. Now that he has beaten the world no.1, he will certainly be the man to beat in this event.
Firouzja - Gukesh: 0-3
D Gukesh (2732) had faced World no.4 Alireza Firouzja (FRA, 2785) only once in a Classical rated game about five years ago. Firouzja won that game. Gukesh was set to change the score. The Giuco Piano/Italian opening created an interesting position in the middlegame due to Firouzja's placement of his knight at h5.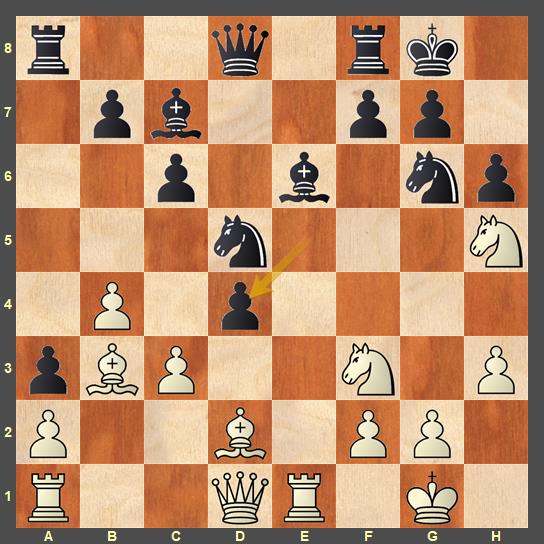 20.Nxd4 is the obvious recapture. However, White had something interesting which falls into Firouzja's territory but surprisingly he didn't play it. 20.Bxh6! Ndf4 21.Bxf4 Bxb3 22.Qxb3 Nxf4 23.Nxf4 Bxf4 24.g3 Bd6 25.cxd4 would have given White a pawn and the upper hand.
31.Rf1 Nc5 would have also given Black a decisive advantage. 32.Rxc1 Qxc1+ 33.Kh2 Rd2 34.Qe4 Rfxf2 35.Rxc7 Rxg2+ 36.Qxg2 Rxg2+ 37.Kxg2 Qd2+ and White resigned as material loss in the next move in unavoidable.
Caruana - Carlsen: 3-0
Fabiano Caruana (USA, 2764) has not beaten Magnus Carlsen (NOR, 2853) since August 2019 in a rated game. His last Classical rated game win was at this very event in the third edition in June 2015.
Carlsen's response to 32.Nd7 Rxb3 did not help his case in an already dwindling position. 33.Nxd5 Nxd5 34.Re5 Nc3 35.Nf6+ and Black resigned. 32...Nxf4 33.Nf6+ Kg7 34.Rexf4 would have also given White a decisive advantage. Black would have had better fighting chances.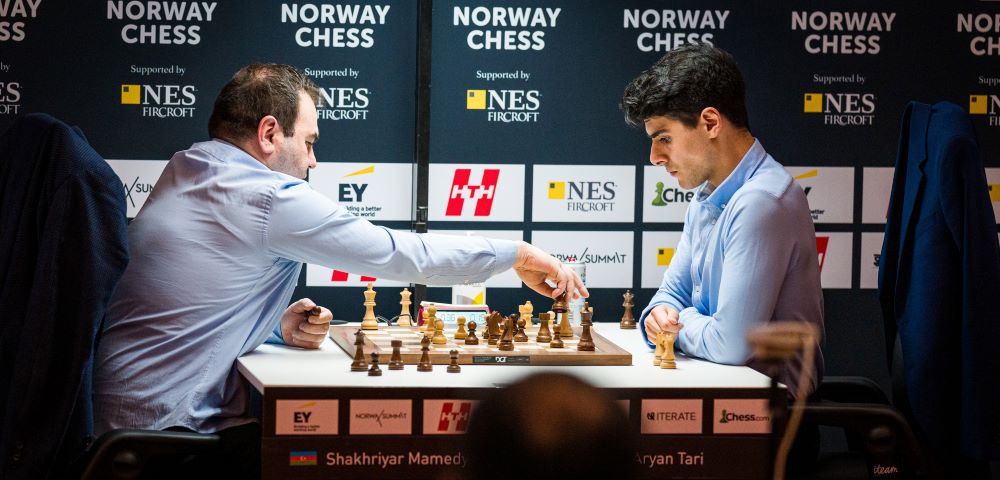 Highlights
Replay Round 1 games
Round 1 results
Schedule
Blitz Round 1 starts on 29th May 2023. Round 1 starts at 7 p.m. local time, 10:30 p.m. IST.
Classical games will be played from 30th May to 9th June 2023. Everyday game starts at 5 p.m. local time, 8:30 p.m. IST. 2nd and 7th June are the rest days.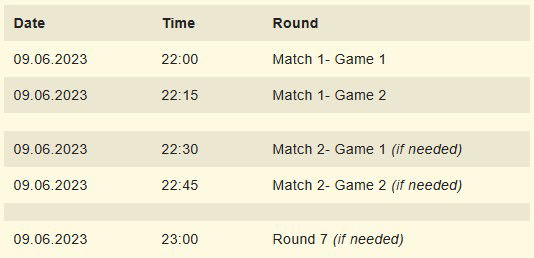 Links
---