Yevgeniy Roshka wins 42nd St. Veiter Jacques-Lemans Open 2023, Sharan Rao second
IM Yevgeniy Roshka (UKR) and FM Sharan Rao scored 7.5/9 each at 42nd St. Veiter Jacques-Lemans Open A 2023. Roshka won the tournament due to better tie-breaks, Sharan secured second place. The fifth round battle between them ended in a draw. Both players remained undefeated. FM Kurt Fahrner (AUT) scored sole 7/9 to finish third. The top three prizes were €1000, €800 and €600 each along with a Jacques-Lemans watch respectively. Sharan crossed 2400 in the live ratings when he beat Sebastian Hoffman (GER) in the final round to become India's latest International Master. The Mangalore man did not slow down. Immediately on the following day, he played Zadar Open 2023 in Croatia. He scored an unbeaten 5.5/9, finished in ninth place and added another 37.4 Elo rating points. Currently, he is playing at 4th Paul Keres Memorial 2023 where he won the first game.
Sharan crosses 2400 in live ratings to become India's latest IM
"When I got my first IM-norm in Sitges in December 2021, I didn't really know what an IM-norm was and how to get one. But ever since then, my only target was to become an IM, guess that's the reason it took me so long to become one. This Europe trip I was mainly targeting to win events and not lose games rather than increasing my rating, looks like that turned out well. Nevertheless, it obviously feels good becoming an IM simultaneously." - Mangalore, Karnataka's Sharan Rao on becoming India's latest IM. We will have a separate article on Sharan's journey towards the IM title.
"Initially I had been going to Derik's Chess School until the year 2013 where Mr.Prasanna Rao and Mr.Derik Pinto motivated me into the game of chess. Mr.Arvind Shastry helped me in the year 2014, after that I went into studies and lost track of chess until 2018. Now mostly it's just me and my laptop sitting for hours and hours. But sometimes I had my friend, Dhrikshu Vasant with who I used to play some blitz practice games over the board all night long relating some interesting openings." - Sharan on whom he is currently working with.
"I'm playing a few more tournaments in Europe until July end, August onwards will mostly take some break and focus on my students performance, whom I have left hanging when I was playing in Europe." - Sharan's answer on what's next for him.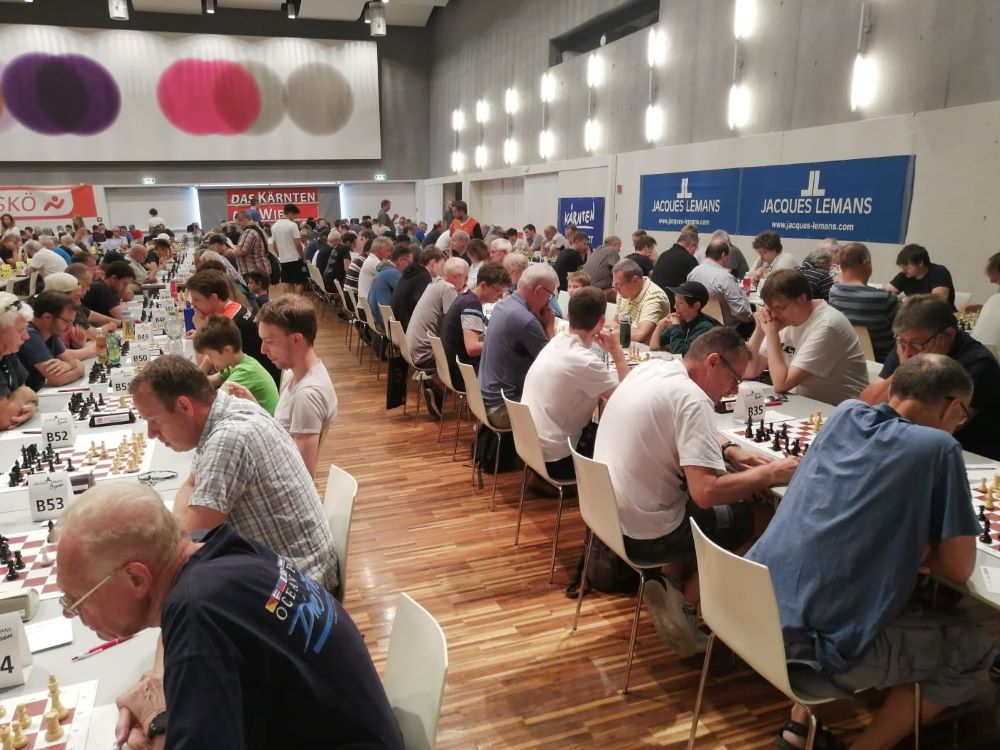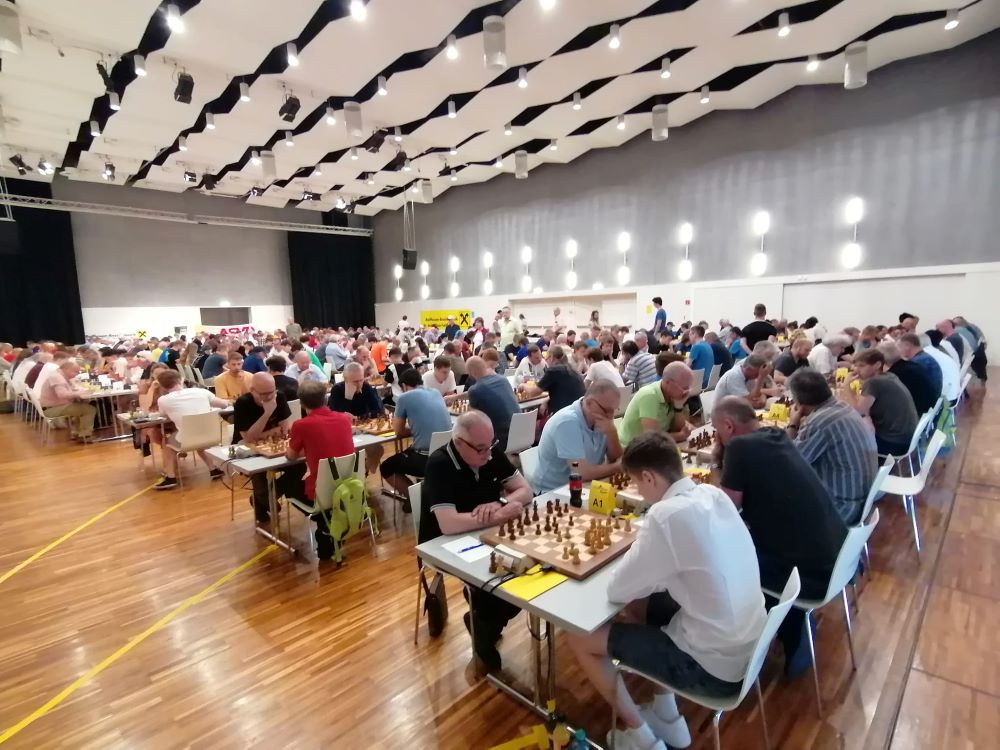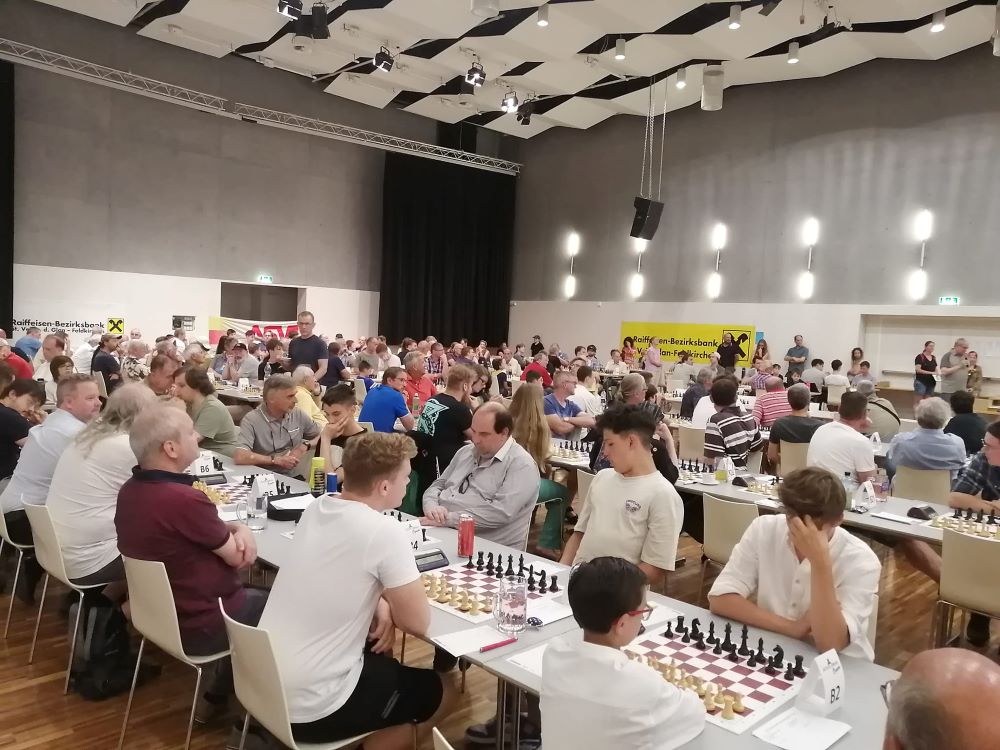 A total of 102 players including a GM and 3 IMs took part from 15 countries across the world in Open A category in this eight-day nine-round Swiss League Rating Open tournament. The tournament was organized by Sv Asvoe St. Veit/Glan at Blumenhalle in St. Veit/Glan, Austria from 8th to 15th July 2023. The time control of the event was 90 minutes/40 moves + 30 minutes/end + 30 sec increment per move starting from move no. 1.
Replay all available games
Final standings
| | | | | | | | | | | | | | |
| --- | --- | --- | --- | --- | --- | --- | --- | --- | --- | --- | --- | --- | --- |
| Rk. | SNo | | Name | Typ | sex | FED | RtgI | RtgN | Club/City | Pts. | TB1 | TB2 | TB3 |
| 1 | 1 | IM | Roshka, Yevgeniy | | | UKR | 2496 | 2483 | Styria Graz | 7,5 | 42 | 53,5 | 43,75 |
| 2 | 9 | FM | Sharan, Rao | | | IND | 2255 | 0 | | 7,5 | 40 | 51 | 40,75 |
| 3 | 8 | FM | Fahrner, Kurt | | | AUT | 2260 | 2251 | Esv Austria Graz | 7 | 38,5 | 49,5 | 35,75 |
| 4 | 16 | | Eilenberg, Jonas | U18 | | GER | 2149 | 2196 | Sk König Tegel 1949 E.V. | 6,5 | 38,5 | 49,5 | 33,25 |
| 5 | 24 | CM | Miazhynski, Michael | U18 | | AUT | 2142 | 2117 | Sk Sparkasse Bad Vöslau | 6,5 | 37 | 49 | 32,75 |
| 6 | 41 | WFM | Vanduyfhuys, Daria | | w | BEL | 2043 | 2045 | | 6,5 | 37 | 47 | 31,50 |
| 7 | 11 | FM | Hechl, Gerald Mag. | | | AUT | 2229 | 2223 | Sc Donaustadt | 6,5 | 36,5 | 46,5 | 31,50 |
| 8 | 4 | FM | Sandhoefner, Florian | | | AUT | 2314 | 2285 | Ask St. Valentin | 6,5 | 35,5 | 45 | 32,00 |
| 9 | 26 | | Hoffmann, Sebastian | | | GER | 2134 | 2029 | Sk Royal Salzburg | 6 | 40 | 50,5 | 31,25 |
| 10 | 31 | | Lauda, Alexandr | | | MDA | 2108 | 2060 | Sv Raika Rapid Feffernitz | 6 | 37 | 48 | 26,50 |
Links
St.Veit Open: Official site, fb page
---