Top three score 6.5/8
Three players FM Sharan Rao, FM Jeet Jain and FM Martin Zvarik (SVK) were in the lead 6/7 heading into the final round. Sharan drew with Zvarik and Jeet drew his game against Martin Solcan (SVK). Thus, Shara, Jeet and Zvarik were placed first, second and third according to their tie-break scores.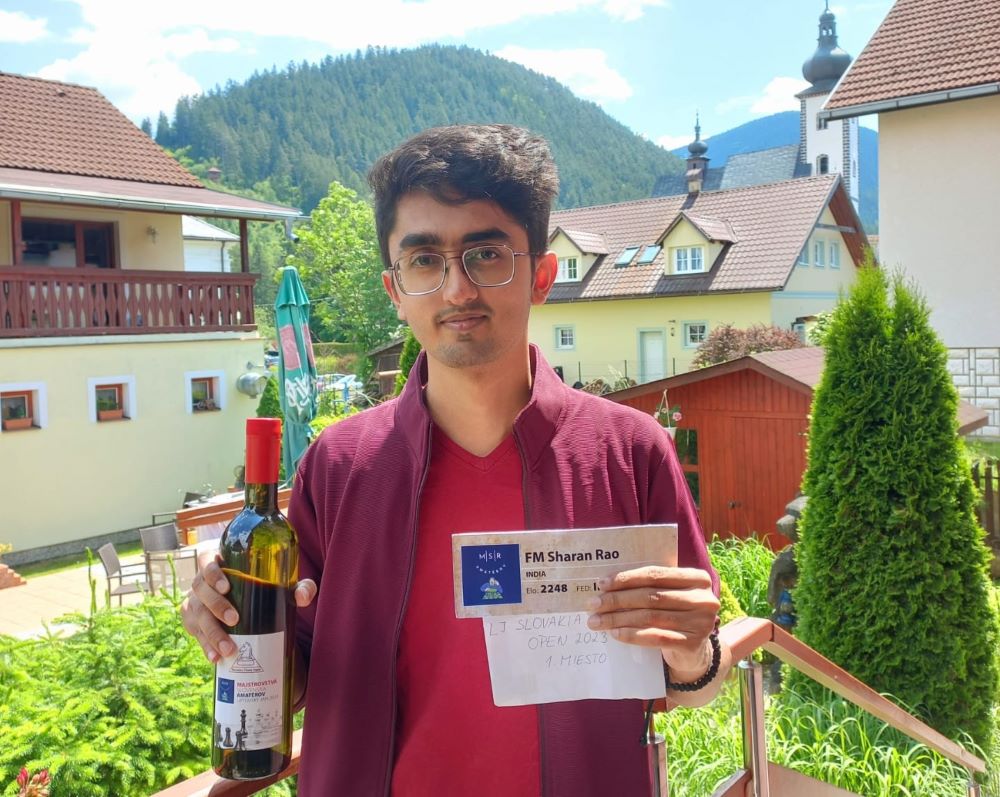 A total of 137 players took part from nine countries across the world in this four-day eight-round Swiss League Below 2300 Rating tournament. The tournament was organized by Slovak Chess Federation at Hotel Sorea in Liptovský Ján, Slovakia from 15th to 18th June 2023. The time control of the event was 60 minutes + 30 seconds increment from move no.1.
Replay all games
Final standings
| | | | | | | | | | | | | | | | | | |
| --- | --- | --- | --- | --- | --- | --- | --- | --- | --- | --- | --- | --- | --- | --- | --- | --- | --- |
| Rk. | SNo | | | Name | Typ | sex | Gr | FED | RtgI | RtgN | Club/City | Pts. | TB1 | TB2 | TB3 | K | rtg+/- |
| 1 | 2 | | FM | Sharan Rao | | | | IND | 2248 | 0 | | 6,5 | 39,5 | 0 | 6 | 20 | 15,8 |
| 2 | 5 | | FM | Jeet Jain | | | | IND | 2199 | 0 | | 6,5 | 39 | 0 | 5 | 20 | 26,4 |
| 3 | 13 | | FM | Zvarik Martin | | | | SVK | 2151 | 0 | Sk Visnove | 6,5 | 38,5 | 0 | 5 | 20 | 28,8 |
| 4 | 10 | | | Solcan Martin | | | | SVK | 2165 | 0 | Sk Levice | 6 | 39 | 0 | 5 | 20 | 11,2 |
| 5 | 21 | | | Lauda Alexandr | | | | MDA | 2078 | 0 | | 6 | 38,5 | 0 | 4 | 20 | 30,4 |
| 6 | 1 | | FM | Stevik Patrik | U20 | | | SVK | 2275 | 0 | Sk Junior Cvc Banska Bystrica | 6 | 37 | 0 | 4 | 20 | -8,6 |
| 7 | 16 | | | Gorbenko Rustem | | | | UKR | 2111 | 0 | | 6 | 36,5 | 0 | 5 | 20 | 15,2 |
| 8 | 12 | | | Holly Andrej | U20 | | RL | SVK | 2158 | 0 | Liptovska Sachova Skola | 6 | 36,5 | 0 | 4 | 20 | 5,2 |
| 9 | 7 | | | Gyerpal Adrian | U20 | | | SVK | 2190 | 0 | Sk Cebovce | 6 | 36,5 | 0 | 4 | 20 | -2 |
| 10 | 8 | | FM | Zetocha Adrian | U20 | | | SVK | 2167 | 0 | Sk Slovan Bratislava | 6 | 36 | 0 | 5 | 20 | 4,8 |
| 11 | 3 | | | Fenik Jozef | | | | SVK | 2218 | 0 | Msk Vranov Nad Toplou | 6 | 35,5 | 0 | 4 | 20 | 2 |
| 12 | 11 | | | Koval Jakub | | | | SVK | 2159 | 0 | Psk Tatran Dason Ism Presov | 6 | 34,5 | 0 | 6 | 20 | 0,2 |
| 13 | 6 | | | Bango Lukas | | | | SVK | 2198 | 0 | Tss Trnava Msk Sered | 6 | 34 | 0 | 6 | 20 | 0,2 |
| 14 | 19 | | | Skreno Vladimir | | | | SVK | 2088 | 0 | Nitriansky Sachovy Klub Nitra | 5,5 | 35 | 0 | 5 | 20 | 4,6 |
| 15 | 23 | | | Kulich Filip | U20 | | | SVK | 2028 | 0 | Sk Povazske Podhradie | 5,5 | 35 | 0 | 4 | 40 | 3,2 |
Links
---