Slovakia Open Piestany 2022 R1: Isha Sharma scores a big win
WIM Isha Sharma scored the biggest win of the first round at Slovakia Open Piestany 2022. She defeated IM Martin Neugebauer (SVK) by launching a clinical attack on the kingside. IM Raahil Mullick had GM Michal Krasenkow (POL) on the ropes. Despite having an advantage for the better part part of the game, the Polish legend managed to escape his opponent's grasp and get away with a draw. FM Shantanu Bhambure and WIM Savitha Shri B were the other victors of the round among Indians. The total prize fund of the tournament is €7000. Top three prizes in the Category A are €1500, €800 and €600. Round 2 starts today 10 a.m. local time (1:30 p.m. IST). Photo: Rupali Mullick
Raahil misses against Krasenkow
Krasenkow - Raahil: 0.5-0.5
The legendary GM Michal Krasenkow (POL, 2569) was in deep trouble against IM Raahil Mullick (2237).
Black needed to continue the attack 32...Bg4 33.Qe3 Nd5 and White would succumbed sooner than later. After a few more missed opportunities, White eventually managed to salvage a draw.
Isha - Neugebauer: 1-0
WIM Isha Sharma (2236) scored a win by launching an attack on his opponent, IM Martin Neugebauer's (SVK, 2528) kingside.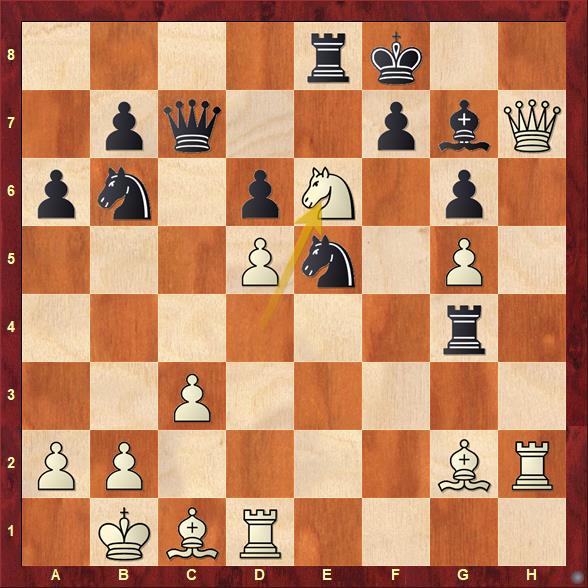 32.Ne6+! is a nice punctuation to White's attack. 32...fxe6 33.Rf1+ Nf7 34.dxe6 Rxe6 35.Bh3 eventually White gained an exchange which was enough for a win.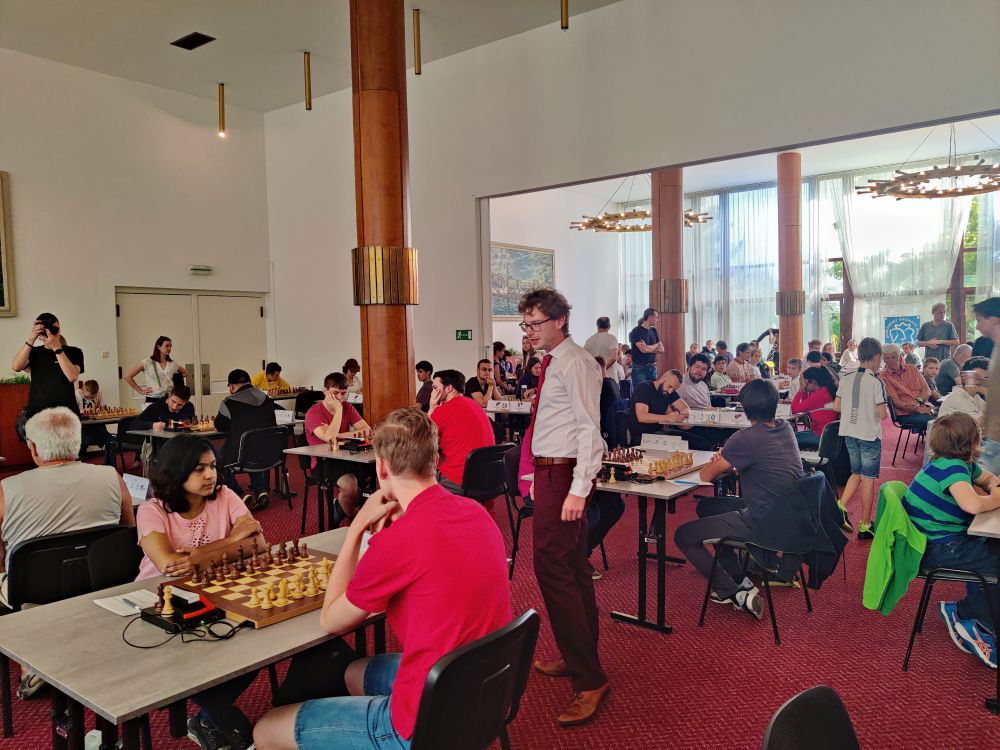 For more Round 1 photos, please click here.
A total of 64 players including 7 GMs, 10 IMs and 3 WIMs are taking part from 13 countries across the world in the Category A (>2100) this eight-day nine round Swiss League Classical Rating tournament. The event is being organized by SK Modra and JAVES in Piestany from 11th to 18th July 2022. The time control of the event was 90 minutes/40 moves + 30 minutes + 30 seconds increment.
Replay Round 1 games
Round 1 results
Round 2 pairings
---