Artem Omelja wins Slovakia Open Piestany 2022, Isha Sharma scores maiden IM and WGM-norm
Six players scored 6.5/9. GM Artem Omelja (UKR) won Slovakia Open Piestany 2022 due to better tie-breaks. FM Bartlomiej Niedbala (POL) and GM Anton Demchenko were placed second and third respectively. IM Raahil Mullick was the highest finisher among Indians. He scored 5.5/9 and gained 52 Elo rating points. WIM Savitha Shri B was the best finisher among female participants. She also scored the same points and gained same Elo rating too. Karnataka's first and only WIM so far, Isha Sharma earned her maiden IM and WGM-norm by scoring 5/9 with a performance of 2453. Her live rating is now 2295.2. Photo: Rupali Mullick
Raahil Mullick is the top Indian finisher
IM Raahil Mullick had a relatively slow winless start 1.5/4. He scored 4/5 in the later half of the tournament to finish with 5.5/9 and secure 13th place. 12-year-old IM Ihor Samunenkov (UKR) is the youngest top 10 finisher. He scored 6/9 to secure seventh place. The total prize fund of the tournament was €7000 combining Category A and B. Top three prizes in the Category A were €1500, €800 and €600 each respectively.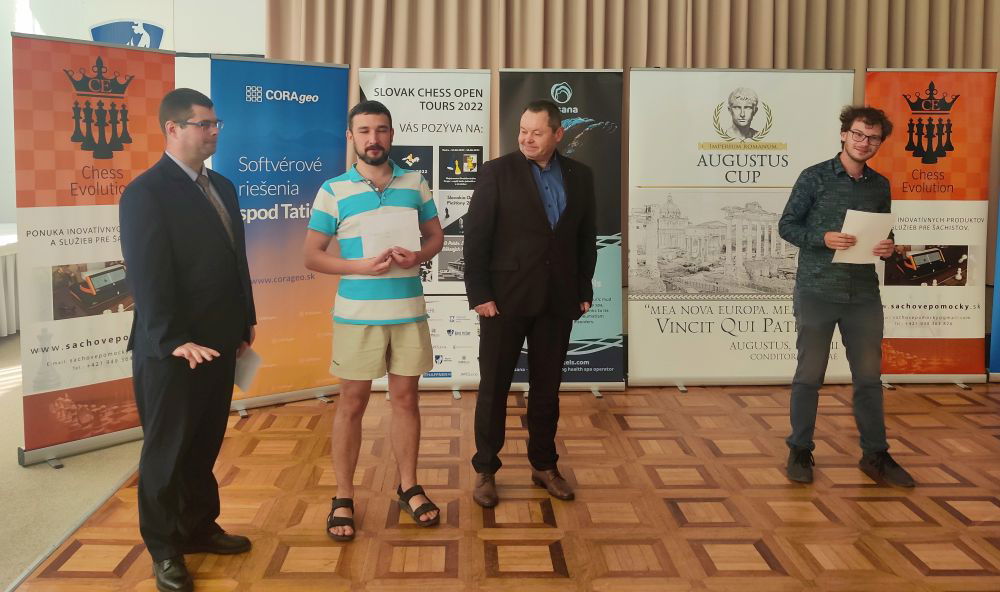 Isha - Vignir, Round 6
The pawn ending looks equal and it should be a draw. However, Black played 31...a4 which created a winning opportunity for White. 32.c4+ would have been winning for White as there is no way to save the game for Black after the break. Here Black could have played 31...b4, c4+ or Kc6 which would have been enough to get a draw. White missed her chance and played 32.Ke3 and the game was drawn in another four moves.
Luca - Moksh, Round 8
18...Nd4 is a thematic move in these setups. White responded incorrectly, 19.Qb2 Nxe2+ 20.Qxe2 e4 21.Bxf6 Qxf6 22.dxe4 Bxe4 23.f3 Rxd1 24.Qxd1 Bc6 and things turned completely in Black's favor. The lack of harmony in white's pieces and a lot of weak pawns created easy targets for Black. 19.Bxd4 cxd4 20.e4 Bg6 is one of the many ways White could have proceeded.
For more Round 5 , 6, 7, 8, 9 and Prize Distribution Ceremony photos, please click at the respective links.
A total of 64 players including 7 GMs, 10 IMs and 3 WIMs took part from 13 countries across the world in the Category A (>2100) this eight-day nine round Swiss League Classical Rating tournament. The event was organized by SK Modra and JAVES in Piestany from 11th to 18th July 2022. The time control of the event was 90 minutes/40 moves + 30 minutes + 30 seconds increment.
Replay Round 5-9 games
Round 9 results
Final standings
| | | | | | | | | | | | | | | |
| --- | --- | --- | --- | --- | --- | --- | --- | --- | --- | --- | --- | --- | --- | --- |
| Rk. | SNo | | | Name | Typ | sex | FED | Rtg | Pts. | TB1 | TB2 | TB3 | K | rtg+/- |
| 1 | 7 | | GM | Omelja Artem | | | UKR | 2478 | 6,5 | 48,0 | 2432 | 5 | 10 | 14,9 |
| 2 | 20 | | FM | Niedbala Bartlomiej | U23 | | POL | 2381 | 6,5 | 47,5 | 2457 | 4 | 10 | 29,1 |
| 3 | 1 | | GM | Demchenko Anton | | | FID | 2653 | 6,5 | 46,5 | 2430 | 5 | 10 | -4,5 |
| 4 | 8 | | | Kozak Antoni | U23 | | POL | 2475 | 6,5 | 46,0 | 2477 | 4 | 10 | 20,3 |
| 5 | 2 | | GM | Donchenko Alexander | | | GER | 2640 | 6,5 | 45,5 | 2411 | 5 | 10 | -5,1 |
| 6 | 6 | | IM | Schitco Ivan | U23 | | MDA | 2490 | 6,5 | 45,0 | 2406 | 4 | 10 | 10,0 |
| 7 | 13 | | FM | Samunenkov Ihor | U23 | | UKR | 2448 | 6,0 | 44,0 | 2371 | 5 | 10 | 6,2 |
| 8 | 5 | | IM | Neugebauer Martin | | | SVK | 2528 | 6,0 | 41,5 | 2379 | 5 | 10 | -0,3 |
| 9 | 10 | | IM | Sahidi Samir | U23 | | SVK | 2462 | 6,0 | 41,0 | 2349 | 4 | 10 | 1,5 |
| 10 | 12 | | FM | Haring Filip | U23 | | SVK | 2451 | 6,0 | 40,0 | 2302 | 4 | 10 | -2,3 |
| 11 | 19 | | FM | Czerw Dawid | | | POL | 2391 | 5,5 | 45,0 | 2406 | 4 | 10 | 12,0 |
| 12 | 3 | | GM | Moroni Luca Jr | U23 | | ITA | 2584 | 5,5 | 44,0 | 2399 | 4 | 10 | -10,4 |
| 13 | 36 | | IM | Mullick Raahil | U23 | | IND | 2237 | 5,5 | 39,5 | 2378 | 3 | 20 | 52,0 |
| 14 | 17 | | GM | Pacher Milan | | | SVK | 2399 | 5,5 | 39,5 | 2303 | 4 | 10 | -0,8 |
| 15 | 15 | | IM | Moksh Amit Doshi | U23 | | IND | 2409 | 5,5 | 39,0 | 2340 | 4 | 10 | 2,0 |
| 16 | 31 | | WIM | Savitha Shri B | U23 | w | IND | 2278 | 5,5 | 38,0 | 2296 | 3 | 40 | 52,0 |
| 17 | 4 | | GM | Krasenkow Michal | | | POL | 2569 | 5,5 | 38,0 | 2266 | 3 | 10 | -19,1 |
| 18 | 18 | | IM | Lewtak Damian | | | POL | 2397 | 5,0 | 45,5 | 2376 | 3 | 10 | 3,6 |
| 19 | 9 | | GM | Gretarsson Helgi Ass | | | ISL | 2472 | 5,0 | 43,0 | 2356 | 3 | 10 | -8,4 |
| 20 | 21 | | FM | Favaloro Andrea | | | ITA | 2361 | 5,0 | 42,5 | 2331 | 3 | 20 | 2,4 |
---