Leonid Milov wins 7th Bodensee Open, Anwesh Upadhyaya second
GM Leonid Milov (GER) scored an unbeaten 7.5/9 to win 7th Bodensee Open 2023. IM Anwesh Upadhyaya and GM Ilmars Starostits (LAT) scored 7/9 each. They were placed second and third respectively according to tie-breaks. Anwesh drew against both Leonid and Ilmars. All three podium finishers remained undefeated. The top three prizes were €800, €600 and €500 each respectively. The nine-day rating tournament was organized by Schachklub Bregenz. This was Anwesh's first Classical rating tournament since July 2022. So an unbeaten second place finish and gaining 12.9 Elo rating points is certainly a great result. All photos in this article are taken from the official site.
Top 3 remain undefeated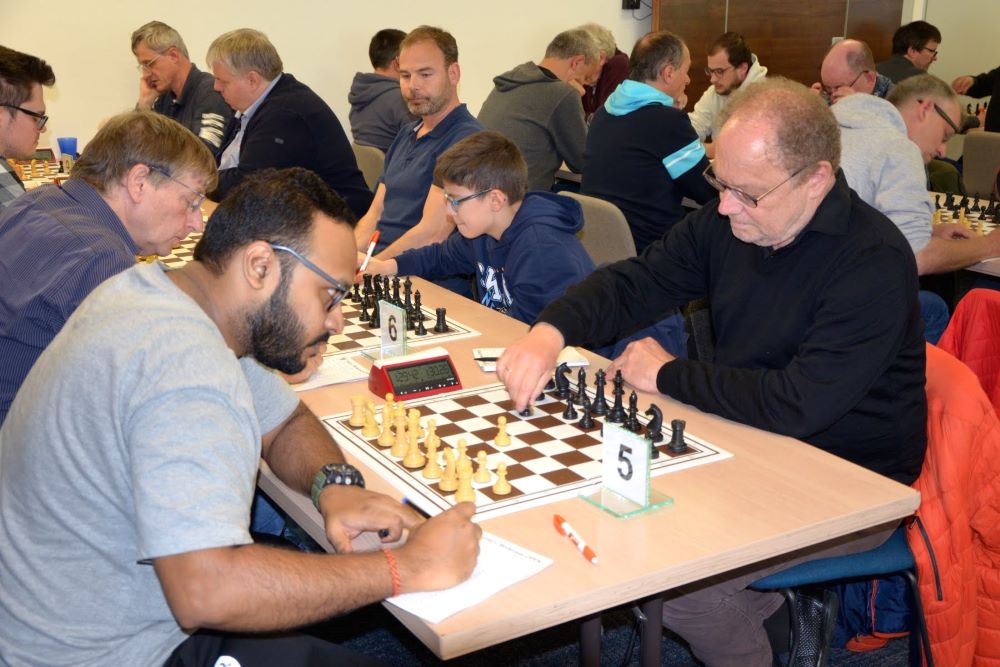 A total of 141 players including 3 GMs and 3 IMs participated from 17 countries across the world. The nine-day nine-round Swiss league Rating tournament was organized by Schachklub Bregenz at Grand Hotel, Bregenz in Bregenz, Austria from 13th to 21st May 2023. The time control for the event was 40 moves in 90 minutes + 30 minutes + 30 seconds increment from move no.1.
Replay Round 1-9 games
Final standings
| | | | | | | | | | | | | |
| --- | --- | --- | --- | --- | --- | --- | --- | --- | --- | --- | --- | --- |
| Rk. | SNo | | | Name | sex | FED | Rtg | Club/City | Pts. | TB1 | TB2 | TB3 |
| 1 | 1 | | GM | Milov Leonid | | GER | 2426 | Sc Noris-Tarrasch Nürnberg 187 | 7,5 | 55 | 43 | 45,00 |
| 2 | 5 | | IM | Anwesh Upadhyaya | | IND | 2340 | Indien | 7 | 55,5 | 43 | 42,25 |
| 3 | 2 | | GM | Starostits Ilmars | | LAT | 2400 | Lettland | 7 | 52,5 | 40,5 | 40,25 |
| 4 | 7 | | FM | Besou Hussain | | GER | 2304 | Lsv Turm Lippstadt | 6,5 | 54 | 42 | 36,50 |
| 5 | 8 | | FM | Matt Fabian | | AUT | 2302 | Wolfurt | 6,5 | 52,5 | 41 | 36,00 |
| 6 | 16 | | CM | Lohia Sohum | | ENG | 2178 | England | 6,5 | 49 | 38,5 | 32,50 |
| 7 | 9 | | IM | Kolbus Dietmar | | IOM | 2277 | Isle of Man | 6 | 54 | 41,5 | 33,75 |
| 8 | 13 | | FM | Bezemer Arno | | NED | 2206 | Amsterdam | 6 | 52 | 40 | 32,75 |
| 9 | 19 | | | Cafasso Elia | | AUT | 2151 | Dornbirn | 6 | 50 | 38,5 | 31,50 |
| 10 | 80 | | | Vrhovac Damir | | AUT | 1803 | Raika Zirl | 6 | 48,5 | 39 | 30,75 |
Links
---