10 reasons why you will fall in love with Vidit Gujrathi
When you look at him, you feel that he does justice to the term - chess is a royal game! Always well dressed, soft spoken and at the same time thoughtful about all that he says, Vidit Gujrathi is the perfect ambassador for the upcoming boom of Indian chess. Today he turned 24 years old and has already spent a good 14 months in the 2700+ zone! While India has had many talents and strong players in the past, Vidit has proved that he has it in him to go the extra mile. He holds his own easily against the best in the world. In shorter formats he has scored wins over legendary players like Aronian and MVL. What makes him so special? We try to find out in this article. Also in the article is a contest where you can win Vidit's ChessBase DVD autographed by Vidit himself.
Today Vidit Gujrathi turns 24 years old. With a live rating of 2710, he is ranked number 35 in the world. He is currently on 3.5/4 at the Isle of Man International and will face Abhijeet Gupta with the black pieces.
I saw Vidit when he was 12 and I was 16. A small lad, more often than not afraid of his opponent. He had this amazing quick eye with which he could solve problems in 1/10 of the time than I could. His voracious reading gave him a huge edge over his opponents in terms of knowledge but draw offers at the wrong time would always make him settle for half points rather than go for the large bounty! While Vidit's game kept getting stronger it became very apparent that the boy suffered from more of an attitude issue than one of chess knowledge or skills. The way he would cry after losing a game or missing a norm opportunity convinced a lot of people that he would never make it big in chess.
But Vidit never really listened to his detractors. That's what champions are good at doing. They believe in themselves. He backed himself, improved his approach towards chess. Defeats still pain him, but he recovers faster. He might still have some fear within him but he has disciplined himself never to offer a draw and cut the fight short. Play until the very end.
Vidit is an example of how a person can find his weaknesses, work on them and improve. He has thought about the things where he lacks and he has tried to find solutions to these problems. This is the reason why I think 2700+ Elo is not a big surprise for him. If he gets the right backing he can go the full distance. Just like he did in Isle of Man 2017, he can really give Carlsen a run for his money with the World Champions' title and the World number one spot!
I have always had great respect for Vidit the chess player, but now (since a few years!) I respect him as a kind, understanding, and considerate human being as well. And I am sure you too will fall in love with him if you watch the 14th ChessBase India show where he speaks about his chess career, ups and downs, successes and failures and much more. (This ChessBase show was recorded a year ago. If you haven't had a chance to look at it, just buy for absolutely no cost from the ChessBase India shop)
Here are 10 reasons why one would fall in love with Vidit Gujrathi and his fantastic chess playing skills:
1. He is the youngest Indian to cross 2700 Elo
Vidit crossed the Elo of 2700 when he was not even 23 years old. He did so on 21st of August 2017 at the Spanish League. Although the eras of Vishy Anand and Vidit Gujrathi are not comparable, just for the record, Anand crossed the Elo of 2700 in 1993 when he was already 23 years old.
2. He is the ambassador for All India Chess Federation for Blind
After winning the Tata Steel Challengers 2018 Vidit was doing really well in his chess career. He was preparing for the Aeroflot Open, where a victory would give him a direct entry to the Dortmund super tournament. This is when he was asked by AICFB to visit the Blind National Premier in Mumbai. Vidit was short of time, but decided nonetheless that it was important to represent the blind chess players. He came to Mumbai and spent some great time with the players and motivated them. He embraced the role of brand ambassador of AICFB and has ever since been following their exploits closely.
3. He is a great representative of the game:
When you look at Vidit, he is always well dressed. He makes a point to dress appropriately, as he is the representative of what Indian chess looks like. Watching him you always get a feeling of a pleasant, well rounded personality.
4. He has recorded two bestseller DVDs for ChessBase
Vidit's ChessBase DVDs of Caro Kann turned out to be bestsellers and has sold thousands of copies all across the world. Although Vidit himself thinks he could have done a better job at presentation, the lines he suggest are absolutely world class.
Part I:
Part II:
Part I and II:
Special contest:
If you buy Vidit's DVD from the ChessBase India shop (Part I, Part II or both) and send wishes to him in the comments section below, the best entry will win a signed copy of his DVD. Essentially you have to buy one of his DVDs and you have to wish him in the comments section below. Contest is open until the midnight on 24th of October 2018.
5. Adventure, trekking and photography!
6. He has reached this level without a permanent sponsor
Vidit has proved his mettle over the years. He is employed by ONGC and supported by Lakshya Foundation. But the expenses of a player of his calibre are humongous. He needs a team of seconds to work for him around the clock, a good trainer who keeps moulding him into a strong player and technological support that can help him prepare better. All of this costs huge amounts of money, and Vidit has been able to excel without it. One can only imagine the distance he can reach if he gets a full-fledged sponsor.
7. He is an animal lover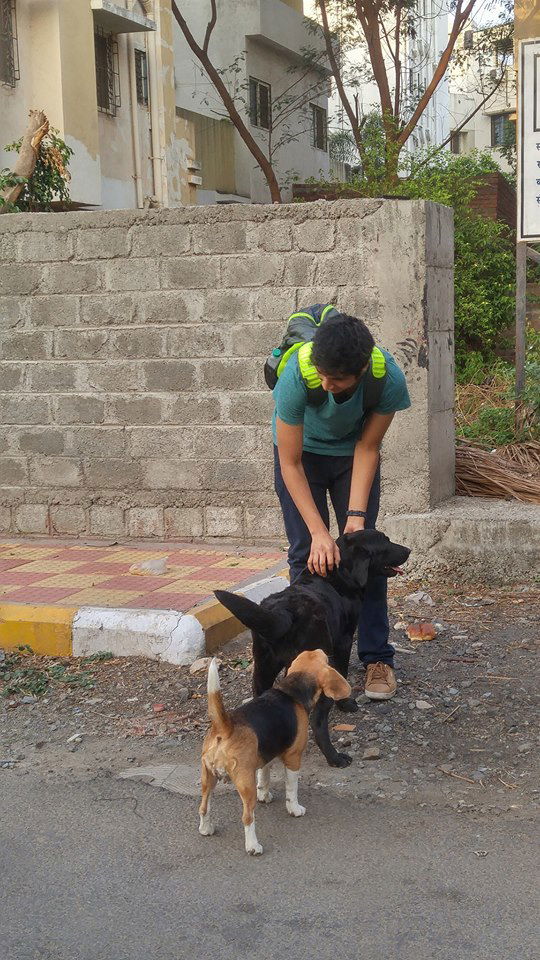 8. He is a family man!
Vidit's family has supported him tremendously through the ups and downs of his chess career and the young man has a deep gratitude towards their contribution. He loves to spend time with his family and they are constant source of inspiration for him.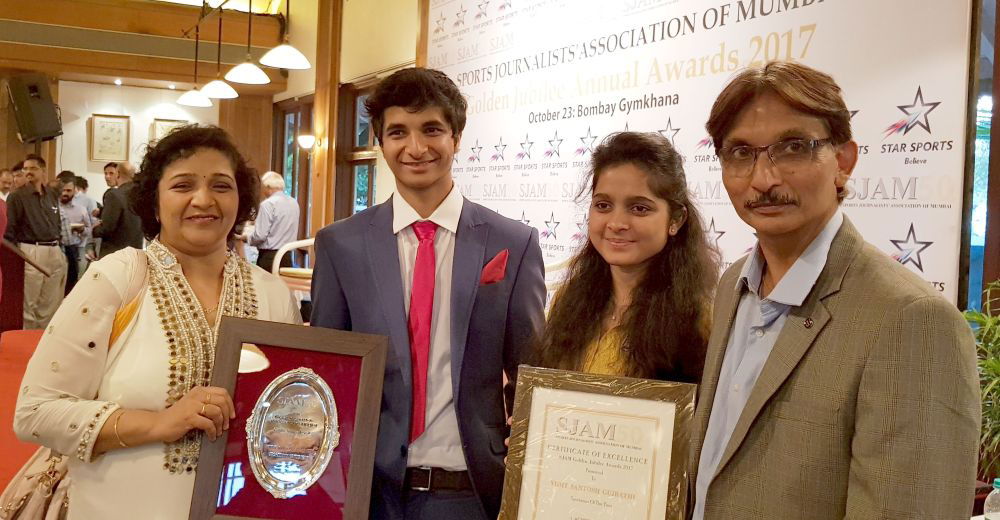 9. He makes chess look easy
Vidit was a full-fledged 1.d4 player. He had hardly played 1.e4 in his life. But one fine day he wakes up and starts playing 1.e4 and begins to get the better of some of the best players in the world. This is what I mean when I say he makes chess look easy. He can incorporate changes into his game quite easily without letting his results suffer. A lot of people call him a positional player, but when you see his round 1 and 2 games from the Isle of Man 2018, you see two queen sacrifices and say to yourself, this guy surely knows how to attack.
10. He has held his own against the best in the world
11. He is always keen to help others improve at chess!
Vidit has quite a vibrant Facebook page and one fine day he decided to let people ask him questions. A lot of people asked various questions to him about different things and then he replied to all of them via this video that was carefully made and addressed almost all of the questions. This showed that Vidit truly cared for the people and their problems of improving at chess.
Testimonials:
Adhiban:
"Indeed it is a great achievement to reach 2700 at such a young age! He has a very good chess culture as he has spent most of his time reading many books.One of my favourite thing about his style of play is that he doesn't have any visible weakness which is already a great quality!"
Lalith Babu:
There is this one particular point - Vidit always tries to find the moves which are annoying for his opponents and he very rarely makes a mistake. I also feel he has mastered the technique of piece placement and maneuvering.
CM Vinod Bhagwat:
Around June 2001 I met Vidit as his initial trainer (when he was 7 years old) to teach him chess. From day one the boy was really very positive. His parents told me they would like to do something special in chess and that they were ready to take whatever efforts required on their part to attain this. Initially Vidit was facing difficulty in reading chess books and solving chess positions as at the age of 7, it is really not a very enjoyable task for a player to set up the position and change it after regularly for a new position. But Vidit's mother and father played a very crucial role by assisting him to give him proper understanding of the books. I urged his parents to participate in the strong chess tournaments as far as possible and he participated in Goa International Rating Chess Tournament as his first rating tournament around 2003 to 2004. Vidit's performance was definitely encouraging. His mother gave up her practice as a doctor to pursue his chess career by accompanying him to each and every outstation tournament. Even his younger sister Vedika compromised most of her childhood activities to support her brother on his way to the top of the chess world. Kudos to his parents for providing him proper training and changing the trainers as per his needs (to become better at chess).
What makes Vidit special:
1) Very hardworking and dedicated fellow
2) Never give up approach
3) Fundamentally very strong. Developed great positional style.
4) From beginning (from childhood) he used to open with white with d4. Today he is one of the greatest exponents of 1. d4 with white. He has now also started playing 1.e4
5) Very positive approach of the parents
---