MPL Indian Chess Tour 2022 leg 4 R9-12: Bharath Subramaniyam is the new sole leader
India's 73rd GM Bharath Subramaniyam H is the new sole leader, heading into the final day of MPL Indian Chess Tour leg 4. He started the day by defeating the previous day leader, GM Pranav Anand. Then he beat GM Abhimanyu Puranik, drew with IM Aditya Mittal and finished the day with a win over GM Sethuraman S P. The 14-year-old got into the lead 22/36 by doing a very pretty checkmate at the center of the board. He is closely followed by GM Pranav 21/36, IM Aditya and GM Karthikeyan Murali at 20/36 each. Who will win the fourth leg - Bharath, Pranav, Aditya or someone else? Round 13 starts today at 3:30 p.m. IST. Photo: Amruta Mokal
New leader each day
GM Karthikeyan Murali prevailed over IM Aronyak Ghosh in a battle of unbeaten players. Karthikeyan went on to lose two more games and won one, while Aronyak had one each of win, loss and draw.
Round 9: Bharath - Pranav Anand: 3-0
India's 73rd GM Bharath Subramaniyam H scored a quick 18-move miniature against GM Pranav Anand. The latter blundered his knight for nothing.
13...f6 basically traps the knight at h5. 14.Bxb8 Raxb8 15.g4 g5 16.gxh5 g4 17.Nh4 f5 18.Ne2 and Black resigned.
Round 10: Abhimanyu - Bharath: 0-3
GM Bharath Subramaniyam H scored his second win in-a-row against GM Abhimanyu Puranik.
33.Qc3 self-pinning the d4-knight was not a good idea as White does not have any decent discover attacks. Find out how Black capitalized on this mistake.
Aditya Mittal - Vaibhav: 3-0
IM Aditya Mittal bounced back with a victory over GM Vaibhav Suri, after a previous round loss against GM Mitrabha Guha.
Despite having an extra pawn on the board, it is Black who can lose this endgame, thanks to White's advanced king and the pawn at a6. Find out what Black should have done here to ensure a draw. 42...Rc6 was played which cost him the game after 43.Rd7+ Kf8 44.Rxa7 Rb6 45.Kxh6 and it's over.
Round 11: Nubairshah - Narayanan: 3-0
IM Nubairshah Shaikh scored his second win in-a-row, this time against GM S L Narayanan using a nice tactical shot.
Black's position was already lost. 39...Nh4 just hastened the loss. Find out the finish for White.
Round 12: Sethuraman - Bharath: 0-3
GM Bharath Subramaniyam H finished the day with a very nice victory over GM Sethuraman S P in a complex queen and minor piece endgame.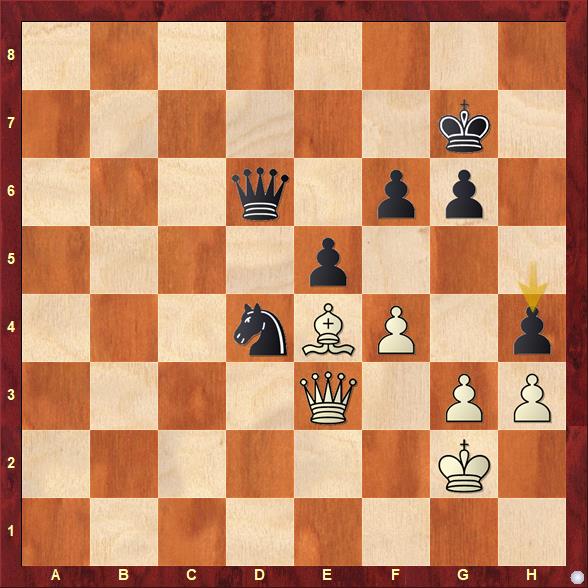 Black had an extra pawn and we all know the queen-knight combination is better than queen-bishop. 42.Bd3 Qd5+ 43.Kg1 hxg3 44.fxe5 Nf3+ 45.Kf1 g2+ 46.Kxg2 Ne1+ 47.Kg3 Qg2+ 48.Kf4 Qg5+ 49.Ke4 Qxe5#.
What an amazing to finish the day for Bharath. Checkmates like these, make a player's day.
Scoring system
Win - 3 points, Draw - 1 point and Loss - 0.
Replay the live stream
Replay Round 9-12 games
Standings after Round 12
Links
---