S L Narayanan wins MPL Indian Chess Tour 2022 leg 3
S L Narayanan won the third leg of MPL Indian Chess Tour 2022. Just like the previous day, the last round had another anti-climactic finish. Narayanan lost to Leon Luke Mendonca and Aravindh drew with Harshit Raja. Both players finished the tournament with the same score 28/45, also the exact same tie-breaks. Since Narayanan beat Aravindh in Round 12, that became the decider in him clinching the tournament. B Adhiban scored 7/9 on the final day to finish third 25/45. Mitrabha Guha also scored the same, however he finished fourth on tie-breaks. He defeated Aravindh in the penultimate round which certainly affected the overall outcome. Photo: chess24
Aravindh second on tie-breaks, Adhiban third
S L Narayanan qualified to the Julius Baer Generation Cup which is slated to start this Sunday. However, he is not sure if he will be able to play. As he mentioned in the post-match interview, he has already committed to play in the Spanish league. In that case, it will be interesting to see if the next in line, Aravindh gets to play in the Meltwater Champions Chess Tour event starting on 18th September.
S L Narayanan tweeted on his triumph
Round 13: Aravindh - Vaishali: 1-1
On the final day, GM Aravindh Chithambaram did not have the perfect start against IM Vaishali R. He was completely winning before he allowed his opponent to escape with a perpetual check.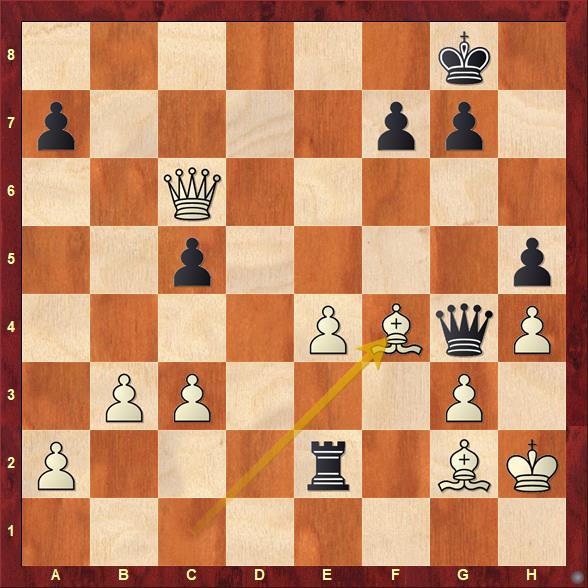 27.Qe8+ Kh7 28.Qxf7 would have prevented any perpetual check probability. 27.Bf4? allowed Rxg2+ 28.Kxg2 Qe2+ and White cannot escape the incessant checks by the queen.
Harshit - Adhiban: 0-3
GM B Adhiban unleashed his 'Beast mode' against GM Harshit Raja.
If Adhiban is presented an opportunity to play something like 11...g5, you can be rest assured that he is certainly going to take it. White could not get back for the rest of the game and eventually lost.
Round 14: Narayanan - Harshit: 3-0
GM S L Narayanan made a short work of GM Harshit Raja in just 18 moves.
What a devastating blow 18.Rxg7! The threat of Qh6 is looming large. Even accepting the sacrifice does not prevent White from attaining Qh6+. 18...Kxg7 19.Qg5+ Kf8 20.Qh6+ Kg8/e7 21.Bxf6+ and it is over.
Aravindh - Mitrabha: 0-3
GM Mitrabha Guha got his avenged his last round loss at the National Blitz 2022 earlier this year by winning a crucial game in the penultimate round.
The game reached an interesting position after 31.f5. Black had to play 31...Qc8 to keep the game going. 31...Qd7 created a winning opportunity for White which he missed. 32.f6 was played and after exf6 things turned completely in Black's favor. Find out what did White miss in the above diagram.
Round 15: Leon - Narayanan: 3-0
GM Leon Luke Mendonca defeated GM S L Narayanan in the final round in an exciting encounter. However, it did not affect his standings as Aravindh drew his game with Harshit.
The position is quite complex. 22...Bf8 was the only way to save the day for Black. 22...Bc8 allowed White to strike immediately 23.Rxd6+- Bxe6 24.Rxd8+ Rf8 25.fxg7! Re8 26.R1d6 Kf7 27.Rxc6 and rest is just a matter of time for White to convert it into a full point.
Scoring system
Win - 3 points, Draw - 1 point and Loss - 0.
Replay the live stream
Replay Round 13-15 games
Final standings after Round 15
Links
---