MPL Indian Chess Tour 2022 leg 3 R1-4: Vidit and Aravindh in the lead
Vidit Gujrathi and Aravindh Chithambaram emerged as the coleaders after the first day of MPL Indian Chess Tour leg 3. Both of them won three games and drew one, finishing the day at 10/12 each. They are closely followed by Mitrabha Guha and Nihal Sarin at 8/12 each. Apart from these four, Leon Luke Mendonca has also made an unbeaten start. WGM Divya Deshmukh scored her sole win of the day against GM B Adhiban. The third leg of MPL Indian Chess Tour will conclude on 12th September 2022. Aravindh won the previous leg in June. Can he make it two in-a-row? Round 5 starts today at 3:30 p.m. IST.
Five players in search of their first win
The third leg is quite as strong as the previous one. GM Arjun Kalyan, GM Harshit Raja, GM Shyam Sundar M, IM Vaishali and GM Karthikeyan Murali are yet to score a win. Karthikeyan had a very tough day as he lost all four of his games.
Round 1: Adhiban - Divya: 0-3
In a battle of Olympiad Bronze medalists, WGM Divya Deshmukh prevailed over GM B Adhiban. Divya invaded her opponent's territory using her king.
There is no point in retreating. Since the king will not get checkmated easily, Black went 42...Kd2 43.Rd8+ Ke1! 44.Nd3+? Kf1 and it's over. She took a slightly longer to seize her advantage. 44.Kg2 would have still managed to save the game for White.
Round 2: Divya - Narayanan: 0-3
GM S L Narayanan used the power of pawns beautifully against WGM Divya Deshmukh.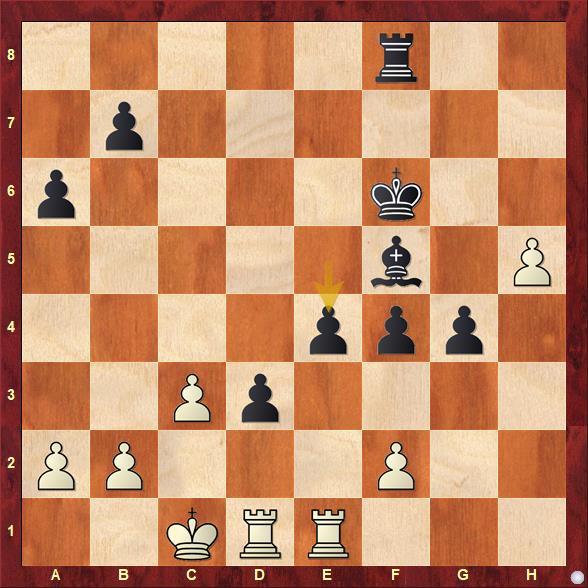 Black is completely winning in the above position. The d3-e4-f4-g4 is an absolutely menacing pawn structure, supported by the bishop at f5. 33.Kd2 g3 34.fxg3 e3+ 35.Rxe3 fxe3+ 36.Kxe3 Kg5 and Black won the game in the next few moves.
Round 3: Nihal - Raunak: 3-0
Nihal Sarin got the better of his Olympiad teammate, Raunak Sadhwani in the queen and minor piece endgame.
Mitrabha - Ganguly: 3-0
GM Mitrabha Guha defeated his statemate GM Surya Sekhar Ganguly.
28...f6 would have kept things in balance. 28...gxf4+ however, turns things completely in White's favor. Find out why.
Round 4: Vaishali - Leon: 0-3
IM Vaishali R made a tactical error against GM Leon Luke Mendonca.
27.Ne6 only works if Black captures it by any means. However, Black does not need to capture it immediately as there is an intermediate move. Try to find out. White could have gone 27.Kf1 or Kh1 and things would have been fine.
Scoring system
Win - 3 points, Draw - 1 point and Loss - 0.
Replay the live stream
Replay Round 1-4 games
Standings after Round 4
Links
---