MPL Indian Chess Tour 2022 leg 2 R9-12: Aravindh Chithambaram soars to the top
Aravindh Chithambaram decimated the competition on the third day of MPL Indian Chess Tour leg 2. He won all four of his games against Raunak Sadhwani, Surya Sekhar Ganguly, Abhijeet Gupta and Abhimanyu Puranik. Thus, he climbed from seventh to first place. Nihal Sarin also has the same score as Aravindh 25 points. However Aravindh is ahead in tie-breaks as he scored more wins than Nihal. It will be a close battle between them. Leon Luke Mendonca is at 20 points, followed closely by Raunak and Abhimanyu Puranik at 20 points each. Arjun Erigaisi has 19 points. Round 13 starts today at 3:30 p.m. IST. Photo: Aditya Sur Roy
Undefeated Nihal shares the first place
After dominating the first two days, Raunak had a tough third day. He started the day with a loss, then he drew the next three games against Arjun Erigaisi, Harsha Bharathakoti and Diptayan Ghosh.
Round 9: Aravindh - Raunak: 3-0
GM Aravindh Chithambaram got a strong pawn center early in the middlegame. The advantage soon became insurmountable for his opponent, GM Raunak Sadhwani.
18...Bxg3 did not alleviate the issues 19.hxg3 Nf6 20.d5 Ne5 21.Qd4 Nfg4 22.Nxe5 Nxe5 23.c5 and eventually the c and d-pawn became menacing.
Arjun Erigaisi - Nihal: 0-3
GM Arjun Erigaisi's four game winning streak came to an end at the hands of his good friend GM Nihal Sarin. The game seemed to have headed towards a draw until Arjun made an incorrect decision to liquidate into a bishop ending.
57.Bc5 would have been fine for White to hold a draw. However, 57.Re3 just completely turned the tide in Black's favor. 57...Rxe3 58.Bxe3 b3 59.Bc1 Kf7 remember Black cannot just play b2 yet as White will happily sacrifice the bishop and play g4, to force Black have only h-pawn left. Thus, it will end in a theoretical draw. So Black had to ensure that he does not only have left h-pawn left before playing b2. It is obvious Nihal would ensure of that and convert it into a full point.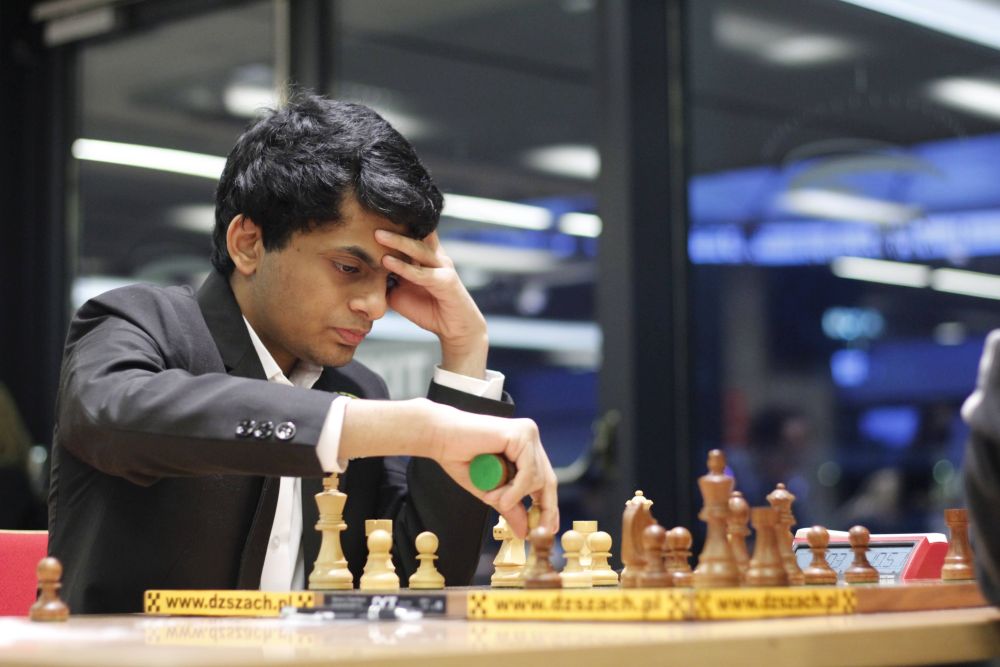 Round 10: Ganguly - Aravindh: 0-3
Aravindh Chithambaram once again used his passed pawn to his advantage against GM Surya Sekhar Ganguly.
The computer might not say 32...e3 is the best move. However, considering the human psyche, it is certainly a powerful move. It is not easy to refute it for White and especially when you are down on the clock. 33.Rf1 Qe6 34.Rxa4 Bf8 and Black won the game in another six moves.
Round 11: Aravindh - Abhijit: 3-0
Aravindh is surely playing like a man on a mission. It was evident from his play against GM Abhijeet Gupta.
Black's thematic knight sacrifice for two pawns went slightly awry. However, one has to appreciate the beautiful 24.Be6 played by Aravindh. When you play a move like that it is bound to give immense pleasure, the result eventually going in your favor is just an icing on the cake. 24...Bxd5 25.exd5 Rf8 26.Bxf7+ well White had an extra piece and the e6-square is perfect for the knight, so why not 26.Bxf7+. Aravindh won a very humane game, something which can only be comprehended by humans, not AI.
Scoring system
Win - 3 points, Draw - 1 point and Loss - 0.
Replay the live stream
Replay Round 9-12 games
Standings after Round 12
All games will start from 3:30 p.m. IST between 2nd and 5th June 2022.
Links
---