MPL Indian Chess Tour 2022 leg 2 R1-4: Raunak Sadhwani grabs early sole lead
Raunak Sadhwani started the day with a draw against Karthikeyan Murali. He won the next three games against Surya Sekhar Ganguly, Abhijeet Gupta and Abhimanyu Puranik. Although the fourth round game was a draw, a final moment blunder by Abhimanyu cost him the game. The 16-year-old has taken the lead 10/12. Aravindh Chithambaram also had a great day. A fourth round loss meant he finished the day with 9/12. Harsha Bharathakoti who ended Aravindh's winning streak and Nihal Sarin are at 8/12 each. The second leg of MPL Indian Chess Tour will conclude on 5th June 2022. Round 5 starts today at 3:30 p.m. IST. Photo: Amruta Mokal
Arjun Erigaisi, Karthikeyan, Gukesh and Abhijeet in search of their first win
The second leg turns out to be stronger than the first one as Arjun Erigaisi, Karthikeyan Murali, D Gukesh and Abhijeet Gupta are yet to register a win in this event. All of them are 2600+ and the average rating of them is 2644.
Round 1: Abhijeet - Mitrabha: 0-3
GM Abhijeet Gupta made some bold choices in the middlegame against GM Mitrabha Guha.
White decided to give up an exchange 19.Rg1 Bxd1. 20.Bxe5 would have been fine to force a draw Bxc2 21.Rxg7+ Kh8 22.Rxf7+ Kg8 23.Rg7+ and Black cannot get out of the perpetual. White went for the ambitious 20.Qf5 Nb3 21.Qxe5 f6 and Black eventually went on to win the game.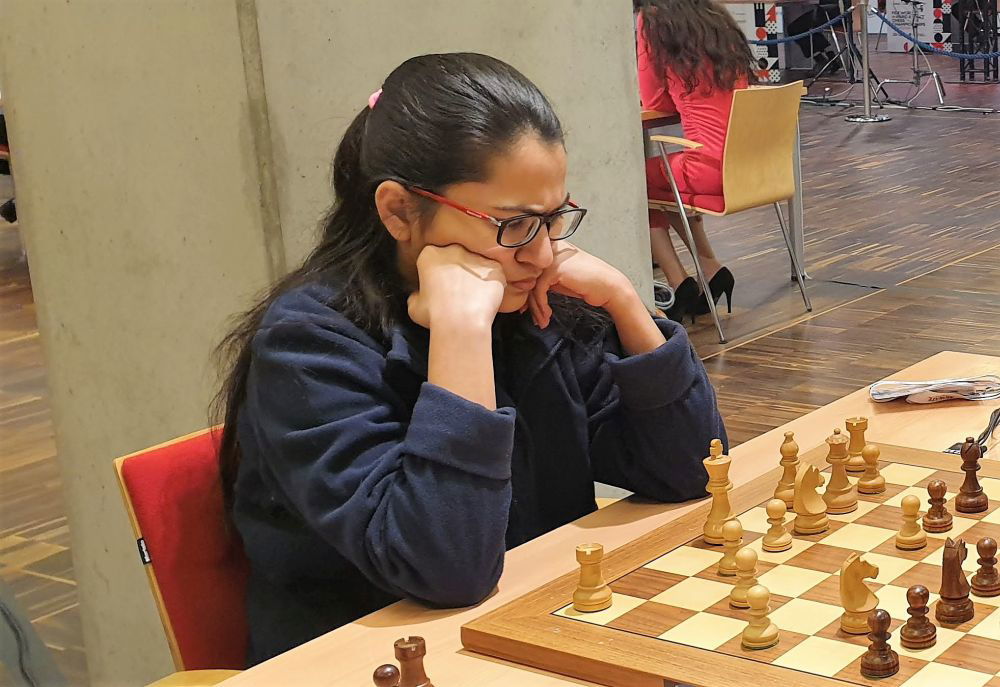 Gukesh - Aravindh: 0-3
Reigning National Rapid and Blitz champion, GM Aravindh Chithambaram spiced things up against GM D Gukesh in the middlegame.
White had no other choice but to capture 33.gxf4 Qg4+ now White misplaced his king 34.Kf1. He needed to play 34.Kh2 Qxf3 35.R1e3 Qg4 36.Qe2 and things would have been fine. The game continued 34...Qxf3 35.R1e3 Qh1+ 36.Ke2 king is at the wrong part of the board. Black eventually went on to win the exciting battle.
Round 2: Karthikeyan - Aravindh: 0-3
Aravindh won a cracker against GM Karthikeyan Murali.
Aravindh played like a man on a mission 17...dxe4 18.gxf6 exd3 19.Qg4 dxc2 20.fxe7 Qxd2 21.exf8Q+ Rxf8. Black is down by a whole a rook. His compensations are three pawns including a deadly passed pawn at c2 which decided the fate of the game and the deadly bishop at b7, making some serious threats on the white king. Sure, White had a few chances to save the day, none of them were easy to spot by humans.
Raunak - Ganguly: 3-0
GM Raunak Sadhwani got a substantial advantage against GM Surya Sekhar Ganguly within the first 20 moves of the game.
Raunak does not miss converting these advantages into a win.
Round 3: Ganguly - Karthikeyan: 3-0
Surya was determined to put the previous round loss behind him. He went for an all-out attack against Karthikeyan Murali.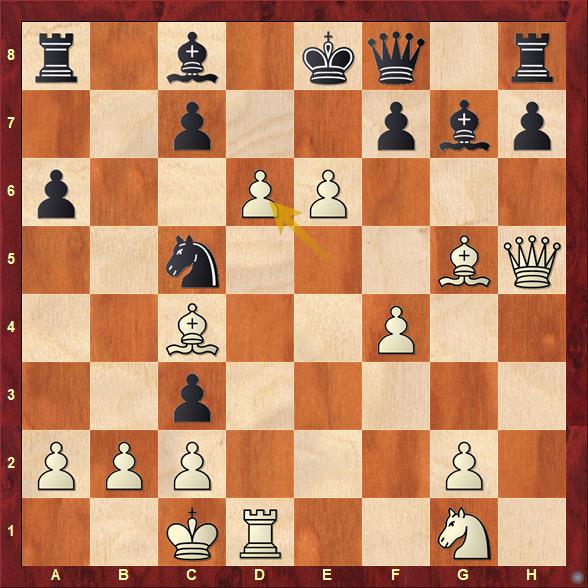 While computer may suggest 16.exf7+ Kd7 17.b4 to be completely over for Black, a human cannot resist the temptation to play 16.exd6 which is more pleasing to the eyes. White eventually won the game after a long rollercoaster ride.
GM Francisco Vallejo Pons also appreciated the beautiful position
Abhijeet - Raunak: 0-3
Once again, a tactical inaccuracy by Abhijeet Gupta cost him the game against Raunak Sadhwani for the second consecutive leg.
Find out the winning continuation for Black after 40.Ne2.
Visakh - Aradhya: 0-3
FM Aradhya Garg scored his sole win of the day against GM Visakh N R.
Should White exchange rooks or decline? Try to find out the answer to this critical decision. White made a wrong call which affected the outcome.
Aravindh - Arjun: 3-0
Aravindh made a short work of Arjun Erigaisi in just 20 moves.
Round 4: Harsha - Aravindh: 3-0
GM Harsha Bharathakoti brought an end to Aravindh's winning streak.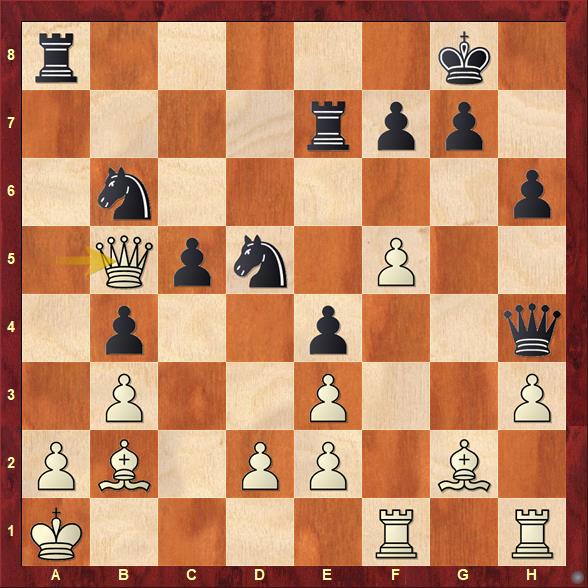 33...c4 would have made things over for White. However, 33...Rea7 allowed White to get back in the game. 34.Qxc5 Rxa2+ 35.Kb1 and White won the game after few inaccuracies by Black.
Diptayan - Gukesh: 3-0
GM Diptayan Ghosh ensured Gukesh ends the day without scoring a win.
Scoring system
Win - 3 points, Draw - 1 point and Loss - 0.
Replay the live stream
Replay Round 1-4 games
Standings after Round 4
All games will start from 3:30 p.m. IST between 2nd and 5th June 2022.
Links
---