MPL Indian Chess Tour 2022 leg 4 R5-8: Pranav Anand gains sole lead
India's 76th GM and World Youth Under-16 Gold medalist, Pranav Anand has emerged sole leader 16/24. Despite starting the day with a loss against the previous day leader, IM Aditya Mittal, Pranav turned things around by winning against Sethuraman and Vaibhav Suri. He was completely lost in both of those games, yet he managed to persevere. His sole draw was against GM Mitrabha Guha, in which the newly crowned GM was completely winning. Aditya scored a win, two draws and lost one game to maintain his chase 15/24. Three players are sharing the third place. They are - GM S L Narayanan, GM Surya Sekhar Ganguly and GM Karthikeyan Murali at 14/24 each. Round 9 starts today at 3:30 p.m. IST. Photo: Rupali Mullick
Karthikeyan Murali and Aronyak undefeated so far
Two players - GM Karthikeyan Murali and IM Aronyak Ghosh are unbeaten in this tournament after the conclusion of eight rounds. Both of them drew three games and won one on the second day. GM Pranav Anand has had seven decisive games out of eight and all of them had the result 1-0.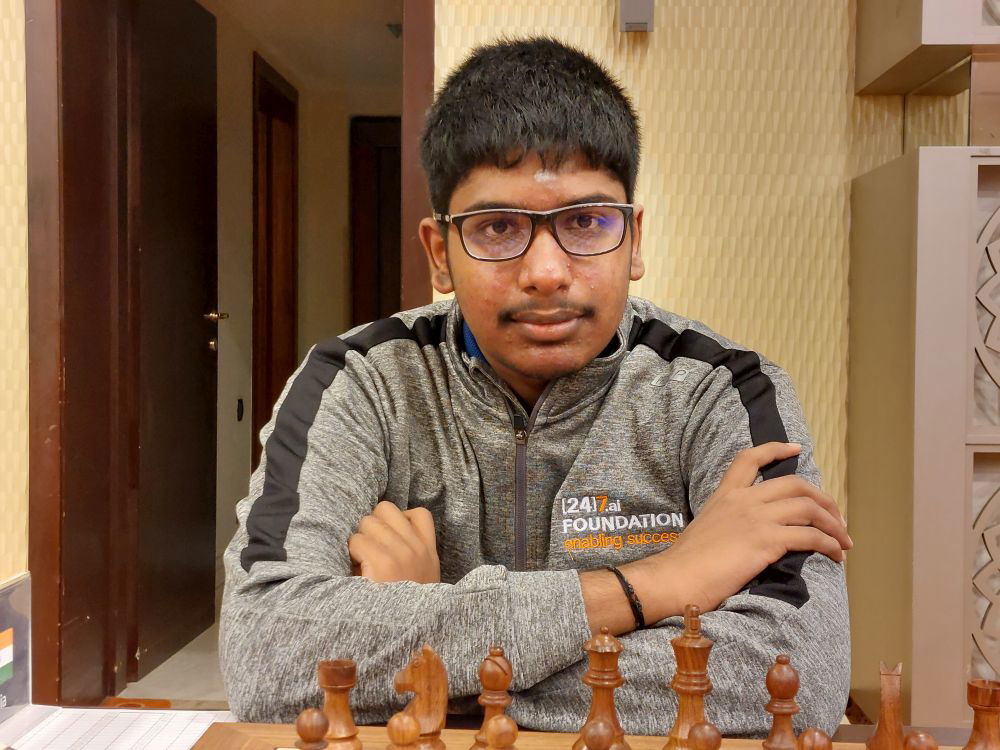 Round 5: Aditya Mittal - Pranav Anand: 3-0
Previous day leader, IM Aditya Mittal started the day with a win over GM Pranav Anand.
Black had to play 16...Be7 to prevent a devastating attack on the kingside. 16...Qe7 just enabled White's attack 17.Nf6+! gxf6 17.exf6 Qd6 18.Rf4 and there is no way for Black to defend the onslaught.
Mitrabha - Adhiban: 3-0
GM Mitrabha Guha won a 117-move long grueling battle against GM B Adhiban. He could have finished the game long before going for a checkmate with a bishop and a knight.
48.Ng5 ends the game immediately as Black is forced to give up his queen in lieu of Qf7+ followed by Qh7#. 48...hxg5 49.Rxe5 Rxe5 50.hxg5 would have been a much quicker win for White.
Round 6: Leon - Iniyan: 3-0
GM Iniyan P was completely winning against GM Leon Luke Mendonca, until he walked into a mate in three, almost like a helpmate.
36...Kxh3 and Black would have been completely fine as there was no way for the king to be checkmated there. However, 36...Kf3 walks into a mating net. Can you find out how?
Narayanan - Bharath: 3-0
GM S L Narayanan broke a seemingly double rook fortress when GM Bharath Subramaniyam H displaced his king incorrectly.
45...Kh8 would have kept the battle going for a bit longer. However, 45...Kf8 ended things quickly after 46.a6 now Black is in zugzwang Rgf7 47.Qd6+ Kg8 48.Kxg4 rest was just a matter of time which White had no trouble converting.
Scoring system
Win - 3 points, Draw - 1 point and Loss - 0.
Replay the live stream
Replay Round 5-8 games
Standings after Round 8
Links
---