MPL Indian Chess Tour 2022 leg 3 R5-8: Aravindh Chithambaram wins all four, the runaway leader
Aravindh Chithambaram won all four games on the second day of MPL Indian Chess Tour 2022 leg 3. He increased his win streak to seven games taking his score to 22/24. The four wins include a victory over the previous day leader Vidit Gujrathi who suffered three consecutive losses. S L Narayanan scored an impressive 10/12 to climb to the second place 17/24. Mitrabha Guha maintained his third spot 15/25 by scoring two wins and a draw after starting the day with a loss. Apart from Aravindh, Leon Luke Mendonca is the only other player who is still undefeated so far. He is at 14/24. Round 9 starts today at 3:30 p.m. IST.
Narayanan climbs to second place
S L Narayanan won three games and drew one to climb from seventh to second place.
Round 5: Nihal - Vidit: 0-3
Nihal Sarin was completely winning against Vidit Gujrathi after the latter's effort to stir up trouble on the kingside went in vain. After 31.f3 Bxf3 32.gxf3 Qg3 we get the following position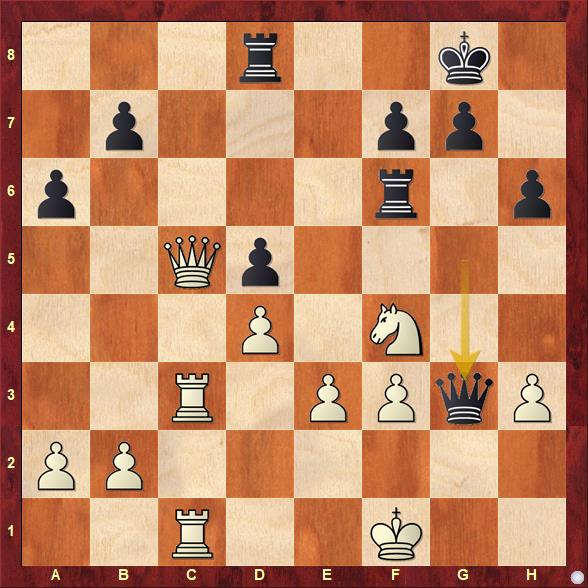 White's only way to maintain the decisive advantage is 33.Qc7. The precise move is not easy to spot. The game continued 33.Qe7 Qxf3+ 34.Ke1 Rdd6 35.Qe5? allowed Black to get back in the game Rde6 36.Qb8+ Kh7 37.Kd2 Qf2+ 38.Ne2 Rf3. Black went on to win a multi-layered queen endgame in a prolonged battle.
Round 6: Arjun Kalyan - Mitrabha: 0-3
GM Arjun Kalyan and GM Mitrabha Guha had an exciting encounter.
27...fxe6 28.fxe6 Qe8 was a better continuation for Black. 27...Kg8 created an opportunity for White. Try to figure out what it was.
Vidit - Adhiban: 0-3
Vidit and Adhiban may not have much to prove. However, the youngsters doing well means they need to keep up with them.
Adhiban launched a devastating attack on the kingside. White had no way to defend it. Black won the game in his signature style 31...Rg3+ 32.fxg3 Nxe1 33.Rxe1 Qg3+ 34.Kh1 Qxe1 35.Kh1 Rf1
Round 7: Narayanan - Vidit: 3-0
GM S L Narayanan trapped GM Vidit Gujrathi's queen.
36...Kh7 is a simple oversight that after 37.g4 Nf4 38.Rg3 Qh4 the queen will get trapped. It is just a matter of time, which is what happened in the game and White won the game with ease.
Mitrabha - Raunak: 3-0
Sometimes a minute difference decides the fate of the game. GM Raunak Sadhwani made an inaccuracy in the endgame which tipped the scale in his opponent GM Mitrabha Guha's favor.
36...Rh4 37.Ra3 Nxf2 38.Kxf2 Rxg4 39.Rxf3 Rg2+ 40.Ke3 Rxh2 41.Nxd6 g4 is a computer-like defence which keeps White in the game. 37.Nxd6 Rd7 38.Ra3 Nf4 39.Nc4 Rb7 40.Nd2 Rb2 41.Ke1 and White won the game quite comfortably.
Leon - Karthikeyan: 3-0
GM Leon Luke Mendonca halted GM Karthikeyan Murali's two-game winning streak.
40...Nxe1 was the only way Black could have survived. 40...Qxe4+ 41.Kd1 Nxe1 42.Rxg8+ Kxg8 43.Qb8+ Kf7 44.Qb7+ Qe7 45.Qxe7+ Kxe7 46.a7 is an incredible finish by Leon.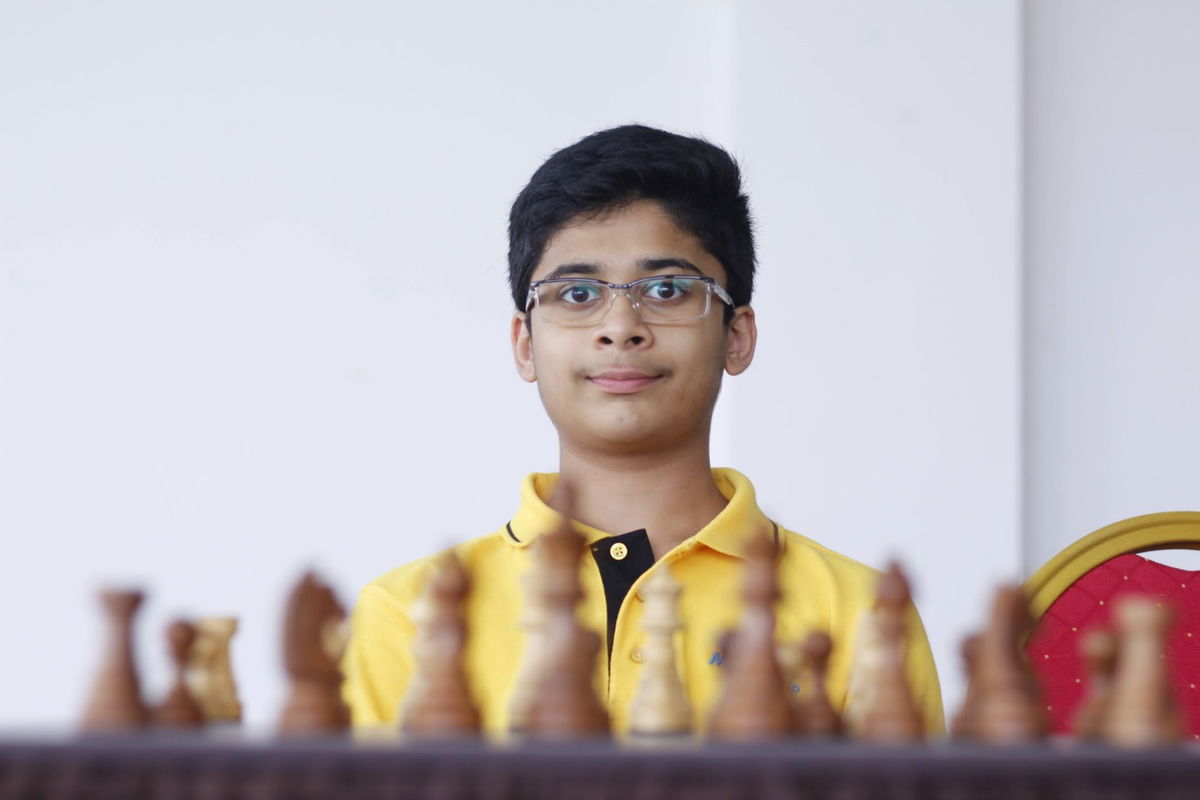 Round 8: Vidit - Aravindh: 0-3
Vidit had a substantial advantage for the better part of the game against Aravindh. However, this tough form from the Olympiad continues, as he stumbled his way into a loss.
30.Rb4 or Qb3 would have been fine for White. However, 30.Rge4 is completely lost. Black does not need to worry about Re8+ threat. Try to find out the winning continuation for Black.
Scoring system
Win - 3 points, Draw - 1 point and Loss - 0.
Replay the live stream
Replay Round 5-8 games
Standings after Round 8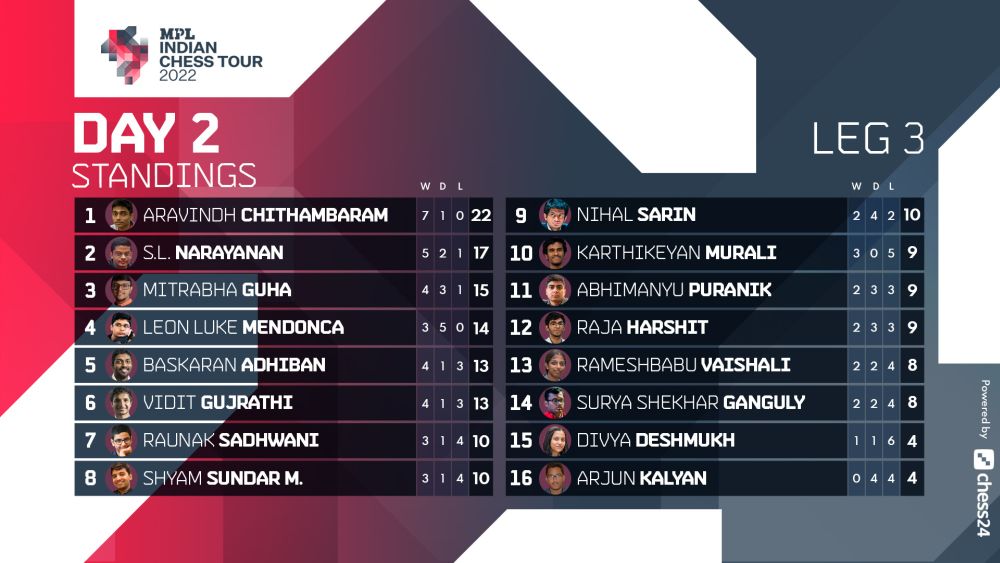 Links
---