MPL Indian Chess Tour 2022 leg 4 R1-4: Aditya Mittal emerges sole leader
IM Aditya Mittal has emerged sole leader after the first day of MPL Indian Chess Tour leg 4. The teenager scored three wins and a draw to stay a full point ahead of the field 10/12. Previous leg winner, GM S L Narayanan, GM Vaibhav Suri and GM Pranav Anand are close behind at 9/12 each. Apart from Aditya, GM Bharath Subramaniyam and GM Karthikeyan Murali have also remained undefeated on the first day. This is the final leg of MPL Indian Chess Tour. The winner will earn a place in the next Meltwater Champions Chess Tour Regular event, also in the 8-player Knockout Finals of the MPL Indian Chess Tour. Round 5 starts today at 3:30 p.m. IST. Photo: Aditya Sur Roy
Only two players are yet to score a point
The fourth leg is another strong leg, just like the previous ones. Only three IMs are taking part in this event - Aditya Mittal, Aronyak Ghosh and Nubairshah Shaikh. Out of them, Aditya has currently taken a lead.
Round 1: Pranav Anand - Adhiban: 3-0
India's latest GM Pranav Anand started the tournament with a victory over GM B Adhiban.
20...Re6 certainly looks like the rook is in the path of danger. 21.Be3 Qc7 22.Be4 Rf8 23.Bd5 dropped the exchange. Black managed to fight back in the endgame until he hung a piece for free which allowed his opponent to win the game.
Round 3: Aditya Mittal - Adhiban: 3-0
IM Aditya Mittal scored a big win over GM B Adhiban. The latter incorrectly exchanged pieces which gave his opponent a substantial advantage.
26...cxd5 27.Nf3 f4 and Black is doing fine. Instead, 26...hxg5 27.Bxc6 g4? 28.Bxd7 Qxd7 29.Rhc3 completely turned things in White's favor.
Vaibhav - Leon: 3-0
GM Vaibhav Suri had an interesting endgame against GM Leon Luke Mendonca.
Find out the correct plan for Black to get a draw. 89...h4 was played in the game which is winning for White after 90.Bd7+ Kg5 91.Bc8 h3 92.Bd7 Kh4 93.Kf2 a5 94.a4 g3+ 95.Kf3. It is becoming clear that Black is running out of moves. 95...h2 96.Kg2 Kg5 97.Bc6 Kg4 98.Bb7 Kh4 99.Bf3 and Black resigned as he loses all of his pawns one by one.
Round 4: Pranav - Abhimanyu: 3-0
GM Pranav Anand made the most out of his opportunity when his opponent, GM Abhimanyu Puranik made a minute tactical error.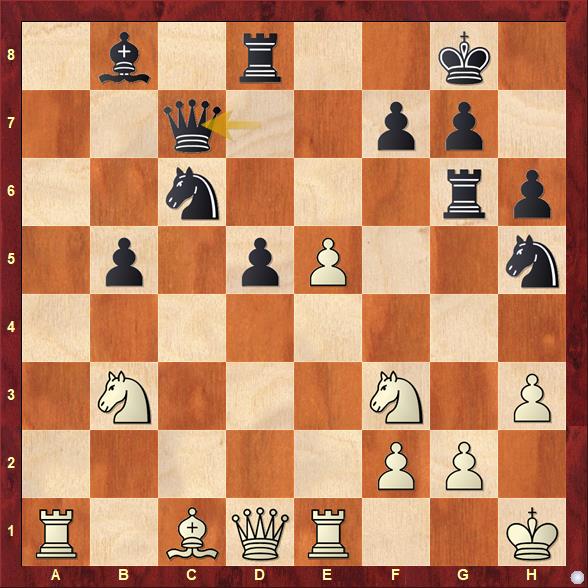 Try to find out why 25...Qc7 is a mistake in the above position and what Black could have done instead.
Scoring system
Win - 3 points, Draw - 1 point and Loss - 0.
Replay the live stream
Replay Round 1-4 games
Standings after Round 4
Links
---