Alekseenko wins Accentus Chess960 in Biel
Kirill Alekseenko scored 4.5/7 to win the Accentus Chess960, opening event of the 54th edition of Biel International Chess Festival. The standings of this event is used to determine the seeding of the Classical segment and if required, as a tie-break too after the conclusion of the Grandmaster Triathlon (GMT). The Rapid event will take place on Sunday 25th July. Monday 26th July and Sunday 1st August will be two rest days. The Classical part will start from 27th July and conclude on 4th August. Blitz will take place on Sunday 31st July. Rapid, Classical and Blitz all are part of the Grandmaster Triathlon. Who do you think will win the GMT? Photo: Biel Chess Festival
Nihal gets the better of Alekseenko
Nihal Sarin took a no-draw approach in the Chess960. He scored three wins and suffered four losses in a very strong field. The next best thing to winning an event is beating the champion, and Nihal managed to accomplish that. He beat the eventual champion, Kirill Alekseenko in the fifth round.
Round 1: Keymer - Nihal: 0-1
Nihal started his tournament with a victory over GM Vincent Keymer (GER).
Nihal is always alert tactically. He played 18...Nd3 to gain an exchange as 19.Bxh8 Nxe1 20.Bc3 Nxf3 and Black gains the upper hand.
White got an opportunity to make a comeback in the above position. 40.Qxb5 would have been a better continuation than the text 40.cxb5 Qxd5+ 41.Ka4 Rxc5 42.bxc5 Qc4+ 43.Qb4 axb5+ 44.Ka5 Ra7+ and now Black is winning either by taking the queen or the rook.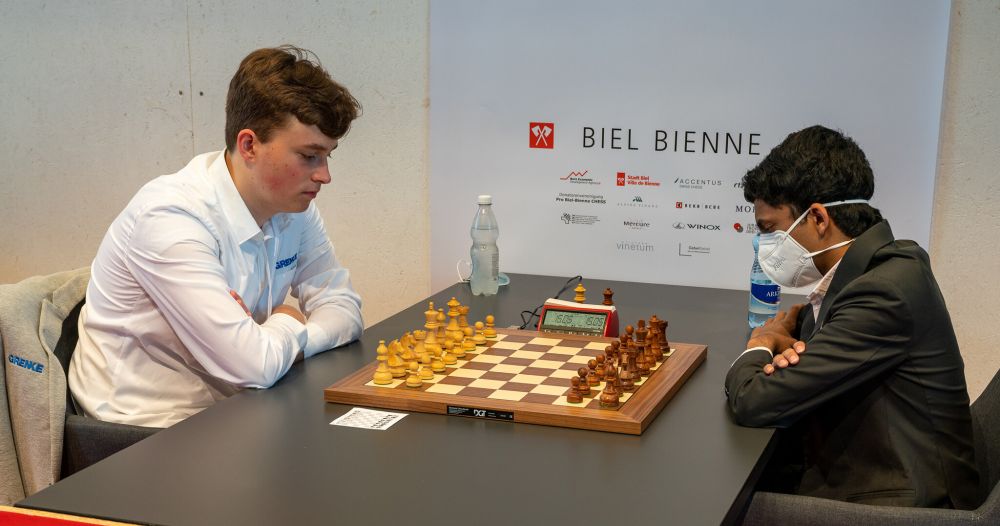 Round 4: Pichot - Nihal: 0-1
After suffering two consecutive losses against the legends Kamsky and Gelfand, Nihal scored a victory against Argentina no.1 Alan Pichot.
Find out the best continuation for Black in the above diagram. Nihal found it and won the game in another five moves.
Round 5: Nihal - Alekseenko: 1-0
Nihal scored his biggest victory of the day against GM Kirill Alekseenko in the fifth round. The Russian's preference of not castling in the game backfired.
19...Nxf6 would have probably allowed Black to fight a bit longer but the end result would not have changed much. 19...gxf6 accelerated Black's demise.
Replay Nihal's games
Replay all games
Photo Gallery
Front from the left: Peter Bohnenblust (OK-Preident), Nihal Sarin, Alan Pichot, Maxima Lagarde and Noël Studer
Behind from the left: Paul Kohler, Boris Gelfand, Kirill Alekseenko and Gata Kamsky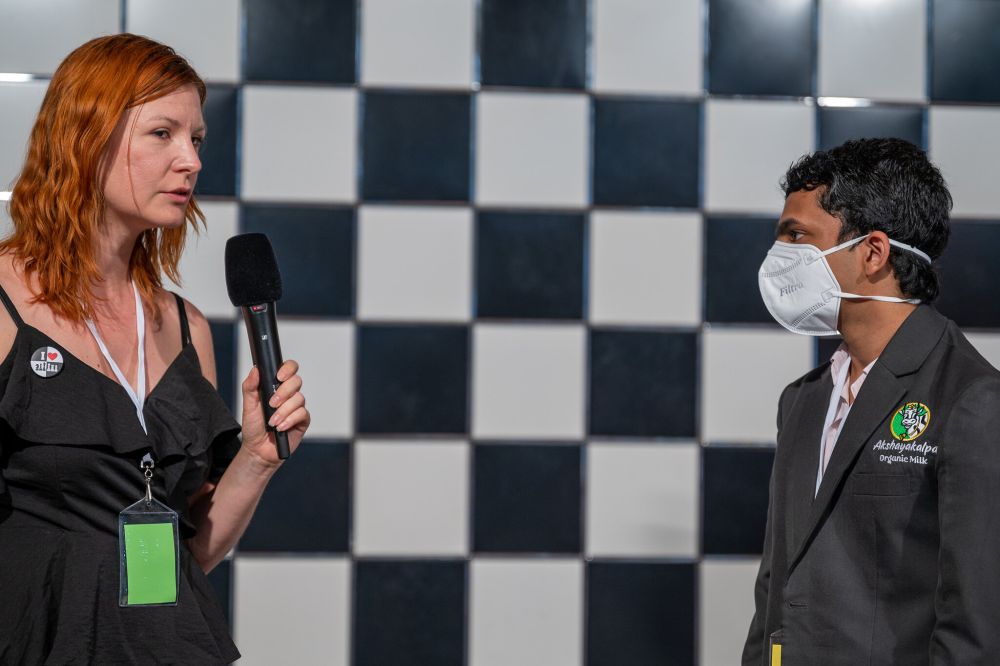 GM Karthikeyan Murali who will be playing the Master Tournament (MTO) for the fifth time, played a simultaneous exhibition match against 18 players, and he won against all of them in exactly 90 minutes. Central President Vögtlin and the former president of the Swiss Federal Supreme Court Ulrich Meyer were the participants among them.
From the Press Release
At the opening ceremony, Peter Bohnenblust, President of the Organising Committee, emphasised the pride of the organisers in hosting the Biel International Chess Festival for the 54th time in uninterrupted succession. He thanked the supporters and partners for their valuable commitment. The new Central President of the Swiss Chess Federation, André Vögtlin, also welcomed those present and emphasised the importance of the Biel tournament for chess in Switzerland.
Final Standings in Chess960
| | | | | | | | | | |
| --- | --- | --- | --- | --- | --- | --- | --- | --- | --- |
| Rk. | SNo | | Name | FED | Rtg | Pts. | TB1 | TB2 | TB3 |
| 1 | 1 | GM | Alekseenko Kirill | RUS | 2661 | 4,5 | 0,0 | 15,00 | 3 |
| 2 | 3 | GM | Lagarde Maxime | FRA | 2684 | 4,0 | 1,5 | 13,25 | 3 |
| 3 | 6 | GM | Gelfand Boris | ISR | 2702 | 4,0 | 1,0 | 14,25 | 3 |
| 4 | 8 | GM | Kamsky Gata | USA | 2701 | 4,0 | 0,5 | 11,75 | 3 |
| 5 | 4 | GM | Keymer Vincent | GER | 2543 | 3,5 | 0,0 | 11,00 | 3 |
| 6 | 5 | GM | Nihal Sarin | IND | 2418 | 3,0 | 1,0 | 11,00 | 3 |
| 7 | 7 | GM | Pichot Alan | ARG | 2533 | 3,0 | 0,0 | 10,25 | 2 |
| 8 | 2 | GM | Studer Noel | SUI | 2431 | 2,0 | 0,0 | 7,00 | 2 |
Replay the livestream
Links
---