Biel MTO 2021 R5: Karthikeyan takes sole lead 4.5/5
Gata Kamsky maintained his sole lead 19.5 points at the conclusion of fourth round at 54th Biel International Chess Festival 2021 GMT. Nihal overcame adversity against Studer to salvage a draw. He is at fourth place 14.5 points. In the MTO section, Ganguly drew with Praggnanandhaa, although the former had a decent chance. Karthikeyan Murali beat the top seed, Salem Saleh, to take the sole lead 4.5/5. Sethuraman, Ganguly, Praggnanandhaa along with Eljanov and Banusz are in pursuit 4.0/5. Today is a rest day for MTO. Their Round 6 will be played tomorrow. GMT will have Blitz today and a rest day tomorrow. The standings will change a lot and Nihal would like to jump to the top of the points table. Photo: IA Gopakumar Sudhakaran
Nihal survives a scare
Nihal was in deep trouble against Swiss GM Noel Studer. The latter missed his opportunity and Nihal managed to save the game. Gata Kamsky drew with Boris Gelfand to maintain his lead at 19.5 points. Maxime Lagarde jumped to the second position 16.5 with a victory over Kirill Alekseenko who is at third place 14.5 points. Vincent Keymer scored the only other victory of the round against Alan Pichot.
GMT R4: Studer - Nihal: 0.5-0.5
Nihal was in deep trouble against Studer.
25.Qf6 would have made things extremely difficult for Black. 25...Qxf6 is forced then 26.exf6 Rg6 27.Rg3 and White is in complete control. The game continued 25.Rh4 allowed Black to prevent Qf6 with 25...Nd7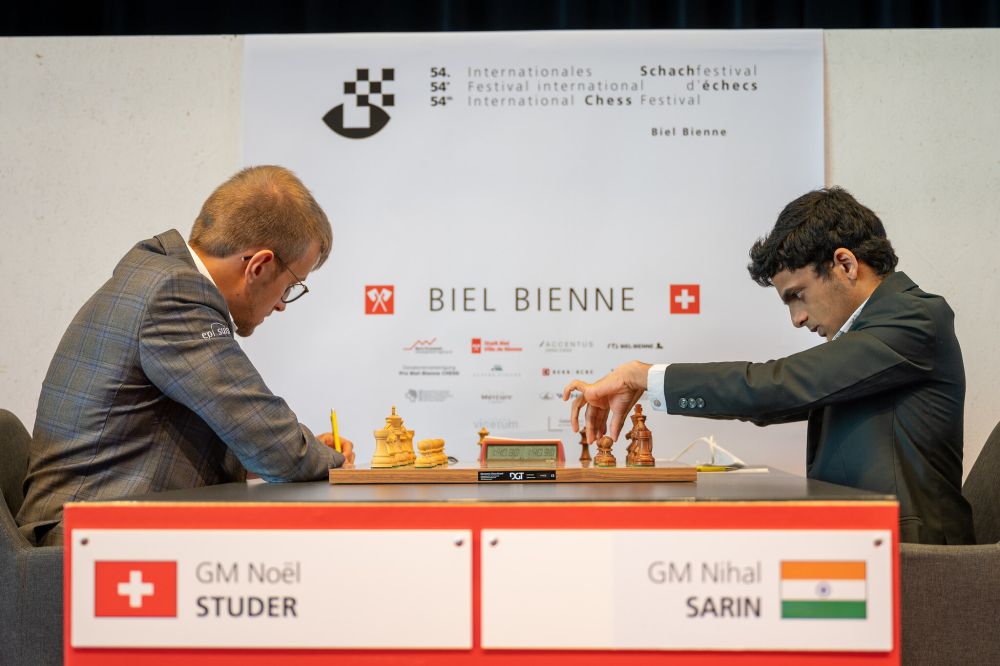 MTO R5: Salem - Karthikeyan: 0.5-0.5
Karthikeyan got himself a decisive advantage against Salem. Let's take a look at a sharp position.
The c5-bishop is pinned and the d7-knight which is attacking it is also pinned. A lot of possibilities are there - Blockade, X-ray attack. Black can gain material in the above position. How?
The game reached to another interesting position after 31.Bd4. Black cannot take the queen now because 31...Rxc2 is a blunder 32.Rb8+ Kh7 33.Rh8#. Find out the winning continuation for Black. Karthikeyan could not find the precise continuation, but he eventually managed to win the game and take sole lead 4.5/5.
Praggnanandhaa - Ganguly: 0.5-0.5
Praggnanandhaa seemed to be in a bit of trouble against Ganguly.
21...Ng3 could have made things quite difficult for White. The game continuation 21...Nc5 loosened the grip, and it eventually ended in a draw.
Highlights
Here is an interesting finish from MTO Round 5
Replay GMT Classical Round 4 games
Replay MTO Round 5 games
Photo Gallery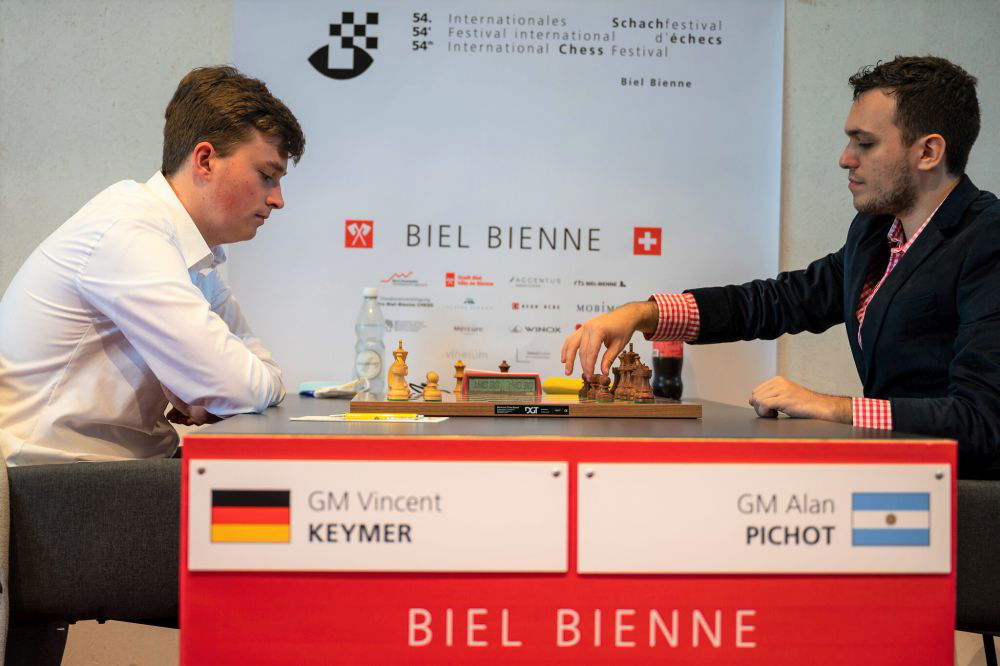 GMT Classical Round 4 results
Bo.
No.
Rtg
Name
Result
Name
Rtg
No.
1
8
2581
GM
Studer Noel
½ - ½
GM
Nihal Sarin
2620
6
2
7
2591
GM
Keymer Vincent
1 - 0
GM
Pichot Alan
2630
5
3
1
2658
GM
Kamsky Gata
½ - ½
GM
Gelfand Boris
2675
4
4
2
2648
GM
Lagarde Maxime
1 - 0
GM
Alekseenko Kirill
2699
3
Round 5 pairings
Bo.
No.
Rtg
Name
Result
Name
Rtg
No.
1
3
2699
GM
Alekseenko Kirill
GM
Studer Noel
2581
8
2
4
2675
GM
Gelfand Boris
GM
Lagarde Maxime
2648
2
3
5
2630
GM
Pichot Alan
GM
Kamsky Gata
2658
1
4
6
2620
GM
Nihal Sarin
GM
Keymer Vincent
2591
7
GMT Overall standings
GMT Classical Scoring: Win - 4 points, Draw - 1.5 points and Loss - 0.
MTO Round 5 results
Round 6 pairings
Replay the livestream
Links
---