Biel MTO 2021 R6: Karthikeyan stays at the top 5.5/6
Twelfth seed Karthikeyan Murali maintained his sole lead by scoring a victory over Sethuraman in the sixth round of 54th Biel International Chess Festival MTO 2021. Eljanov is the only player who is a half point behind him 5.0/6. They will face each other in a crucial game in the seventh round. IM Harshit Raja scored a fine victory over GM Abhimanyu Puranik. GM Raunak Sadhwani held GM Maksim Chigaev to a marathon draw. Yesterday was a rest day for the GMT. The fifth round of GMT and seventh round of MTO will start at 5:30 p.m. IST today. Nihal has reduced the gap between him and Kamsky by winning the GMT Blitz on 31st July. He will face Keymer today against whom Nihal has a 3-1 score in this event. Photo: Rupali Mullick
Ganguly in pursuit
Karthikeyan scored a nice victory over compatriot Sethuraman in the sixth round to maintain his sole lead 5.5/6. GM Pavel Eljanov (UKR) is the only one who is a half point 5.0/6 behind him. Five players are behind the Ukrainian at 4.5/6. They are - Banusz, Ganguly, Erdos, Tang and Kantor.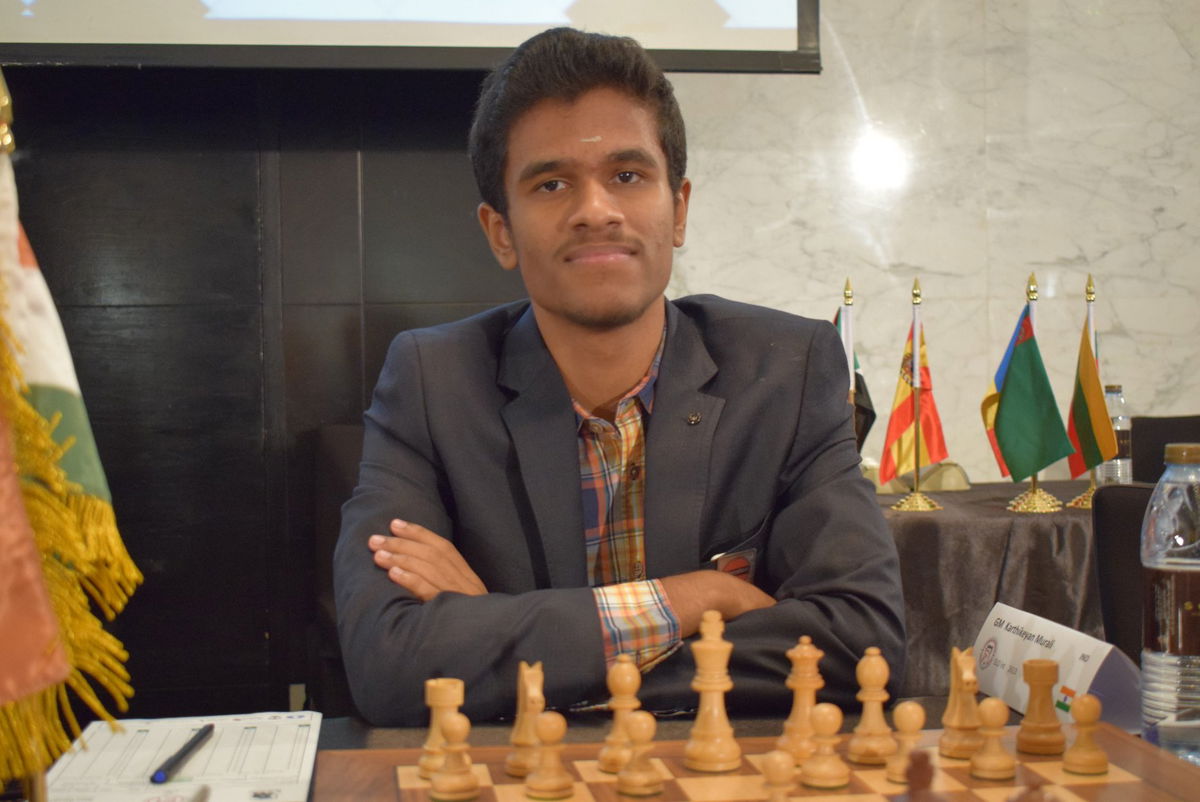 Karthikeyan - Sethuraman: 1-0
Karthikeyan's relentless attack was capped off with a nice combination, but before that, his opponent Sethuraman could have done tactics of his own and saved the position.
White's kingside is a little vulnerable. How can Black take advantage of that? The game continued 35...Qb6 36.Qb3 Kf8. Find out the finish for White.
Ganguly - Banusz: 0.5-0.5
Banusz had a substantial advantage in both middlegame and endgame but he was unable to convert it.
Black is completely winning in the above position. Find out the best plan for Black.
Raunak - Chigaev: 0.5-0.5
Raunak Sadhwani had a marathon draw with Maksim Chigaev. The 15-year-old had to defend a rook vs rook and knight endgame for 50-moves.
Puranik - Harshit: 0-1
In a battle between two good friends from the same city, IM Harshit Raja prevailed. However, GM Abhimanyu Puranik had his opportunity to bring things back to balance.
White can do a pretty nice combination to restore equilibrium. Find out how.
Highlights
Here are a few interesting finishes from Round 6
Replay Round 6 games
Round 6 results
Round 7 pairings
Links
---