Biel MTO 2021 R7: Karthikeyan maintains his sole lead 6.0/7
Karthikeyan Murali remains in the sole lead as he drew with Pavel Eljanov in the seventh round of 54th Biel International Chess Festival MTO 2021. Eljanov maintains his chase 5.5/7. They are followed by eight players at 5.0/7. IM Harshit Raja continues his quest for the GM title as he drew with GM Alexander Donchenko. Raunak Sadhwani showed great tenacity against Sethuraman to salvage a draw. Nihal drew with Keymer and Kamsky won his game against Pichot. The gap increased to four points now. Nihal must beat Kamsky in the penultimate round to keep his chances of finishing first. The sixth round of GMT and eighth round of MTO will start at 5:30 p.m. IST today. Photo: Biel Chess Festival
Ganguly, Pragg and Gukesh in the hunt
Karthikeyan drew with GM Pavel Eljanov (UKR) to maintain his sole lead 6.0/7. Eljanov is still trailing by a half point 5.5/7. Eight players are at 5.0/7. They are - Salem, Ganguly, Banusz, Praggnanandhaa, Chigaev, Erdos, Kantor and Gukesh.
GMT R5: Nihal - Keymer: 0.5-0.5
Nihal refused threefold repetition twice before making the draw on the third occasion he could not find enough reason to go on against Keymer.
Gelfand - Lagarde: 1-0
Rook endings are very common and quite critical. One wrong move and the possibility of draw just disappears in thin air.
Find out one thing which Black should not do here to keep his chances of a draw.
To learn more about decisions in the endgame, you can get the book - Decision Making in Major Piece Endings by Boris Gelfand, available now on our site.
MTO: Eljanov - Karthikeyan: 0.5-0.5
Karthikeyan had a well-fought draw with Eljanov to maintain his sole lead.
Sethuraman - Raunak: 0.5-0.5
Raunak showed great tenacity to save the game from a difficult position against Sethuraman.
47...Bd3 serves two purposes - prevents a6 as well as threatens Bf1 to capture on g2. White just needed to focus on rolling the connected passed pawns on the queenside because even if g2 and h3 falls, White's pawns will be much quicker than Black's. White made a mistake of playing 48.Kg1 g5 49.Nd1 and Black happily traded the rooks because the resultant knight vs bishop ending with a split passed pawn is relatively easier to defend.
Praggnanandhaa - Visakh: 1-0
Pragg bounced back strong after a forgettable loss against Eljanov in the previous round.
White played a prophylactic move 19.Rb5 to make sure Black cannot leave the a5-pawn unprotected in the future. 19...Bf6 20.Ba3 Re8 21.c5 and White won the game comfortably.
Valsecchi - Gukesh: 0-1
Gukesh made a nice combination against GM Alessio Valsecchi (ITA).
Black's position was already good, but 29.b3 invited trouble. Find out the winning continuation for Black.
Vaishali - Yuffa: 1-0
Vaishali completely turned around a difficult position into a win after her opponent GM Daniil Yuffa (RUS) messed up the move order during an exchange.
What should Black do here, 22...Ng4 or Bxg3 ? Find out the difference between the move order.
Highlights
Here are a few interesting finishes from MTO Round 7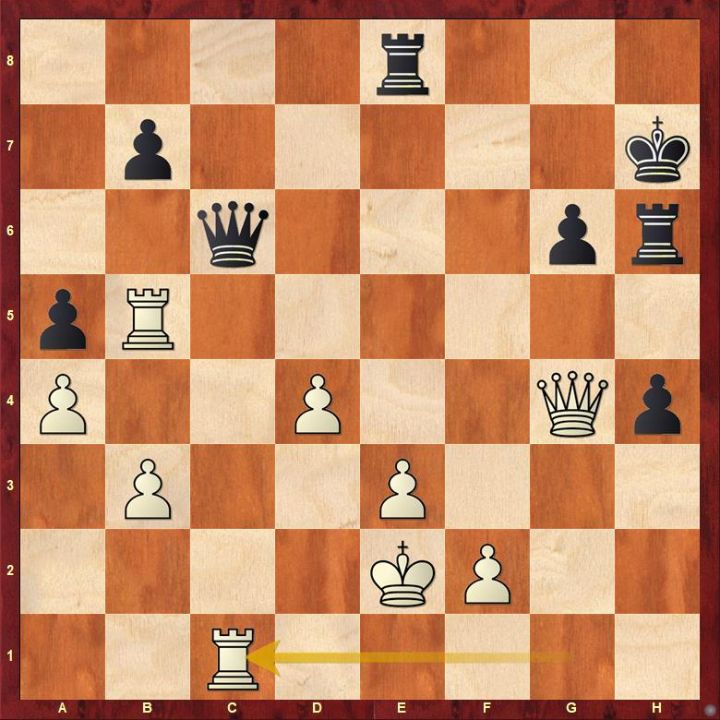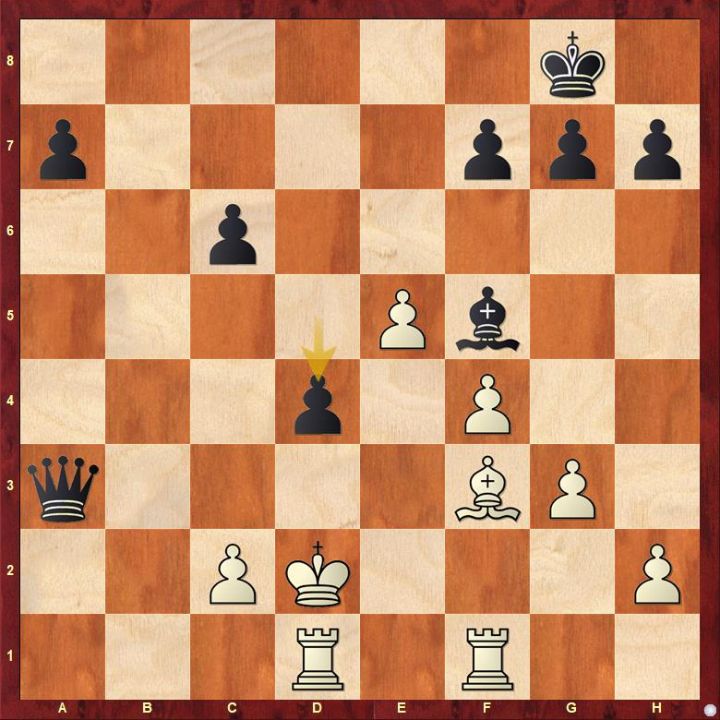 Replay GMT Round 5 games
Replay MTO Round 7 games
GMT Round 5 results
Bo.
No.
Rtg
Name
Result
Name
Rtg
No.
1
3
2699
GM
Alekseenko Kirill
½ - ½
GM
Studer Noel
2581
8
2
4
2675
GM
Gelfand Boris
1 - 0
GM
Lagarde Maxime
2648
2
3
5
2630
GM
Pichot Alan
0 - 1
GM
Kamsky Gata
2658
1
4
6
2620
GM
Nihal Sarin
½ - ½
GM
Keymer Vincent
2591
7
Round 6 pairings
Round 6 on 2021/08/03 at 14:00
Bo.
No.
Rtg
Name
Result
Name
Rtg
No.
1
8
2581
GM
Studer Noel
GM
Keymer Vincent
2591
7
2
1
2658
GM
Kamsky Gata
GM
Nihal Sarin
2620
6
3
2
2648
GM
Lagarde Maxime
GM
Pichot Alan
2630
5
4
3
2699
GM
Alekseenko Kirill
GM
Gelfand Boris
2675
4
GMT Overall standings

MTO Round 7 results
Round 8 pairings
Links
---