Biel GMT 2021 R2: Nihal holds Gelfand to a draw
All four games ended in a draw in the second round of 54th Biel International Chess Festival 2021 GMT. Nihal held Gelfand to a draw. Studer and Pichot topped the previous day's seven-hour battle by playing for seven hours and 40 minutes in an interesting game where the momentum shifted from Studer to Pichot's favor until it returned to equilibrium. Vaishali continues her impressive run as she drew with GM Maksim Chigaev (RUS). IM Harshit Raja defeated the bullet specialist GM Andrew Tang (USA). GMT Classical Round 3 and MTO Round 4 starts at 5:30 p.m. IST today. Photo: Biel Chess Festival
Studer-Pichot marathon runs for 7 hours 40 mins, Ganguly shares the lead with Salem
Nihal Sarin played well against Boris Gelfand to hold him to a draw by perpetual check. Perhaps the most interesting game of the day was between Noel Studer and Alan Pichot. Studer having the advantage first, was unable to capitalize it. Later Pichot had a clear way to win, but he missed it. The game ran for 7 hours and 40 minutes and it was 138 move long interesting battle with a lot of layers. Ganguly joined the lead with Salem Saleh with a 100% score of 3.0/3. They will face each other in the fourth round.
GMT: Nihal - Gelfand: 0.5-0.5
Nihal made an interesting draw with Gelfand.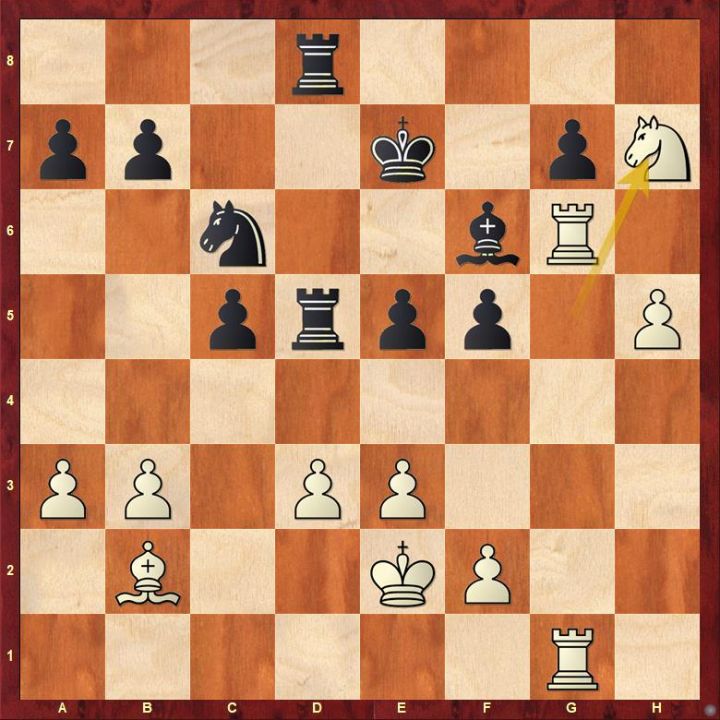 Instead of choosing to defend the d3-pawn, Nihal found an active play on the kingside 26.Nh7. White responded 26...Rxd3 with 27.Rxg7+ which Black has to take Bxg7 28.Rxg7+ Ke6 29.Ng5+ Kf6 30.Rg6+ and Black cannot get out of perpetual. Even if the king goes to the back rank, White always has a Nh7-f6+ perpetual. There is also an alternative of trying to promote the h-pawn.
Studer - Pichot: 0.5-0.5
Switzerland's very own Noel Studer had a very interesting marathon encounter with Alan Pichot (ARG).
White has a clear advantage in the above position, and it is just a matter of time for White to convert the passed a-pawn. However, in reality, it is not as easy as it sounds. 26.Na4 was probably the best way for White to continue as Nb6 is the threat and a5-pawn is tactically defended.
The game continued 41...Rh1+ 42.Kg4 and White managed to escape. The better choice was 41...Qf1+ 42.Kg4 Rd4+ and now Black is completely irrespective of the fact whether White decides to take the rook at d4 or play 43.f4. Seven hours and 42 minutes, 138-moves later the game ended in a draw.
Replay GMT Classical Round 2 games
Photo Gallery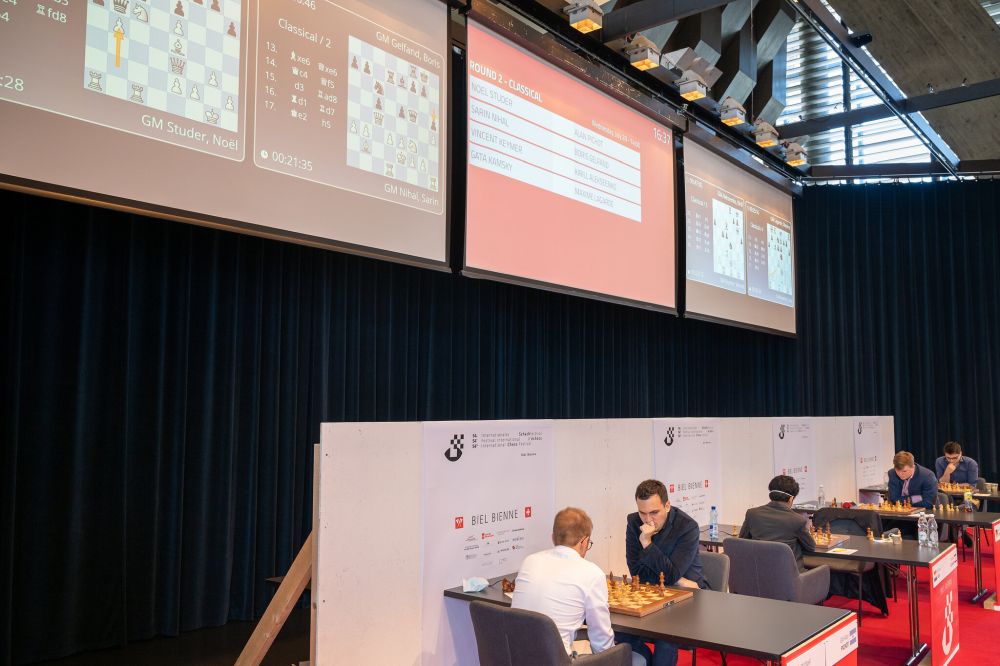 GMT Classical Round 2 results
Bo.
No.
Rtg
Name
Result
Name
Rtg
No.
1
8
2581
GM
Studer Noel
½ - ½
GM
Pichot Alan
2630
5
2
6
2620
GM
Nihal Sarin
½ - ½
GM
Gelfand Boris
2675
4
3
7
2591
GM
Keymer Vincent
½ - ½
GM
Alekseenko Kirill
2699
3
4
1
2658
GM
Kamsky Gata
½ - ½
GM
Lagarde Maxime
2648
2
Round 3 pairings
Bo.
No.
Rtg
Name
Result
Name
Rtg
No.
1
2
2648
GM
Lagarde Maxime
GM
Studer Noel
2581
8
2
3
2699
GM
Alekseenko Kirill
GM
Kamsky Gata
2658
1
3
4
2675
GM
Gelfand Boris
GM
Keymer Vincent
2591
7
4
5
2630
GM
Pichot Alan
GM
Nihal Sarin
2620
6
GMT Overall standings
GMT Classical Scoring: Win - 4 points, Draw - 1.5 points and Loss - 0.
MTO Round 3 results
Round 4 pairings
Replay the livestream
Links
---