The super coach who has helped India create 10 GMs - Aleksander Goloshchapov
Aleksander Goloshchapov is one of the most well-known trainers in the world of chess. Recently, Aditya Samant became India's 83rd GM, and we got in touch with him. He told us that this was the 10th Indian GM that he had worked with. It's simply amazing how a man in Ukraine has powered Indian chess! Parimarjan Negi, Sethuraman, Vaibhav Suri, S.L. Narayanan, Shardul Gagare, Ankit Rajpara, Rithvik Raja, Arjun Kalyan, Aditya Mittal, and Aditya Samant. In this article, you get to know how Aleksander works with his students and how he helps them improve on their weaknesses and become stronger chess players. Read ahead to get an insight into the mind of one of the best chess trainers in the world.
Aleksander Goloshchapov is a well-known Ukrainian Chess Grandmaster, and coach. With a coaching experience of more than 20 years, Goloshchapov has helped many young chess players realize their full potential. In the last 18 years, Goloshchapov has trained with many Indian chess stars and produced 10 Grandmasters. How did Goloshchapov do this? What is the secret behind his training? To find the answers to all these questions and more, read the whole article.
The first Indian player Goloshchapov trained, Parimarjan Negi
The first person Aleksander Goloshchapov trained was Parimarjan Negi, a young, talented boy from Delhi. Aleksander feels that training this young boy was his lucky ticket to coaching many talented players. Before meeting Parimarjan, Goloshchapov was a professional player and competed in many tournaments. In 2005, in a tournament, Goloshchapov met this 12-year-old boy with an Elo of around 2350, who impressed him deeply. They were paired against each other in a game, and Goloshchapov had an advantage with Black at some point, but Parimarjan defended the game so well that it was drawn. They had a discussion with each other regarding some of his games, and around December of the same year, Goloshchapov heard that Negi's father was looking for a coach, and he decided to take up the challenge then and there. Negi was already an IM at that time, and Goloschapov feels his time with him was quite fruitful.
Goloshchapov feels that Parimarjan was a bright and versatile student. A boy with many talents, he was a good writer and speaker and was interested in many topics beyond chess as well. At the age of 18, Parimarjan reached a rating of 2670 and was one of the most promising Indian players of his time. Fate had different plans for him, and Negi decided to shift his focus towards academics and his other dreams.
2nd student: SP Sethuraman, a brilliant mind
Goloshchapov started working with Sethuraman soon after, in 2007, through Negi's father. With a peak rating of 2673, Sethuraman is one of India's brightest chess players. Remembering Sethuraman, Goloschapov tells us that he was a highly emotional person. Over the years, he has learned to manage his emotions, stay in the present, and improve a lot. But in one tournament around 2008–2009, Sethuraman lost four games in a row, but what stood out was that he would never give up or quit the tournament. Goloshchapov feels that chess or any other game is mostly about mental strength, and Sethuraman really excels in that.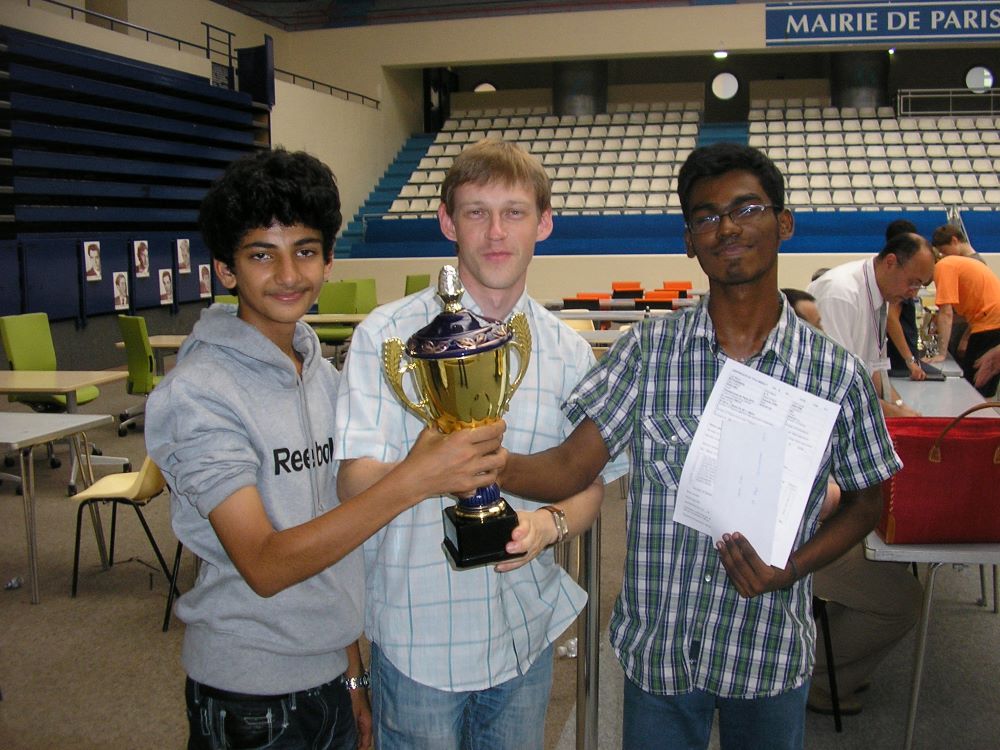 Sethuraman gave back to Goloshchapov in the best possible way by teaching him about Vipasana meditation, which Goloshchapov further advised his students to do in order to control their mental ability and calm down. Goloshchapov feels that when one makes a grave mistake during an ongoing game, it is highly crucial to recover quickly from that, otherwise the whole game might go haywire, and meditation highly helps with that.
Sethuraman's games
3rd student: Vaibhav Suri, a model student
In November 2008, Goloshchapov worked with Vaibhav and two other students. The reason for this is that they usually had one-on-one sessions and individual training camps. Due to the amount of travel, it was difficult for Goloshchapov to find a suitable time. Goloshchapov feels that Vaibhav is the perfect example of an ideal student. The kind of discipline, determination, and force this young talent showed was unlike that of any other. Goloschapov had three-week face-to-face sessions with Vaibhav, and the first tournament he played after that (National Under 13), despite being a favourite, he lost many games and around 22 rating points. On this, Goloschapov said, "Failure is not a tragedy, but only a hidden positive. If you analyse your games and make proper decisions, there is a great chance to improve."
The result of this great mentorship was that, within half a year, he got his first IM Norm. The thing that impressed Goloshchapov about Vaibhav the most was how he was following every word his coach had to say. Every piece of advice and word was engraved in his system, and he did better than best to follow that. His progress was so smooth that, within a few years, he became a grandmaster as well. One very minuscule example of his determination was that every day, after 8 hours of training, they would go to a park. Goloschapov would run, and Vaibhav would do the same. Despite struggling a lot, he never gave up. Over the course of 4 years, Vaibhav has analysed almost 220 games without an engine, and that has helped him make great, smooth progress.
4th student: SL Narayanan, the most balanced
The second-generation students ranged from 2014 to 2016. Goloshchapov says that when he started working with Narayanan (age 14), the boy was already very balanced. He is still going from strength to strength; he is one of the strongest grandmasters India has. The following game shows his potential in the best way.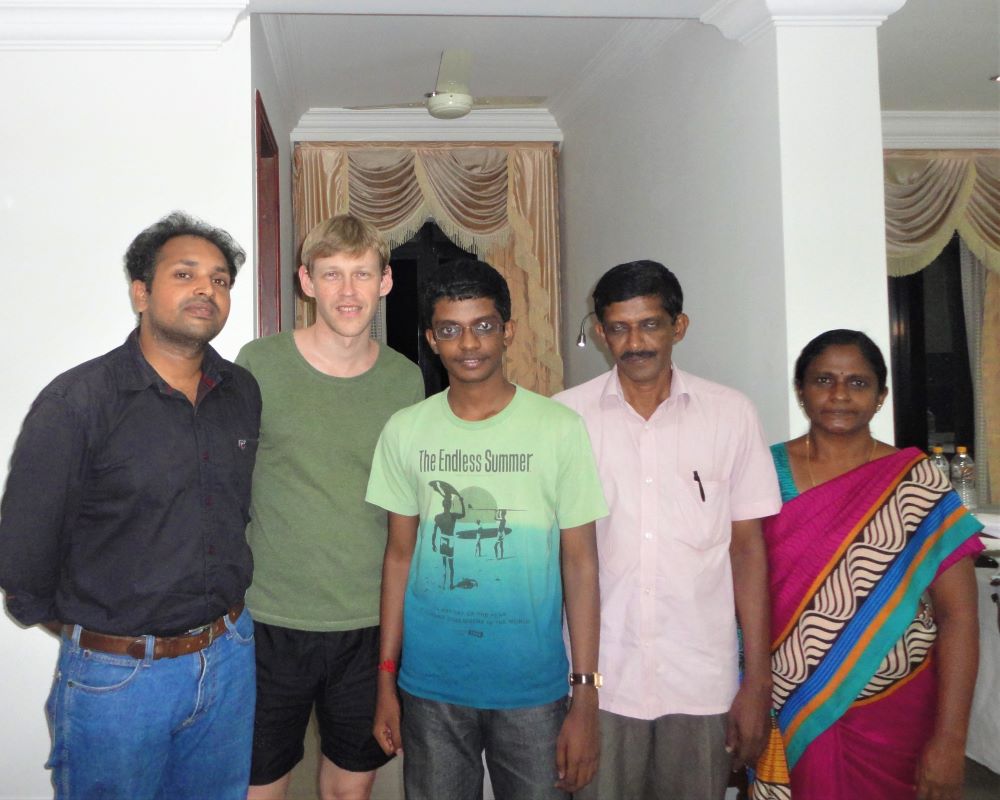 5th student: Ankit Rajpara, very pragmatic
Goloshchapov feels that Ankit is highly practical, pragmatic, and humorous. His nice communication skills, nature, and determination make him a perfect trainer. "He is able to explain things very well, and that is what makes him a good coach."
6th student: Shardul Gagare, an extremely strong Blitz player
From Maharashtra, Shardul is highly talented in blitz. Training at his home, Goloshchapov has many fond memories of him and his father. While Shardul may not have realised his full potential in classical games, his blitz play was out of the charts. From a young age, Shardul would remember the whole endgame manual by heart. Goloshchapov started working with Shardul when he was an IM, and within two years he became a grandmaster.
7th student: Arjun Kalyan, growing in chess camps
The 3rd Generation of Grandmasters started in 2017, when many camps were organised in India for almost two years. At that time, Arjun needed a coach to reach the level of IM and got the right guidance. Goloshchapov feels that the new generation of kids was moving a little slower during the coronavirus pandemic; therefore, a lot of online classes were held on Lichess.
8th student: Raja Rithvik R, working remotely
The only person Goloshchapov never saw in person who became the grandmaster under his guidance was Raja Rithvik from Hyderabad. When Goloshchapov started working with Raja, he was 23 years old, and in just two years he became an international master and grandmaster. Before the coronavirus pandemic, the camps switched to online mode, which paved the way for many new grandmasters. Goloshchapov helped Raja improve his dynamic style, while his positional play was already very strong.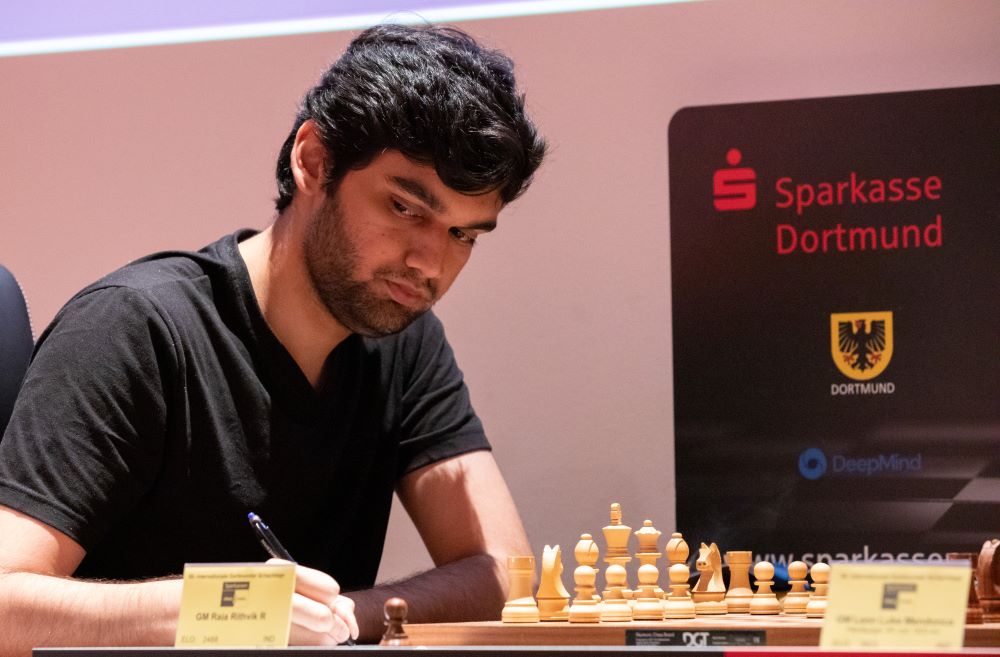 At the end of 2019, Goloshchapov started his online school and started training people accordingly.
9th student: Aditya Mittal, a fearless fighter
The 2nd GM from Mumbai after Praveen Thipsay (25 years ago), Aditya was one of the students with whom Goloshchapov worked the most, for almost 6 years. With unbelievable creative power, Aditya is a fearless fighter, completely opposite of Vaibhav Suri. With such great qualities come a few drawbacks as well. Making him tame his nature a little bit was a slightly difficult task because attacking without any plans had already made him lose many games. To become a universal player, it is extremely important for one to learn positional play along with attacking style, and Aditya honed that skill quite well. "You should be able to play quite a few moves and maintain tension. You should be able to outplay your opponent in quite and boring positions, and I think that's what he has improved the most in." Goloshchapov feels that among all his students, Aditya is the one with the strongest character. Despite facing many challenges, he always managed to be positive and never give up. Being an emotional person, he had some difficulties managing himself in the beginning, but eventually he conquered all of that to become a much more solid player.
Goloshchapov says that for players like Aditya following a routine, staying disciplined is a lot of work since it's in their nature to be impulsive, but Aditya did his best to do all of that. Goloshchapov recalls that there was a time when Aditya could not concentrate on one chess activity for more than 30 minutes because he got bored, but he eventually improved; he started to analyse his games for hours without an engine. "As one of my friends told me when I was a child, there are so many talents but few strong characters. There are so many talents who would not realise their potential because of weak mental character, and that is what I teach my students first of all: to deal with those emotionally painful situations and learn your lessons, because if you do so, you can turn sour lemons into sweet lemonade."
10th student: Aditya Samant, India's latest GM
Some of the decisions taken by Aditya remind Goloshchapov of Kramnik. In the last few years, Aditya has improved significantly and has the capability to fight many talented players. When asked what Goloshchapov's main skill was that helped him make 10 grandmasters, he replied:
"The main point I think in becoming a great coach is that you should have a passion for that... I have learned a lot from my coach, and I have worked a lot on my own process, which I am sharing with my students. If you are asking about purely chess, I think one big thing a good coach should do is analyse the dynamics of their players. Most people analyse moves, but they do not analyse the nature of the student."
On being asked whether changing the playing style affects a lot, Goloshchapov feels that it is not a big deal until and unless a player knows their strengths and weaknesses really well. He feels that the role of a coach is to make a student realise their strengths and limits, as it is equally important to be aware of both.
P.S. Another one of GM Aleksander Goloshchapov's amazing students, Sanket Chakravarty just became India's latest International Master yesterday by achieving his final IM Norm at the Abu Dhabi Masters 2023. We hope he becomes a Grandmaster in the near future, and adds to the tally of India's long list of GMs!
Goloshchapov's inspiration for teaching
Goloschapov owes the credit for his coaching to his first ever coach, with whom he worked at the age of 17. A very well-known person in Ukraine, he prepared many strong grandmasters. With very clear ideas in his mind, Goloschapov always had clear ideas on how to go about it. With the help of his coach, he developed a lot of things himself while training as a player. At his peak in 2003, Goloshchapov's peak rating was close to 2600. The War in Ukraine affected the lives of many across the world, and so did the life of Goloschapov. Currently, he has been in the west of Ukraine for almost a year.
Aleksander Goloshchapov's Chess School
Since the end of 2019, Goloschapov has shifted to online coaching and created his own school, chess school of Aleksander Goloshchapov. Anyone can easily visit the site to learn about his students, experience, and methods. Through online coaching, one can easily reach a large number of people from all over the world. All the classes are conducted online on Zoom. Going forward, Goloschapov wants to create many more grandmasters and is working towards that. Goloschapov worked with Judith Polgar from 2001–2004 as a sparring second. Apart from that, Goloschapov has worked with Vasyl Ivanchuk as well".
If you want to have a look at the previous article regarding Aleksander Goloshchapov, click the link below
The man who created six Indian grandmasters!
---