Aditya Mittal victorious at Astana Zhuldyzdary Open 2023
GM Aditya Mittal scored an unbeaten 8/10 to win Astana Zhuldyzdary International Chess Festival Open A 2023. The 16-year-old finished a half point ahead of a strong field which featured 20 more GMs from all over the world. He performed at 2668 and gained 12.2 Elo rating points at this event. Three players - GM Alexander Moiseenko (UKR), GM Evgeny Alekseev (ISR) and IM Ramazan Zhalmakhanov (KAZ) scored 7.5/10 each. They were placed second to fourth according to tie-breaks. The total prize fund of the festival was 40000000 Tenge. The top three prizes were 4000000, 3500000 and 3000000 each respectively. Aditya won approx. ₹734000. He already started playing his next event - Uralsk Open 2023 where he made an unbeaten start 4/5.
Aditya's first rating open tournament triumph
GM Aditya Mittal headed into the final round with a sole lead 7.5/9. GM Alexander Moiseenko (UKR) and GM Evgeny Alekseev (ISR) were in pursuit at 7/9 each. Aditya drew against Moiseenko to win his first-ever rating open tournament. This is his second tournament triumph after becoming a GM. Back in March, he won the ChessBase India anniversary Rapid Open. Aditya has earlier won National Under-7 Open 2013 and Asian Youth Under-8 Open Rapid 2014. Last year, he won MPL Indian Chess Tour leg 4. However, an open rating tournament triumph kept alluring him. That changed last week on 18th July 2023.
Hans - Aditya, Round 9
GM Hans Niemann (USA, 2674) miscalculated and sacrificed his knight a move early 53.Nxh5?? White needed to trade the pawns at g5 first 53.hxg5+ fxg5 then 54.Nxh5 would have made the difference Kxh5 55.Rh7+ Kg6 56.Rd7 now White can fight for a draw. Sacrificing the knight early, put White at a disadvantage as he is unable to gain a tempo with Rh7+ and then Rd7. 53...Kxh5 54.g4+ Kh6 55.h5 Rf2 56.Rd7 Ne6 57.d4 Rf3+ 58.Kg2 Rf4 -+ 59.d5 cxd5 60.c6 Rxg4+ 61.Kf2 and Black won the game.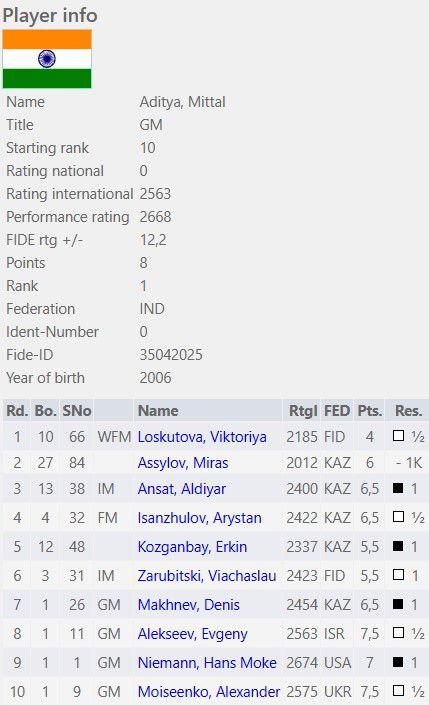 A total of 108 players including 21 GMs, 20 IMs and 2 WIMs took part from 13 countries across the world in the Open A (≥ 1800). The festival witnessed the participation of over 835 combining three categories and a Blitz Open event. The tournaments were organized by The Kazakhstan Chess Development Fund at Astana Congress Center in Astana, Kazakhstan from 11th to 18th July 2023. The time control was 90 minutes + 30 seconds increment from move no.1.
Replay all Open A games
Round 10 results
| | | | | | | | | | | | | | | |
| --- | --- | --- | --- | --- | --- | --- | --- | --- | --- | --- | --- | --- | --- | --- |
| Bo. | No. | | | Name | Rtg | Pts. | Result | Pts. | | Name | Rtg | | No. | PGN |
| 1 | 10 | | GM | Aditya, Mittal | 2563 | 7½ | ½ - ½ | 7 | GM | Moiseenko, Alexander | 2575 | | 9 | PGN |
| 2 | 11 | | GM | Alekseev, Evgeny | 2563 | 7 | ½ - ½ | 6½ | IM | Ohanyan, Emin | 2489 | | 23 | PGN |
| 3 | 13 | | GM | Muradli, Mahammad | 2546 | 6½ | ½ - ½ | 6½ | GM | Rakhmanov, Aleksandr | 2620 | | 4 | PGN |
| 4 | 35 | | IM | Zhalmakhanov, Ramazan | 2413 | 6½ | 1 - 0 | 6½ | IM | Ansat, Aldiyar | 2400 | | 38 | PGN |
| 5 | 29 | | GM | Sivuk, Vitaly | 2432 | 6 | 0 - 1 | 6 | GM | Niemann, Hans Moke | 2674 | | 1 | PGN |
| 6 | 3 | | GM | Petrosyan, Manuel | 2627 | 6 | ½ - ½ | 6 | GM | Makhnev, Denis | 2454 | | 26 | PGN |
| 7 | 33 | | IM | Igambergenov, Alibek | 2420 | 6 | ½ - ½ | 6 | GM | Bernadskiy, Vitaliy | 2545 | | 14 | PGN |
| 8 | 15 | | GM | Nikitenko, Mihail | 2540 | 6 | 0 - 1 | 6 | IM | Madaminov, Mukhiddin | 2471 | | 24 | PGN |
| 9 | 17 | | GM | Harutyunyan, Tigran K. | 2526 | 6 | ½ - ½ | 6 | FM | Isanzhulov, Arystan | 2422 | | 32 | PGN |
| 10 | 36 | | FM | Stribuk, Artiom | 2408 | 6 | 0 - 1 | 6 | GM | Kazhgaleyev, Murtas | 2503 | | 20 | PGN |
Final standings
| | | | | | | | | | | | | | | |
| --- | --- | --- | --- | --- | --- | --- | --- | --- | --- | --- | --- | --- | --- | --- |
| Rk. | SNo | | | Name | Typ | sex | FED | RtgI | Pts. | TB1 | TB2 | TB3 | TB4 | TB5 |
| 1 | 10 | | GM | Aditya, Mittal | U20 | | IND | 2563 | 8 | 57 | 61 | 6 | 0 | 4 |
| 2 | 9 | | GM | Moiseenko, Alexander | | | UKR | 2575 | 7,5 | 57,5 | 62,5 | 5 | 0 | 5 |
| 3 | 11 | | GM | Alekseev, Evgeny | | | ISR | 2563 | 7,5 | 56,5 | 61 | 5 | 0 | 4 |
| 4 | 35 | | IM | Zhalmakhanov, Ramazan | | | KAZ | 2413 | 7,5 | 54,5 | 58 | 5 | 0 | 5 |
| 5 | 1 | | GM | Niemann, Hans Moke | U20 | | USA | 2674 | 7 | 56,5 | 59 | 6 | 0 | 5 |
| 6 | 13 | | GM | Muradli, Mahammad | U20 | | AZE | 2546 | 7 | 54,5 | 59 | 5 | 0 | 5 |
| 7 | 4 | | GM | Rakhmanov, Aleksandr | | | FID | 2620 | 7 | 54 | 58,5 | 4 | 0 | 5 |
| 8 | 24 | | IM | Madaminov, Mukhiddin | U20 | | UZB | 2471 | 7 | 53 | 57 | 6 | 0 | 5 |
| 9 | 23 | | IM | Ohanyan, Emin | U20 | | ARM | 2489 | 7 | 51,5 | 54,5 | 6 | 0 | 5 |
| 10 | 20 | | GM | Kazhgaleyev, Murtas | S50 | | KAZ | 2503 | 7 | 48 | 52 | 6 | 0 | 5 |
Links
---