Tabatabaei wins 3rd Elllobregat Open in Playoffs, Aditya Mittal third
Singapore no.1 GM Jingyao Tin and India's latest GM Aditya Mittal both drew their final round games against GM Eltaj Safarli (AZE) and GM Rasmus Svane (GER) respectively. Iran no.2 GM M Amin Tabatabaei defeated Germany no.2 GM Matthias Bluebabum. Thus, Jingyao, Tabatabaei and Aditya ended up having 7/9 each and Playoff was enforced. Tabatabaei defeated Mittal 1.5-0.5 first and then Jingyao 2-0 in the Finals to win 3rd Elllobregat Open 2022. Jingyao finished second and Aditya was placed third. They won €10000, €5000 and €2000 cash each respectively. IM Aditya S Samant secured his second GM-norm. 12-year-old Arush Chitre won the Group B with an unbeaten 7.5/9, gained a whopping 254.8 Elo rating points and finished a full point ahead. He won €500 as his first prize. Photo: Lourdes Porta
The Encore of the Adityas
India's 77th and Mumbai's second GM Aditya Mittal and IM Aditya S Samant had a fantastic tournament for the second consecutive year. Last year they both earned their second GM and IM-norms respectively. Whilte Aditya Mittal became a GM by crossing 2500 in the live ratings, Aditya S Samant still needs his final GM-norm and 13.3 Elo rating points more to become India's next Grandmaster which we might get before the year ends. His next event, Chessable Sunway Sitges Open starts on 12th December 2022.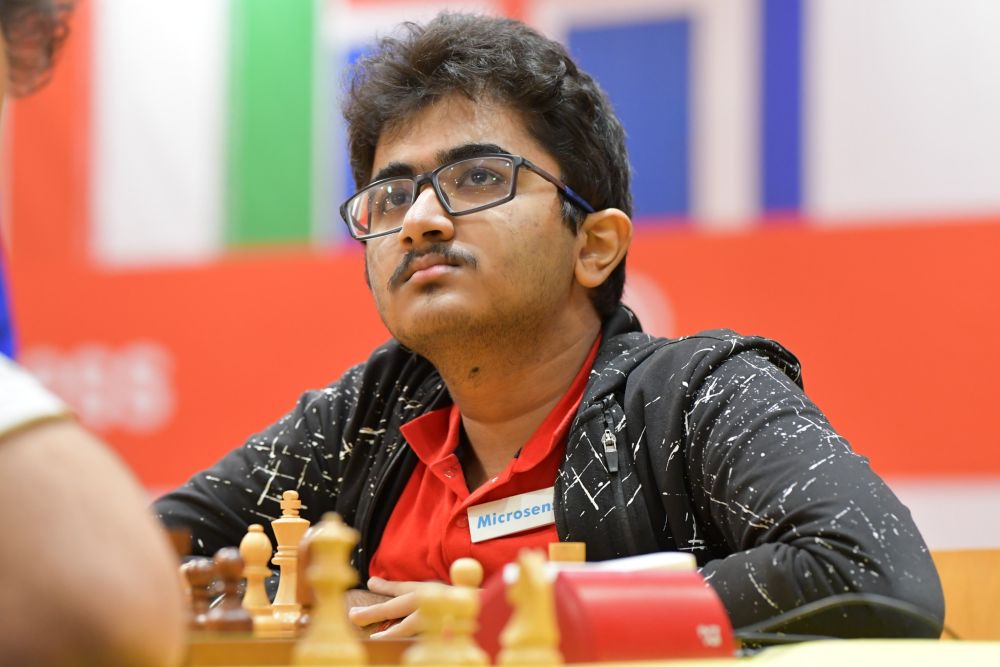 We had already seen Aditya's fantastic win over Bulgaria no.2 GM Ivan Cheparinov (2694) in the fifth round. A tiny positional inaccuracy in the endgame cost Aryan the seventh round game.
Aditya Mittal - Aryan, Round 7
23...Bxb5 followed by Rxc1 or first trade the rooks and then Bxb5, either way the position would have remained balanced. 23...Kg7 however loses control of the d6-square. 24.Rxc8 Bxc8 25.Nd6 Kg8 26.Qc6 Qxh4 27.Qc7 and White is completely winning. Rest is just a matter of time for White to convert his advantage into a win which Aditya did without any trouble.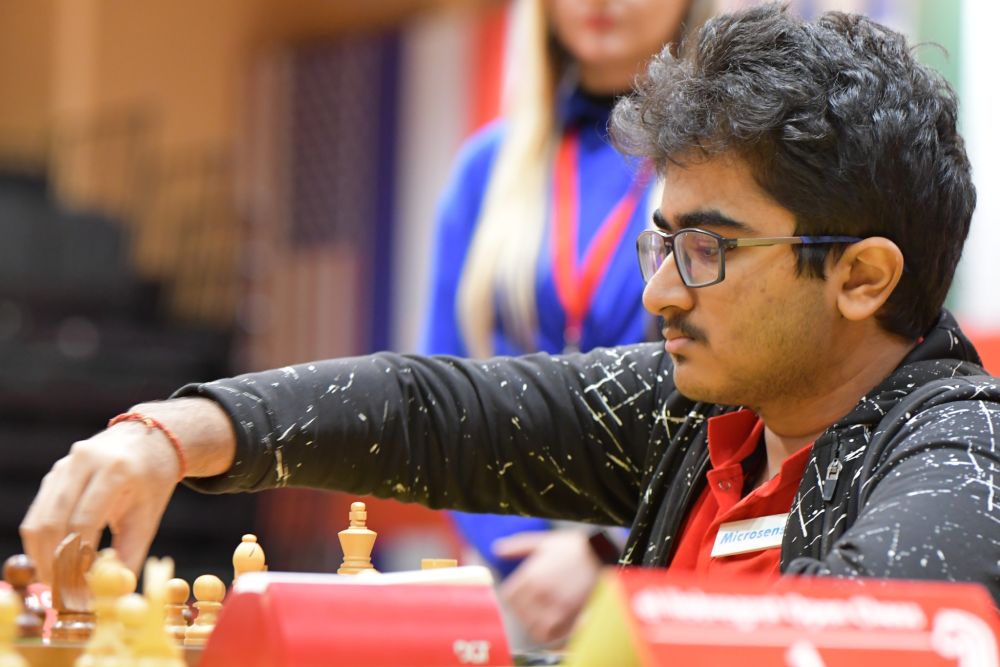 After Aditya Mittal, it was IM Aditya S Samant's turn to score a win against the Bulgaria no.2 GM Ivan Cheparinov.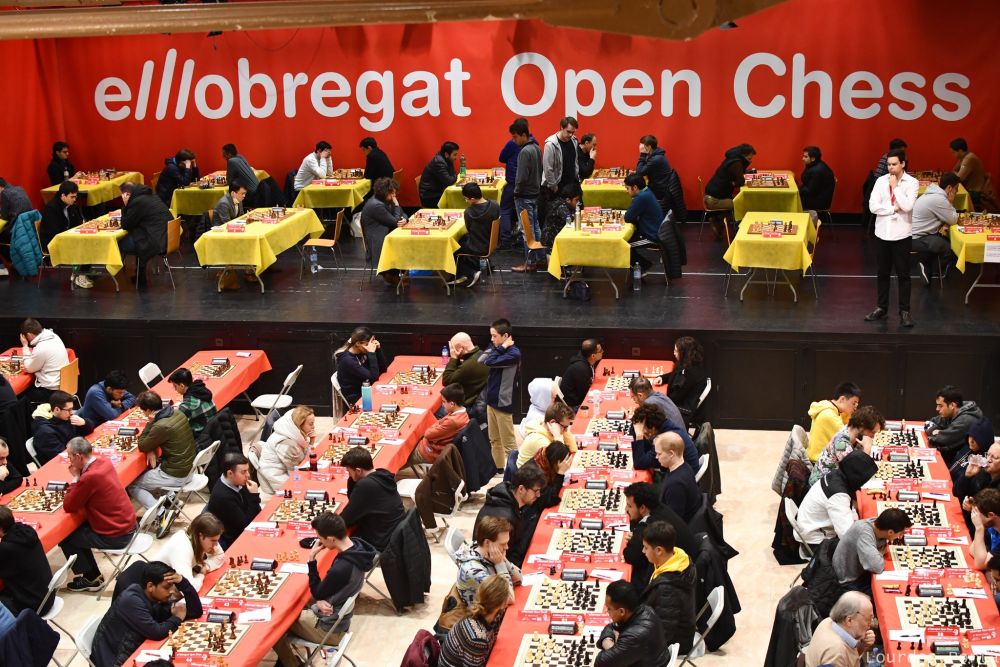 A total of 174 players including 48 GMs, 41 IMs. 11 WGM and a WIM participated in Group A from 43 countries and in Group B, 49 players took part from 17 countries across the world. The tournament took place at Can Massallera, Sant Boi de Llobregat, Barcelona in Spain from 30th November to 8th December 2022. Time control is 90 minutes/40 moves + 30 minutes/end + 30 seconds increment per move starting from move 1.
Replay Round 1-9 games
Round 9 results
Final standings of Group A
| | | | | | | | | | | | | | | | | | | |
| --- | --- | --- | --- | --- | --- | --- | --- | --- | --- | --- | --- | --- | --- | --- | --- | --- | --- | --- |
| Rk. | SNo | | | Name | Typ | sex | FED | Rtg | Club/City | Pts. | TB1 | TB2 | TB3 | TB4 | TB5 | Rp | K | rtg+/- |
| 1 | 9 | | GM | Tabatabaei M. Amin | | | IRI | 2655 | Iran | 7 | 1 | 47 | 51 | 38,75 | 0 | 2749 | 10 | 10,2 |
| 2 | 25 | | GM | Tin Jingyao | | | SGP | 2562 | Singapore | 7 | 2 | 48,5 | 51,5 | 38,25 | 0 | 2767 | 10 | 23,7 |
| 3 | 50 | | IM | Aditya Mittal | | | IND | 2486 | AICF | 7 | 3 | 45,5 | 46,5 | 33,75 | 0 | 2739 | 10 | 31,3 |
| 4 | 18 | | GM | Safarli Eltaj | | | AZE | 2616 | Azerbaijan | 6,5 | 0 | 48,5 | 51,5 | 35,25 | 0 | 2725 | 10 | 13,6 |
| 5 | 2 | | GM | Yu Yangyi | | | CHN | 2716 | China | 6,5 | 0 | 47,5 | 52 | 36,75 | 0 | 2659 | 10 | -2,9 |
| 6 | 17 | | GM | Svane Rasmus | | | GER | 2619 | Hamburger SK von 1830 | 6,5 | 0 | 44,5 | 49 | 35,00 | 0 | 2583 | 10 | -2,4 |
| 7 | 20 | | GM | Sanal Vahap | | | TUR | 2590 | Turkey | 6,5 | 0 | 44 | 48 | 34,25 | 0 | 2693 | 10 | 13,1 |
| 8 | 21 | | GM | Yuffa Daniil | | | ESP | 2587 | CAC Beniajan | 6,5 | 0 | 43,5 | 47,5 | 33,00 | 0 | 2724 | 10 | 16,8 |
| 9 | 11 | | GM | Shevchenko Kirill | | | UKR | 2649 | Ucrania | 6,5 | 0 | 43 | 47 | 33,00 | 0 | 2651 | 10 | 1,2 |
| 10 | 39 | | GM | Kulaots Kaido | | | EST | 2511 | Pühajärve Maleklubi | 6,5 | 0 | 41,5 | 45 | 33,00 | 0 | 2642 | 10 | 16,3 |
| 11 | 38 | | GM | Dvirnyy Danyyil | | | ITA | 2514 | Italy | 6,5 | 0 | 41,5 | 45 | 32,25 | 0 | 2662 | 10 | 17,8 |
| 12 | 15 | | GM | Karthikeyan Murali | | | IND | 2623 | AICF | 6,5 | 0 | 41 | 45 | 31,50 | 0 | 2615 | 10 | -0,3 |
| 13 | 26 | | GM | Pultinevicius Paulius | | | LTU | 2561 | Lithuania | 6,5 | 0 | 40 | 44,5 | 31,75 | 0 | 2630 | 10 | 8,8 |
| 14 | 28 | | GM | Kaidanov Gregory | S50 | | USA | 2549 | USA | 6,5 | 0 | 39,5 | 43 | 31,25 | 0 | 2605 | 10 | 7,5 |
| 15 | 1 | | GM | Vallejo Pons Francisco | | | ESP | 2716 | Stadium Casablanca | 6 | 0 | 50 | 55 | 35,25 | 0 | 2660 | 10 | -5,7 |
Final standings of Group B
| | | | | | | | | | | | | | | | | |
| --- | --- | --- | --- | --- | --- | --- | --- | --- | --- | --- | --- | --- | --- | --- | --- | --- |
| Rk. | SNo | | | Name | sex | FED | Rtg | Club/City | Pts. | TB1 | TB2 | TB3 | TB4 | TB5 | K | rtg+/- |
| 1 | 43 | | | Chitre Arush | | IND | 1646 | AICF | 7,5 | 43,5 | 47 | 38,75 | 0 | 1981 | 40 | 254,8 |
| 2 | 14 | | | Celik Ali Alper | | TUR | 1949 | Turkiye | 6,5 | 46 | 49 | 32,50 | 0 | 1994 | 40 | 30,8 |
| 3 | 20 | | | Vallbona Domingo Joan | | ESP | 1873 | Tres Peons | 6,5 | 45 | 49 | 33,50 | 0 | 2040 | 20 | 54 |
| 4 | 7 | | | Asensio Linan Teodoro | | ESP | 1998 | CE Sant Adria | 6,5 | 42,5 | 45,5 | 30,75 | 0 | 1956 | 20 | 27 |
| 5 | 4 | | WIM | Fandino Reyes Roquelina | w | CUB | 2039 | Cuba | 6 | 43 | 46,5 | 29,25 | 0 | 1965 | 20 | -10 |
| 6 | 6 | | | Khandhar Kaushal | | MAS | 2020 | Malaysia | 6 | 43 | 46,5 | 28,50 | 0 | 1965 | 20 | -10,4 |
| 7 | 8 | | | Diaz Carrasco Sergio | | ESP | 1996 | CE El Prat | 6 | 40,5 | 43,5 | 24,50 | 0 | 1885 | 20 | -13,4 |
| 8 | 5 | | CM | Menac Comas Joan Ramon | | ESP | 2035 | Catalonia-Joviat | 6 | 39,5 | 42,5 | 28,75 | 0 | 1931 | 20 | -15 |
| 9 | 1 | | | Sort Sererols Josep | | ESP | 2083 | CE Barad | 5,5 | 45 | 49 | 26,50 | 0 | 1987 | 40 | -52,8 |
| 10 | 23 | | | Szczotka Klara | w | POL | 1827 | MUKS Stoczek 45 BIAŁYSTOK | 5,5 | 45 | 48,5 | 27,75 | 0 | 1953 | 40 | 93,2 |
Links
---