Gukesh and Praggnanandhaa set to face the world's best at WR Chess Masters 2023
GM D Gukesh and GM R Praggnanandhaa are going to face the world's top players at WR Chess Masters 2023 starting today in Dusseldorf, Germany. They both made their presence felt at the 85th Tata Steel Chess Masters last month. It will be their second consecutive super tournament of the year when they will face a few players who were not part of the 'Wimbledon of Chess'.The remaining eight players in the field are - Ian Nepomniachtchi, Anish Giri, Wesley So, Levon Aronian, Nodirbek Abdusattorov, Jan-Krzysztof Duda, Vincent Keymer and Andrey Esipenko. Round 1 starts today from 2 p.m. local time, 6:30 p.m. IST. Photo: Lennart Ootes/WR Chess Masters
Nepomniachtchi's first Classical tournament since September 2022
Ian Nepomniachtchi is one of the World Championship contender. As he mentioned in the Press Conference, this is his first Classical tournament since September 2022 which was Sinquefield Cup. Alireza Firouzja defeated him in Playoffs at that event. This could also be Nepomniachtchi's last rated event before his World Championship match against Ding Liren as it is about 50 days away.
Players
The tournament features one of the World Championship contender - Ian Nepomniachtchi. 85th Tata Steel Chess Masters 2023 winner, Anish Giri, former World Fischer Random champion, Wesley So, the only two-time World Cup winner in history, Levon Aronian, former World Rapid champion, Nodirbek Abdusattorov, World Cup 2021 winner, Jan-Krzysztof Duda, 44th Chess Olympiad individual Gold medal winner, D Gukesh, Germany no. Vincent Keymer, Asian Continental 2022 Gold medalist, R Praggnanandhaa and World no.62 Andrey Esipenko.
Schedule
The ten player tournament will be held in a Round-Robin system. Every day from 16th to 21st February 2023, the round starts at 2 p.m. local time (6:30 p.m. IST). Monday 20th February 2023 is a rest day.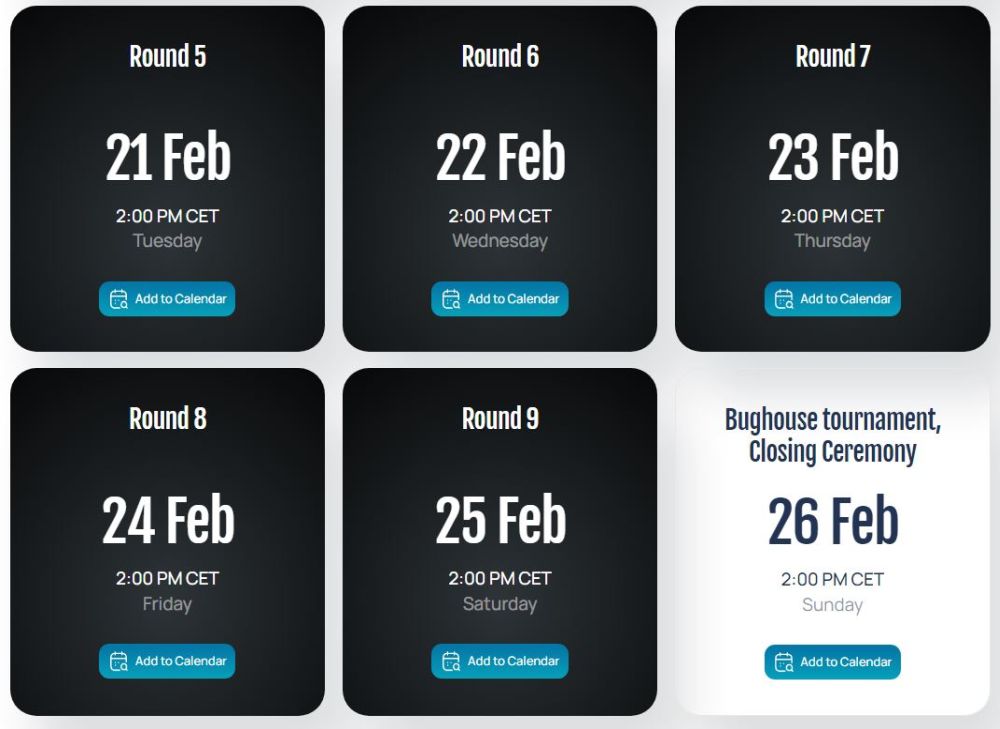 Time Control
The time control for each game is 120 minutes per side for the first 40 moves, 60 minutes for the next 20 moves, and 15 minutes for the rest of the game, with a 30-second increment per move starting with move 61.
Prize fund
The total prize fund - €130000. Top three prizes are: €40000, €25000 and €15000 each respectively.
Tie-break rules
The prize money will be shared among the players with the same points. However, for first place, there will be a play-off to determine the winner,
Draw of Lots and Press Conference
Check out some moments from Draw of Lots and Press Conference held on 15th February 2023
A unique juggling draw of lots
Pairings announcement
Round 1 pairings
Anish Giri vs D Gukesh
Wesley So vs Jan-Krzysztof Duda
Ian Nepomniachtchi vs Nodirbek Abdusattorov
Andrey Esipenko vs Vincent Keymer
Levon Aronian vs R Praggnanandhaa
Links
---