Vintage Aronian wins WR Chess Masters 2023, Gukesh shares second place with Nepomniachtchi
Levon Aronian made a quick 18-move draw against D Gukesh in the final round of WR Chess Masters 2023. The world no.17 just wanted to end his bad streak of Classical games. He wanted to be in a much more relaxed headspace. Well if anyone knows anything about tie-breaks, it has to be Aronian as he is the only person in history to have won the World Cup twice. Ian Nepomniachtchi won a long battle against Vincent Keymmer to make the Playoffs a three-way battle. However, he was way too drained to put up any fight. Aronian won all three Playoff games to win become champion. Gukesh and Nepomniachtchi shared second place. Photo: Lennart Ootes/WR Chess Masters 2023
Aronian scores a perfect 3/3 in Play-off
"I am very very happy. It's a great thing to win tournaments, very enjoyable. I recommend it." - Levon Aronian on how he felt winning the WR Chess Masters 2023. "I thought if I am not in the right mood to play for a win, you know to give it all and I wasn't because I had two very stressful days. I thought you know I should make a short draw and then I will be more relaxed in the rapid section." - The champion on taking a quick 18-move draw against Gukesh. "No, I think it's rather stupid to consider that you are better than anybody in rapid. You know, we are all good players, but I thought I will be more relaxed, so this was my plan." - Aronian added on whether he thought he is bettter than Gukesh in Rapid.
The tournament was a closely contested event as the top three finishers scored 5.5/9 each, then fourth So made 50% score 4.5/9. The remaining six players scored 4/9. That is certainly a rare scorecard in the final standings of a tournament. It is quite difficult to say any one player or more had a bad tournament. Only Anish Giri and Jan-Krzysztof Duda did not manage to score a single victory.
Round 9: Keymer - Nepomniachtchi: 0-1
Germany no.1 Vincent Keymer (2690) had the task of not losing the game against the world championship contender, Ian Nepomniachtchi (2793), to prevent the latter from playing the tie-breaks. They have played only one rated game against each at World Rapid 2022 which was won by Keymer. Nepomniachtchi got the rematch with the same color and it was time for him to even the score.
Position after 59.a5
One would think 59.a5 should be enough as the pawn is racing towards its promotion square. The d4-pawn being defended by the queen should be safe enough. However, that was certainly not the case. Black has some deadly threats towards white's relatively weaker king as his pawns can rush down the board and the knight will join the annihilation too. 59...Qxh4+ 60.Kg1 Qe1+ 61.Kh2 g5 62.Qc7 Qh4+ 63.Kg1 Qxd4+ 64.Kf1 Qd1+ 65.Kf2 Qd2+ 66.Kf1 g4. White cannot even play 67.a6 now as Qd3+ will drop the pawn immediately. White played it anyway 67.a6 Qd3+ 68.Kf2 Kg6! Black can still take the pawn if White goes 69.a7 as Qd4+ is there. 68...Kg6 also unpins the knight so that the knight can join the attack with the queen and pawns. It was over and White soon lost the game. Thus, Nepomniachtchi joined the three-way tie to play the Playoffs with Aronian and Gukesh.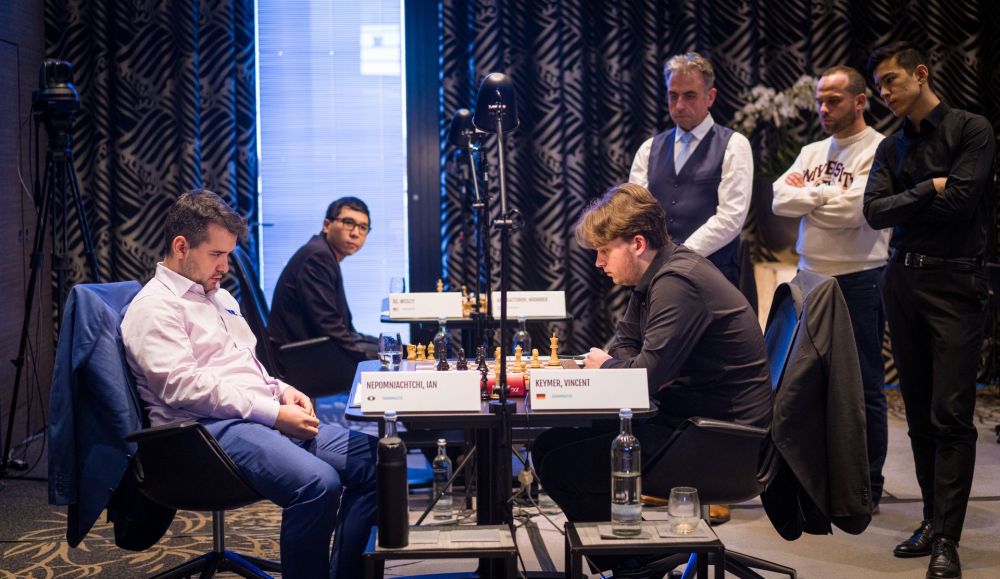 Playoffs: Aronian - Gukesh: 1-0
Gukesh lost the first 10+2 rapid game against Aronian. The former blundered a pawn in the middlegame and never got enough compensation for it.
Nepomniachtchi - Aronian: 0-1
Aronian won a very nice game against Nepomniachtchi by moving his king all the way from g8 to b7.
From move no.20 to 30, Black alternated moving his king and queen, with an inclusion of three moves of the pawns. While the king walk might not have had a huge positional impact, one simply cannot deny the psychological effect it can have on a human opponent. The position eventually liquidated into a queen and rook endgame which Aronian had no trouble winning.
Gukesh - Nepomniachtchi: 1-0
The third Playoff game was won by Gukesh. The rook, knight and few pawns endgame seemed to be heading towards a draw when Nepomniachtchi blundered.
55...Nf6 is a blunder. White loses the h7-pawn but gains a decisive advantage. Find out how. Thus, after the first half of the Playoffs, Aronian is at 2/2, Gukesh 1/2 and Nepomniachtchi yet to score.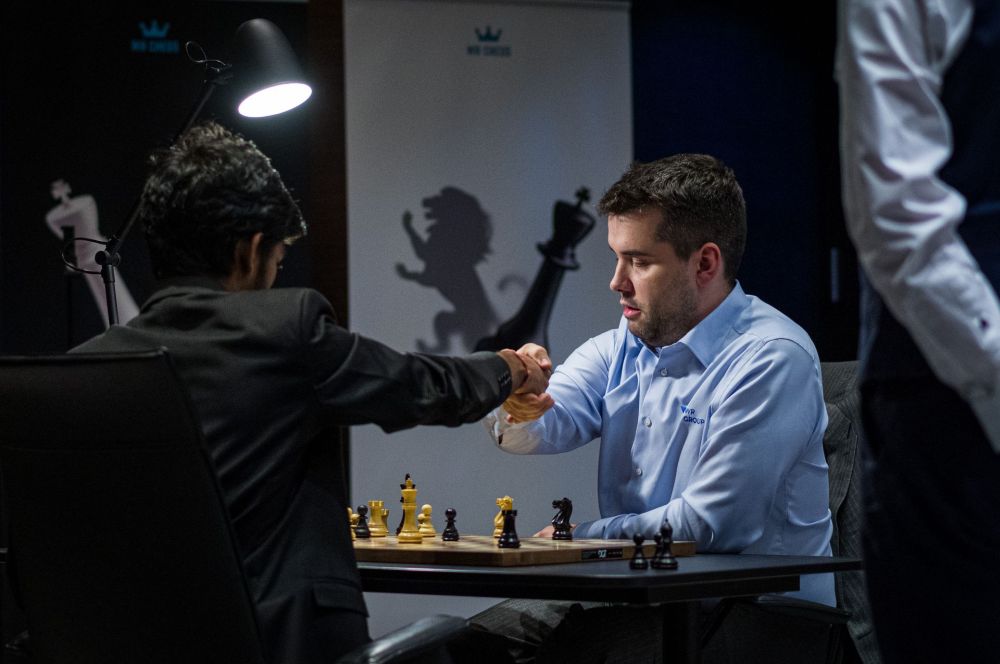 Gukesh - Aronian: 0-1
Gukesh had a better position against Aronian in the second Playoff game.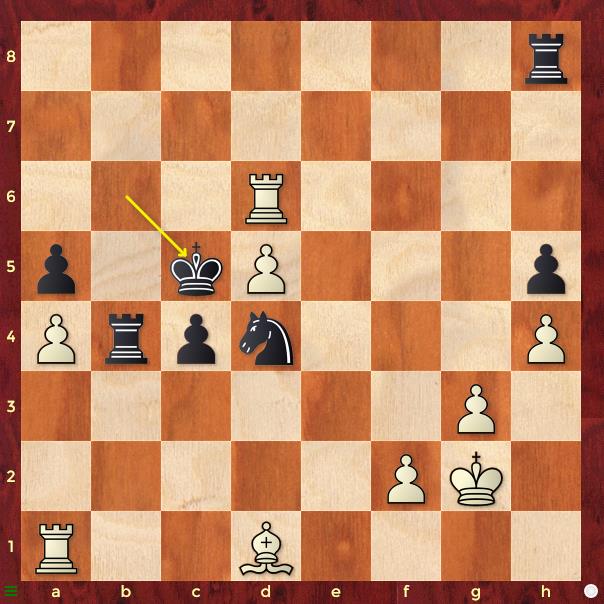 34.Ra6 c3 35.d6 c2 36.Rc1 Rc4 37.d7 cxd1Q 38.Rxd1 Rd8 39.Rxa5+ Kc6 40.Rxh5 would have kept the game going. White has plenty of pawns for the knight. The game continued 34.Rd7 Rb2 35.Rc1 and eventually it liquidated into a bishop vs rook endgame with few pawns.
The game can still be saved for White. 57.Bd7 having the correct intention, yet wrong execution allows Black to win the game Kxg6. The correct way was 57.g7! Kxg7 58.Ke7 and White will use his king to block the black king from rushing towards the a4-pawn. This is what the endgame expert Dr. GM Karsten Mueller calls, a bodycheck. White a few more small chances but he missed them and Aronian won which means his score is now 3/3. Neither Gukesh nor Nepomniachtchi had any mathematical chances to catch up, thus he won the tournament the remaining two Playoff games were not played.
Replay Round 9 and Playoff games
Prize fund
The total prize fund - €130000. Top three prizes are: €40000, €25000 and €15000 each respectively.
Round 9 results
Standings after Round 9
Levon Aronian won the Playoffs and the tournament, Gukesh and Nepomiachtchi shared second place.
Links
---