WR Chess Masters 2023 R4: Five draws
All five games of the fourth round at WR Chess Masters 2023 ended in draws. D Gukesh made a nice exchange sacrifice against Vincent Keymer. The Germany no.1 returned the exchange at the right time to prevent things getting out of hand and the game ended in a draw. Gukesh's undefeated streak against Keymer in rated games continues. R Praggnanandhaa tried to create some chances against Nodirbek Abdusattorov but there was never any real opportunity. Anish Giri (NED) was the only one who had real chances against Andrey Esipenko. However, the World no.5 could not capitalize on his connected passed pawns and the game ended in a draw. Today is a rest day. Round 5 starts tomorrow Tuesday 21st February from 2 p.m. local time, 6:30 p.m. IST. Photo: Lennart Ootes/WR Chess Masters
Aronian still in sole lead
Gukesh - Keymer: 0.5-0.5
D Gukesh (2718) is yet to lose either a rated or over-the-board game against Vincent Keymer (2690). That remained unchanged on Sunday. The 44th Olympiad Gold medalist made a nice pawn sacrifice which soon resulted in him regaining that pawn and sacrifice his exchange. He gained a pawn and weakened the German's king as a compensation in this entire sequence.
Position after 17.b4
17.b4 utlizes the fact that the c5-pawn is being pinned by the bishop at e3. 17...Qxb4 18.d6 Bg5 19.Bxg5 Bb5 20.c3 Qa4 21.Qxe5 Bxf1 22.Bxh6! destroying the pawn structure in front of the castled king gxh6 23.Rxf1 Rae8 24.Qxc5 Re6 and the game eventually ended in a draw.
Yaroslav Bilenko is one of the six Ukrainians, invited by the main organizer, Wadim Rosenstein, played a friendly Blitz tournament. The 15-year-old won the tournament, a trophy and the most important prize of making the ceremonial first move of Round 4. All participants of the tournament won ChessBase packages and WR Chess merchandises.
Replay Round 4 games
Prize fund
The total prize fund - €130000. Top three prizes are: €40000, €25000 and €15000 each respectively.
Round 4 results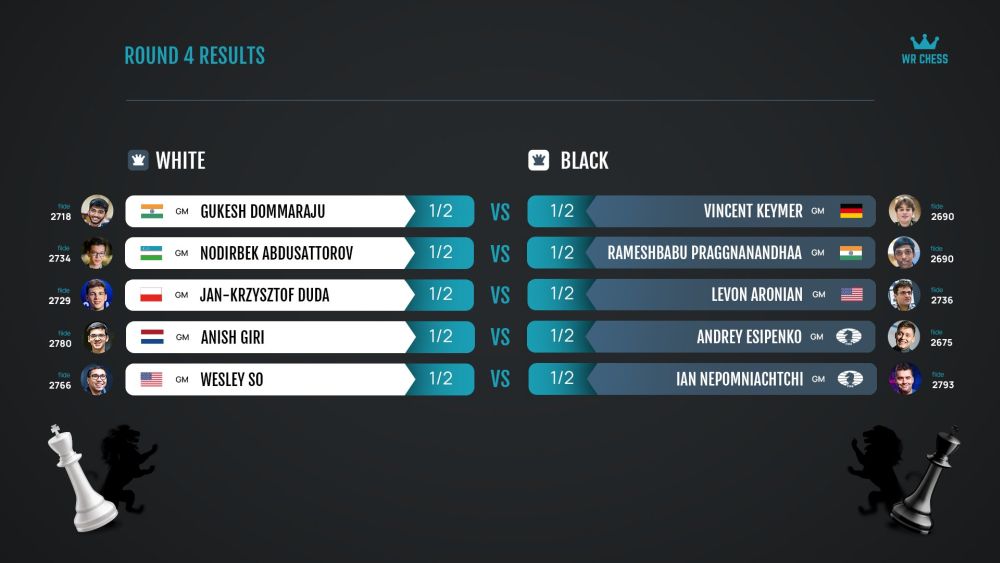 Standings after Round 4
Round 5 pairings
Links
---