WR Chess Masters 2023 R5: Gukesh misses against Nepomniachtchi
D Gukesh made a great impression in his first Classical encounter against Ian Nepomniachtchi. The 44th Chess Olympiad individual Gold medalist had a great opportunity to beat the world championship contender and possibly the next world champion. However, the teenager missed it and the game ended in draw. R Praggnanandhaa had a small chance against Jan-Krzysztof Duda. However, it was neither concrete nor easy for a human to push for a win. The tournament leader Levon Aronian extended his lead by a full point as he defeated Anish Giri. Germany no.1 Vincent Keymer scored his first victory of WR Chess Masters 2023 against World Rapid 2021 champion, Nodirbek Abdusattorov. Round 6 starts today from 2 p.m. local time, 6:30 p.m. IST. Photo: Lennart Ootes/WR Chess Masters
Aronian increases his lead
It was a day of firsts. Gukesh faced Nepomniachtchi for the first time in a Classical game. Keymer beat Abdusattorov for the first time in a Classical encounter. Aronian beat Giri for the first time in a Classical battle since November 2017 at Mallorca GP.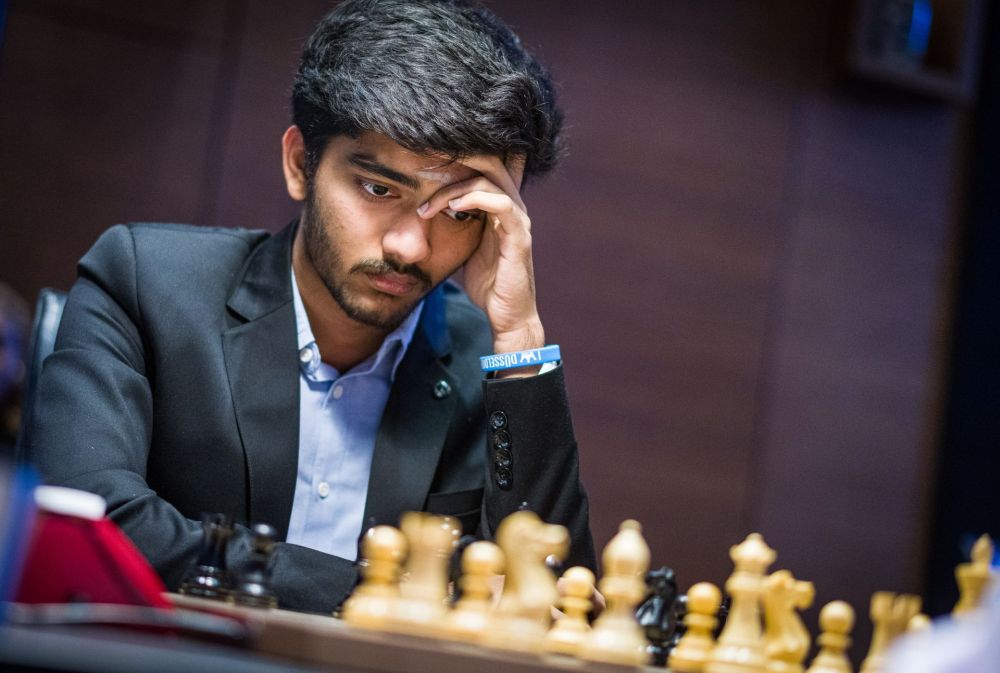 Aronian - Giri: 1-0
Anish Giri (NED, 2780) declined an offer of queen exchange against Levon Aronian (USA, 2736). It allowed the only two-time World Cup winner in history, to have a protected passed pawn, a long-term advantage.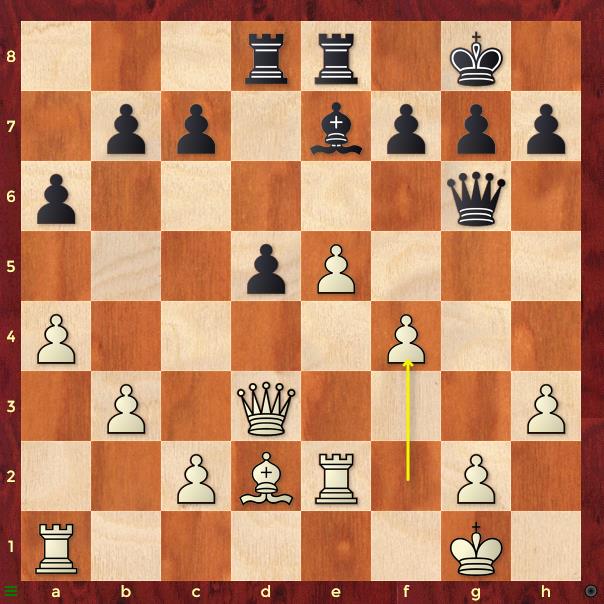 Position after 21.f4
21...f5 created a strong protected center passed pawn at e5. Although, Aronian felt that it is a good move. Instead, 21...Qxd3 22.cxd3 c5 would have been quite fine for Black. White slowly built up on his advantage and eventually the game liquidated into a double rook and few pawns endgame.
Black needed to defend the h7-pawn in the most unpleasant way 37...Rh4 38.Kg3 g5 to continue the fight. 37...Re4 ended the game for Black 38.Rg7+ Kf8 39.Raf7+ Ke8 40.Rxh7 Rh4 41.Re7+ and White wins the game, thanks to the e5-pawn.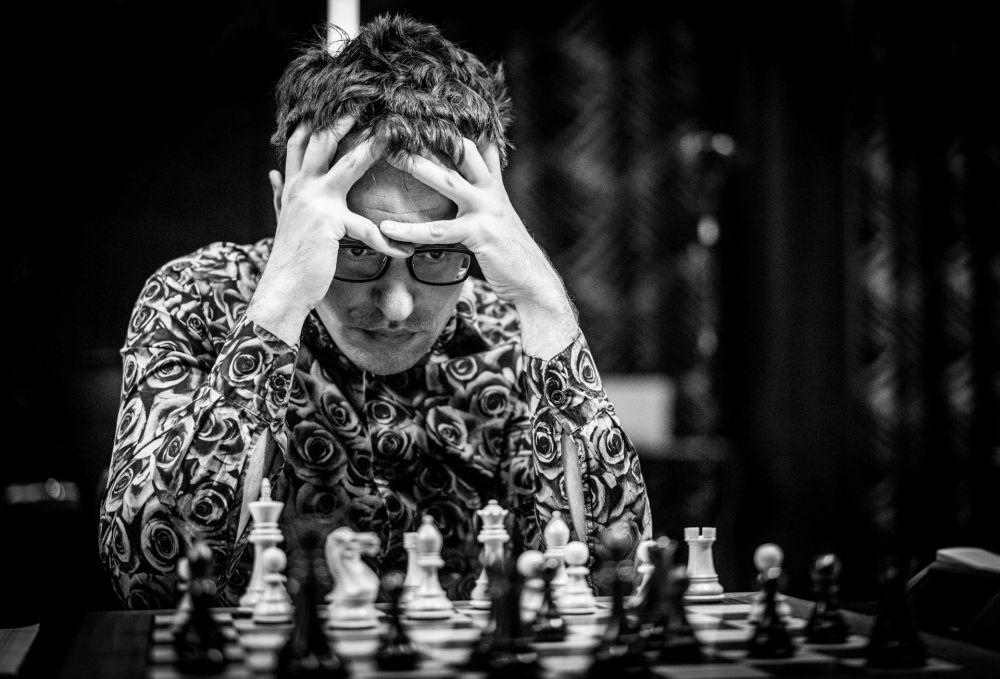 Nepomniachtchi - Gukesh: 0.5-0.5
D Gukesh (2718) faced the World Championship contender, Ian Nepomniachtchi (2793) for the first time in a rated game in any format. The teenager definitely left a good impression in their first encounter.
Nepomniachtchi mentioned in a post-game interview that he was intending to play 18.Nc2 instead of 18.Rd1 which is what he played after he changed his plan. 18.Nc2 Nb3 19.Bxf6 Qxf6 20.Rab1 Qg6 21.f4 Nd2 22.f5 is winning for White, this is what he originally wanted to play. 21..f3 makes Nd2 stronger.
33...b3 would have been winning for Black, having the idea of Na4. 34.Rc1 runs into Na4 35.Rxb3 Rxb3 36.Rc8+ Kg7 37.b8Q Rxb8 38.Rxb8 Nc5 39.Ne1 Ra1 40.Kf1 Nd3 -+. Or 35.Rc8+ Kg7 36.b8Q Rxb8 38.Rxb8 Nxb2 has the same effect too. Gukesh missed his opportunity and played 33...Rab5 and the game meandered to a draw. Nevertheless, Gukesh definitely outstanding in what could be against the next world champion in his last tournament before he becomes one.
Keymer - Abdusattorov: 1-0
The 44th Chess Olympiad Gold medalist, Nodirbek Abdusattorov (UZB, 2734) made an ambitious decision against the Germany no.1 Vincent Keymer's (2690) kingside.
Black went for a full-on attack by sacrificing his rook to expose the king 25...Rxg2+ 26.Kxg2 Rg6+ 27.Kh1 Rh6 28.h3 Bxb5 29.Qf3 Bd7 30.e6 Bxe6 31.Rg1 Qxh3+ 32.Qxh3 Rxh3+ 33.Kg2 Rh5 34.Kf3 Rf5+ 35.Ke2 and now the White king is quite safe. Black never got any compensation for the sacrificed rook and went on to lose the game. Vincent Keymer scored his first Classical game victory over Nodirbek Abdusattorov.
Praggnanandhaa - Duda: 0.5-0.5
R Praggnanandhaaa (2690) faced World Cup 2021 winner, Jan-Krzysztof Duda (POL, 2729) for the second time in his career in a Classical game. This time the color was inverted and the Asian Continental 2022 Gold medalist got a tiny window of opportunity in the major piece endgame.
Computer recommends 29.a5 to be White's best practical chance. Pragg obviously saw it and he was calculating 29...b5 30.Rc5 a6 31.Rxd5+ Qxd5 and he could not find a good plan for White, considering Black was planning for Kd7. 32.Qf2 Rc7 33.Rc5 Qe6 34.Qh4+ and the machine says White has a decisive advantage. However, it is not easy to translate it on a practical game.
Replay Round 5 games
Prize fund
The total prize fund - €130000. Top three prizes are: €40000, €25000 and €15000 each respectively.
Round 5 results
Standings after Round 5
Round 6 pairings
Links
---