Gukesh or Aronian - Who will win WR Chess Masters 2023?
D Gukesh faced Jan-Krzysztof Duda for the very first time in a Classical rated game in the penultimate round of WR Chess Masters 2023. The 44th Chess Olympiad individual Gold medalist managed to hold his own against the World Cup 2021 winner. He recollected Caruana's win over Ponomariov in 2014 and also the American's annotations on a particular position. The teenager will face Levon Aronian in the final round to decide the winner. A win makes Gukesh a clear champion, however a draw means he will have to play the Playoffs. If Nepomniachtchi wins against Keymer, a three-way Playoff can also become a possibility. Who do you think will win the tournament? Final Round 9 starts today from 2 p.m. local time, 6:30 p.m. IST. Photo: Sagar Shah
Keymer scores the sole win of the round
Vincent Keymer defeated Wesley So in an almost exact manner as the way he lost against the former World Fischer Random champion. He is now at shared fourth place with So at 4/8 each. Gukesh has a very good chance of winning the tournament as Aronian misremembered and got himself in trouble Esipenko, after losing his previous round game against Nepomniachtchi. The tournament is so strong that the point difference between the leaders and the currently last ranked players is 1.5 and five players are at 3.5/5.
Esipenko - Aronian: 0.5-0.5
Levon Aronian's (USA, 2736) mind played tricks on him as he misplayed 22...Nd4 against Andrey Esipenko (2675) instead of 22...Ne7.
Position after 22...Nd4
"...If you remember something, you normally play it and then the details kind of become evident. After he played 24.Rd3 it became evident that I didn't, my memory failed me this time." - Aronian on what caused him to play 22...Nd4. Aronian managed to exchange the queens and a bishop to go into rook, bishop and knight vs double rook endgame. A well-timed draw offer when his opponent had three minutes for five moves, showed that one can recover even if you make an incorrect move if they remember the cerebral side of the sport too.
Gukesh - Duda: 0.5-0.5
D Gukesh (2718) did not expect the 7...Nc6 variation in the Petroff's Defense against the World Cup 2021 winner, Jan-Krzysztof Duda (POL, 2729). He recollected a Caruana game in this line where after 14.b3, his opponent went g5. We checked and found that Gukesh was referring to Fabiano Caruana's (USA) win over former world champion, Ruslan Ponomariov (UKR) at 42nd Dortmund Super tournament in 2014. He added 15.Nd4 Nxd4 16.cxd4 d5 17.f4 and he was absolutely right. It is no wonder that Gukesh is playing at such a high level.
Gukesh remembered Caruana mentioning in his annotations that his intention was to play 15.Ng1 after 14...Kb8. He admitted not knowing anything else there.. He just knew this idea exists and thought it would be interesting to play it and he did go 15.Ng1 against Duda.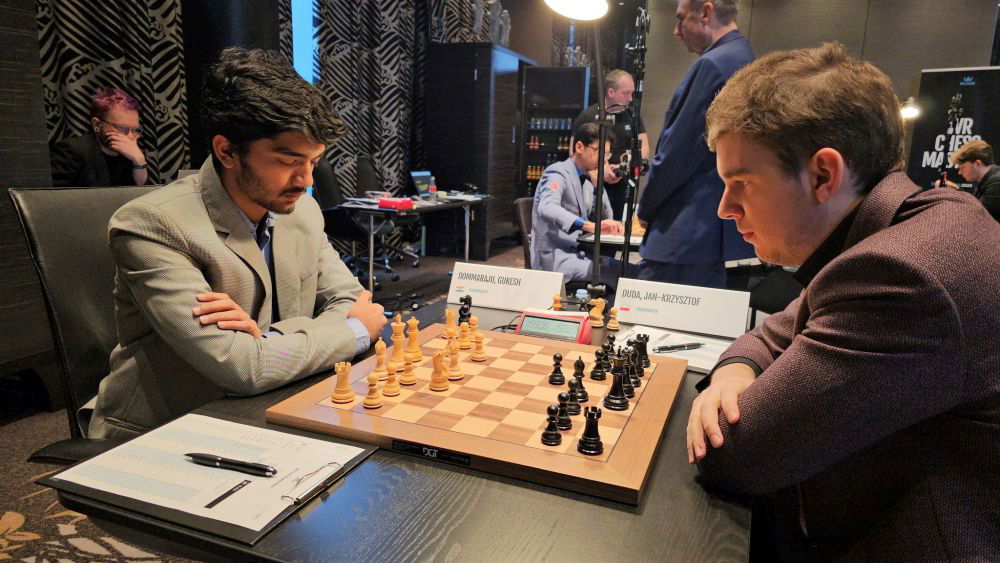 An interesting bit behind the cover photo:
So - Keymer: 0-1
Wesley So (USA, 2766) won the first Classical rated game against Vincent Keymer (GER, 2690) at 85th Tata Steel Chess Masters 2023, a little over a month ago. The Germany no.1 got the rematch with the exact same color. So opted for the Italian opening this time, unlike what he went for on the previous occassion, Spanish opening.
21.N3d4 was a positional mistake. White needed to trade the knights via 21.N3h4 as the knights can become menacing and after 21...Re8, the d4-knight is under attack. It does not have a decent square to go to, moreover he lost a couple of tempi without gaining anything. 22.Nb3 Qd7 23.Nd6 Re6 the knight at d6 cannot stay there for long as Bb8 will eject it. Black kept increasing his positional advantage and eventually liquidated into a minor piece endgame, bishop vs knight, exactly how So won the first time. Only this time, it was the German who was on the winning side.
Photo Gallery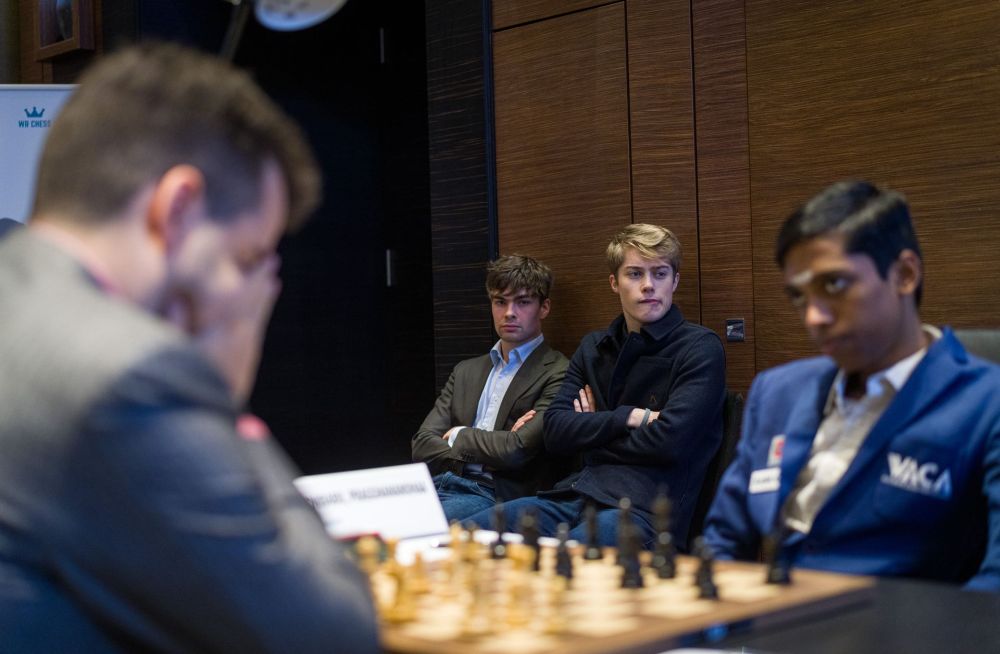 Video Gallery
Replay Round 8 games
Prize fund
The total prize fund - €130000. Top three prizes are: €40000, €25000 and €15000 each respectively.
Round 8 results
Standings after Round 8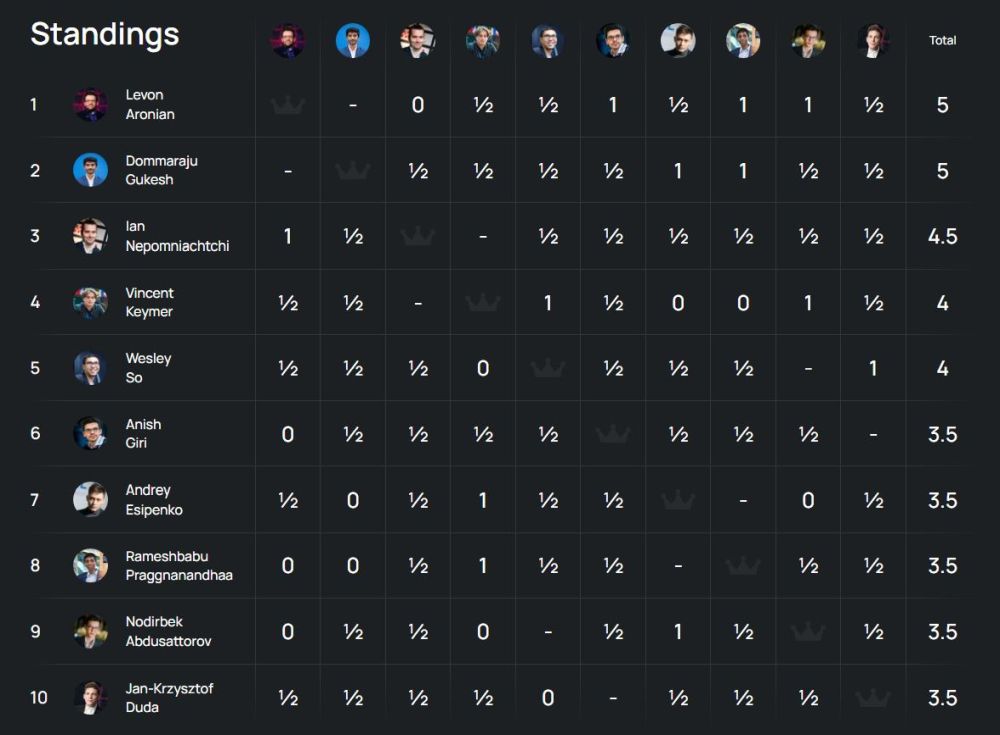 Round 9 pairings

Links
---