WR Chess Masters 2023 R1: Gukesh draws with Giri after 6.5+ hour long battle
D Gukesh started his campaign with a draw against the World no.5 Anish Giri at WR Chess Masters 2023. The game went for over 6.5 hours and finding precise defence in a long, grueling battle is certainly not an easy task. Gukesh managed to do so by overcoming unpleasant position and did not crumble against the 85th Tata Steel Chess Masters 2023 winner. R Praggnanandhaa started his tournament with a loss against Levon Aronian. Wesley So defeated Jan-Krzysztof Duda who went wrong in the opening. Andrey Esipenko won against Vincent Keymer which went for over seven hours. It will be Gukesh vs Praggnanandhaa in Round 2 which starts today from 2 p.m. local time, 6:30 p.m. IST. Photo: Lennart Ootes/WR Chess Masters
So, Aronian and Esipenko win with white pieces
One of the World Championship contender, Ian Nepomniachtchi opted for 1.d4. His opponent was not expecting it. The 44th Olympiad Gold medalist, Nodirbek Abdusattorov opted for Benko Gambit where he could have faced some trouble. It was overlooked by his opponent and the game became shortest draw of the day in just 19 moves.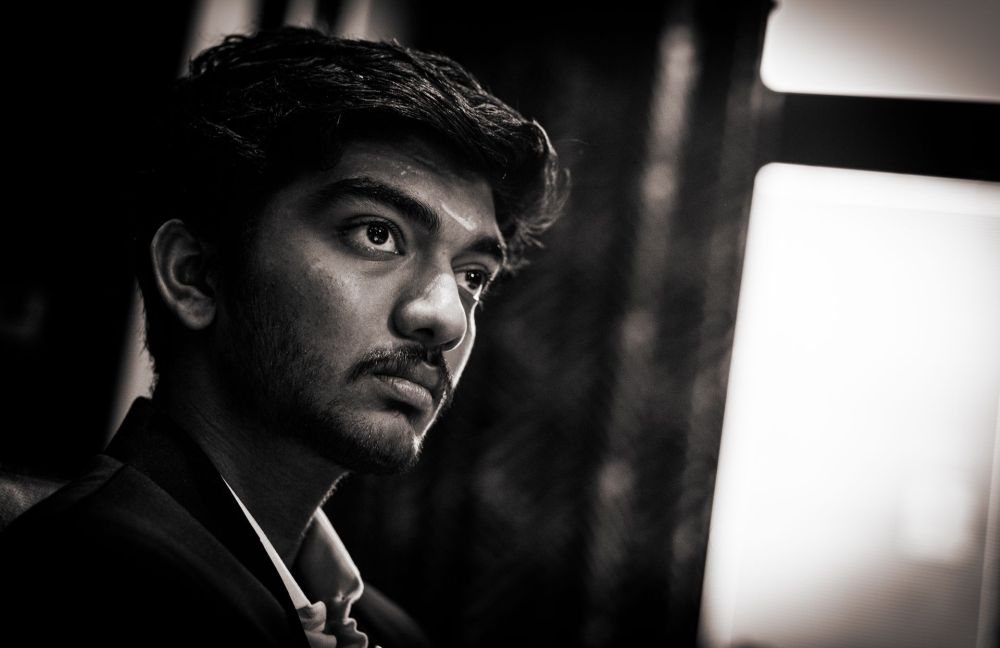 Giri - Gukesh: 0.5-0.5
Just a day over a month ago, D Gukesh (2718) faced Anish Giri (NED, 2780) for the first time in a Classical game. Then Gukesh played 1...Nf6 against which Giri opted for the Ragozin line in the QGD. Gukesh changed the move order slightly in this game to ensure that he does not allow Ragozin.
Gukesh thought for about 30 minutes before playing 8...e5. Giri felt that it was part of his opponent's preparation as he has played it before, however, neither was able to recall the line completely according to the former. 9.dxe5 Ng4 10.cxd5 Nxe5 11.e4 f5 and we got a fresh position. The exciting game reached to a queen, rook and opposite color bishop endgame which was quite unpleasant for Black. The queens got traded eventually and it became a rook, bishop and few pawns endgame.
Gukesh correctly found 57...d4! at the right time. Without the pawn sacrifice to keep things balanced, White was planning to go for f4-f5 and create some more trouble for Black. 58.Ra3 Rf7 59.Bxd4 Bd5 60.Kg3 h5 61.Rc3 hxg4 62.fxg4 Rd7 and Gukesh managed to draw the game with precise play.
Aronian - Praggnanandhaa: 1-0
The first Classical game between Levon Aronian (USA, 2736) and R Praggnanandhaa (2690) took place 31 days ago at the 85th Tata Steel Chess Masters 2023. That game ended in a draw. The rematch was also with the same colors, however, the two-time World Cup winner opted for the English opening this time, unlike previous encounter where he opted for the Ruy Lopez.
Black decided to return the pawn 15...0-0-0 16.Qxf7 Qxf7 17.Bxf7 Ne5 18.Bxe5 dxe5 19.Bd5 Bc6 20.Bxc6 bxc6. The fragmented pawn structure was not easy to handle in the double rook endgame and Aronian eventually went on to win the game.
So - Duda: 1-0
Wesley So (USA, 2766) got an advantage in the opening against Jan-Krzsysztof Duda (POL, 2729) when the latter mixed up the move order.
14...Rxc6 allowed 15.Bh6! Bf8 16.Rd3 Nd5 17.Nxd5 exd5 18.Be3 Qxb2 19.Bd4 Qb4 20.Rb3 Qe7 21.Qxe7+ Kxe7 22.Rxb7+ Ke6 23.Rb8 White won the bishop and soon afterwards the game.
Esipenko - Keymer: 1-0
Andrey Esipenko (2675) won a seven-hour long battlle against Vincent Keymer (GER, 2690). He probably could have won it a lot earlier.
Esipenko was winning out of the opening in various ways, yet he opted for not the optimum choices in each occasion. In the above diagram, before going Qxh7, White had to go 20.Ne5 right now before Qxh7 as it prevents Nd7. 20.Qxh7 Rxg7 21.Qxg7 Nd7 22.Qh8+ Bf8 and Black prolonged the fight.
It seems like Black should be able to defend with two knights. It would take a computer like precision to defend the above position which is quite difficult practically especially when the game is going for over six hours. Esipenko eventually won the game after seven hours when Black made a human error and lost the game.
Replay Round 1 games
Prize fund
The total prize fund - €130000. Top three prizes are: €40000, €25000 and €15000 each respectively.
Standings after Round 1
Round 2 pairings
Links
---