WR Chess Masters 2023 R2: Gukesh outplays Praggnanandhaa
The games between Gukesh and Praggnanandhaa have always been exciting. It was no different in the second round of WR Chess Masters 2023. Gukesh was confident during his game as he knew that his opponent played something which is not precise as per his preparation. He had to work it out over the board and calcullate the variations in a very complex position. The other 44th Olympiad Gold medalist, Nodirbek Abdusattorov also won his game. He defeated Andrey Esipenko for the first time in a Classical rated game with a beautiful double bishop sacrifice. Round 3 starts today from 2 p.m. local time, 6:30 p.m. IST. Photo: Lennart Ootes/WR Chess Masters
Abdusattorov's brilliant double bishop sacrifice
Until yesterday, whenever Gukesh and Praggnanandhaa had decisive games against each other, they traded wins. This was going on since 2017, the first time they faced each other in a Classical rated game. Gukesh changed that pattern. He defeated Praggnanandhaa for the second consecutive time after beating him at 85th Tata Steel Chess Masters 2023.
Gukesh - Praggnanandhaa: 1-0
The games between Gukesh (2718) and Praggnanandhaa (2690) are always exciting. After the opening Praggnandhaa played 13...d5. Gukesh knew that it is not the precise move but he was unaware of the correct evaluation of it.
Gukesh spent about half an hour before settling for 14.Bxf6. The alternative 14.exd5 cxd5 15.Ne3 Be6 was not satisfactory for him, so decided against it. He found the lines after 14...Qxf6 15.exd5 Bg4 to be quite complex. One of the variations he calculated, happened in the game 16.Ne3 Bh5 17.dxc6 bxc6 18.bxc6 e4 19.dxe4 Nh4 20.Nd5 Qh6 21.Re1. He spotted Re1 after being stuck for sometime and felt that his position is better in that position as he is ahead by three pawns and his king starts running away from any possible onslaught on the kingside.
White's position was substantially better already. 30...Rb2?? immediately ended the game for Black. Try to find the winning continuation which Gukesh played in the game.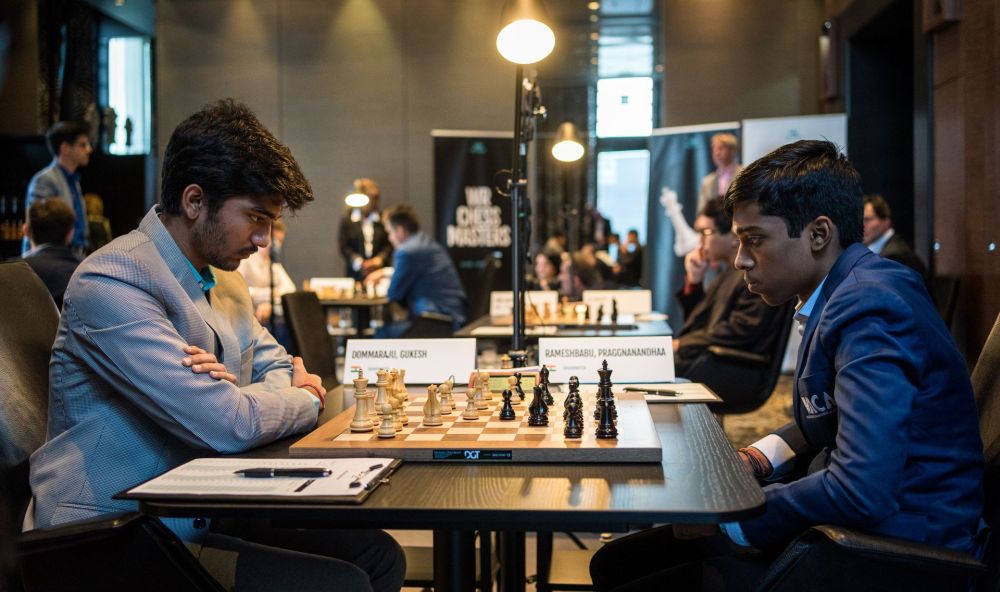 Abdusattorov - Esipenko: 1-0
The 44th Olympiad Gold medalist Nodirbek Abdusattorov (UZB, 2734) had never defeated Andrey Esipenko (2675) in a Classical rated game. He obviously had this statistic at the back of his mind and he was ready to change it. So when the opportunity arose to sacrifice his bishop pair, he took it.
Spotting 15.Bxh7+ was not the difficult part as 14...Nxd2 invited it. The actual challenge was to make it work. 15...Kxh7 16.Qh5+ Kg8 17.Qxf7+ Kh8 18.Ng6+ Kh7 19.Nh5 Re6 20.f5
Black's position looks quite dangerous and it goes without saying that it is quite difficult to play. It would have taken a computer like precision to save the game from here. 20...Nxf1 21.Rxf1 Qg5?? 22.Qxe6 Qxh5 23.Rf3 cxd4 24.Qf7 Bd6 25...Nf8+ White won the queen and went on to win the game eventually.
Replay Round 2 games
Prize fund
The total prize fund - €130000. Top three prizes are: €40000, €25000 and €15000 each respectively.
Round 2 results
Standings after Round 2
Round 3 pairings
Links
---