Monaco GP R3: Anna Muzychuk halts Humpy
Anna Muzychuk halted Humpy Koneru's winning streak by holding her to a draw. The Ukrainian grabbed a pawn and trapped her own bishop which was not possible for Humpy to capture by any means. The most exciting game of the round was between Mariya Muzychuk and Kateryna Lagno. Although Mariya won the game with brilliant sharp play, but there were moments where Lagno could have salvaged her position. Goryachkina got back to winning ways by beating Zhao Xue, Nana Dzagnidze scored her first win of the tournament and jumped to tied second position, Gunina also made a comeback by staying true to her style and beating Alexandra Kosteniuk, after suffering two losses in the first two rounds. Harika had a tepid draw with Pia Cramling. Photo: Karol Bartnik / FIDE
Humpy maintains her lead
Round 2 again witnessed four decisive results and only two draws. Former World Rapid and Blitz Champion Anna Muzychuk held Humpy to a draw, however Humpy is still in sole lead by a half point.
Anna Muzychuk holds Humpy Koneru
Humpy opted for the Petroff's Defence and soon after the exchange of queens, Anna grabbed a pawn on the queenside
Anna - Humpy
Humpy played the obvious move 15...b6 to prevent the bishop's escape. White was forced to play 16.Ba6+ to prevent the bishop from getting captured. After 16...Kd8, white played 17.Bb7
In a post-game interview, Press Officer, Yannick Pelletier asked about having two bishops at a7 and b7, to which Anna said, "I believe it must be good for white as somehow I think that black shouldn't have played like that. I don't know, maybe the critical moment was when I played 18.Rd2. I think a4 was better."
Humpy on the subject of taking the pawn on a7,
"I think it seems to be playable because there was no clear way to trap the bishop because of the light squared bishop. At one point I was offering 18.Bc6 Ke7. That position is like two bishops (against a rook) and white is having one pawn extra on the queenside. I think that's a very interesting position for practical chess. But what happened in the game was like, I don't see much because even if I try to plan something there are certain positions where c4-c5 threats are coming. So I am kind of forced to repeat the moves."
Humpy mentions about offering her rook for two bishops after 17...Bd6 18.Bc6 Ke7.
The game ended up in a draw in 26 moves after both players repeated their bishop's moves.
Gunina makes a comeback by beating Kosteniuk
Kosteniuk opted for the Queen's Indian Defence and but she played the opening too passively which allowed Gunina to move her pieces freely and place them according to her desire.
Gunina - Kosteniuk
When she was asked about her win, Gunina said, "I wasn't sure about my game, but I really liked my attack 17.Rh3 so I am satisfied."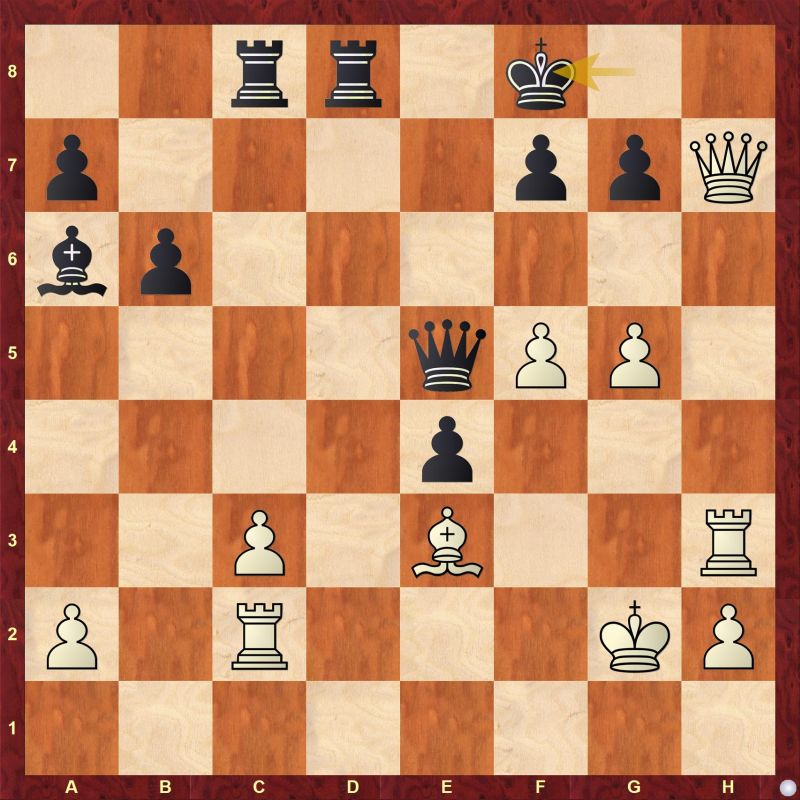 It is evident that white has decisive advantage here, find out the best continuation for white.
Goryachkina too strong for Zhao
Goryachkina opted for the Ragozin Defense in QGD. Zhao Xue made an early theoretical mistake which made her unsure about what to do with the bishop.
Goryachkina - Zhao
In these variations, retreating the bishop means not only a loss of tempo but also a misplaced bishop.
For the lack of a better idea, Zhao moved her bishop again, thus causing her to lose valuable time.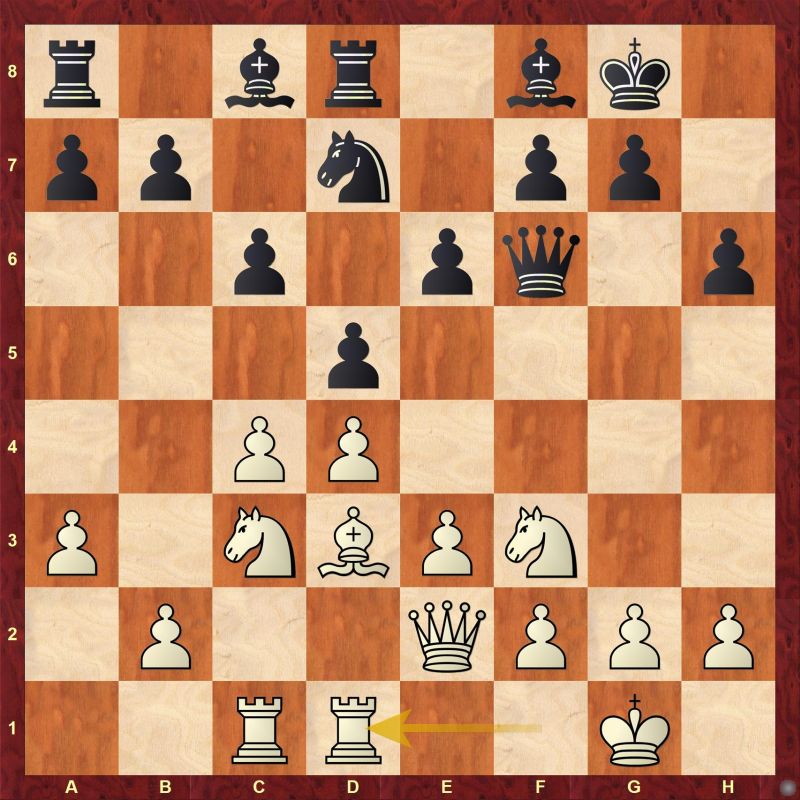 Here black went with the slow 13...b6 which allowed white to gain total control on the queenside light squares. Slightly better alternative was to go with 13...dxc4 14.Bxc4 b5 where black at least gets to develop the bishop and have some kind of semblance to the position.
Things just started to go south after 17...Bc6 and white's advantage became insurmountable for black. Black should have gone with 17...Re8 18.Qb5 Bxa6 19.Qxa6 Qf5 and this would have been much better for black than what happened in the game.
Nana scores her first win of the tournament
Despite the major part of the game being seemingly equal, Paehtz slipped in the later part of the endgame against Nana.
Paehtz - Dzagnidze
White should have gone with 39.Qd7+ instead and not give up the d-file.
Instead of activating the king towards the center, white went ahead with 41.Rc4 allowing black to grab pawns with 41...Rd2 and white started losing one pawn too many and eventually the game.
Mariya's complex win
The most interesting and complex game of the round was between Mariya Muzychuk and Kateryna Lagno. When asked about the game, Mariya said, "Well, yes I won my game but unfortunately I lost so much energy that I definitely need rest."
Mariya - Lagno
Lagno went with 18...b6 which was not the best idea. Instead black should have gone with 18...dxc5 19.Nxc5 c6 which is still better for white but not as worse for black as it happened in the game.
The most critical moment of the game was after black played 30...e4. The position is definitely advantageous for white but it looks a lot dangerous due to the king being in the line of fire. White needed to play precisely, however Mariya in the game gave her opponent a chance with 31.fxe4 which she later admitted that she missed the 31...f3, 32...Nxe4 idea. White should have gone with 31.Nxe4 Nxe4+ 32.Kg1 Ng3 33.Re1 and white is doing completely fine.
Lagno got one last opportunity after 36.Be2, however she missed it and misplayed with 36...Nge5+. Black could have salvaged the position with 36...Qg3+ 37.Rf3 Nge5+ 38.Kc2 Qg6+ 39.Kb3 Nxb6
Cramling-Harika had a tepid draw
In Semi-Slav, Cramling played a sideline 6.Nc3 instead of the mainline 6.Bd2.
Cramling - Harika
Pieces got exchanged at regular intervals and a draw was agreed after 31 moves in an equal Opposite color bishop ending.
The eleven-round event continues on Friday. The games start at 3:00 p.m. local time, 7:30 p.m. IST
Replay Live Stream
All games
Links
---