Magnus Carlsen is the World Rapid Champion
Magnus Carlsen is now not just the Classical World Champion, but also the Rapid World Champion! He played sublime chess, gaining 14 Elo points, reaching 2900 on the Elo scale to win the title one point ahead of his nearest rivals. Silver medal was won unexpectedly by Alireza Firouzja who scored 4.5/5 on the last day and Nakamura settled for the bronze. In this illustrated article we look into Magnus's most crucial wins from the second day of the event and also bring you photos along with the interview of the World Champion.
There are days when you are present at the venue as a journalist and you think to yourself, "Please! Let there be no more action than this! How am I going to cover all of this in a single report!" That exactly was the feeling at the end of the World Rapid Championships 2019. So we decided to cover the two big affairs of Magnus Carlsen winning the open section and Koneru Humpy triumphing in the women group in two separate articles.
The Effortless Magnus Magic!
Magnus Carlsen began the third day of the World Rapid 2019 with a score of 8.0/10. He was half a point ahead of Wang Hao, MVL and Duda. In the 11th round Carlsen was up against MVL which perhaps was one of the most important clashes of the event.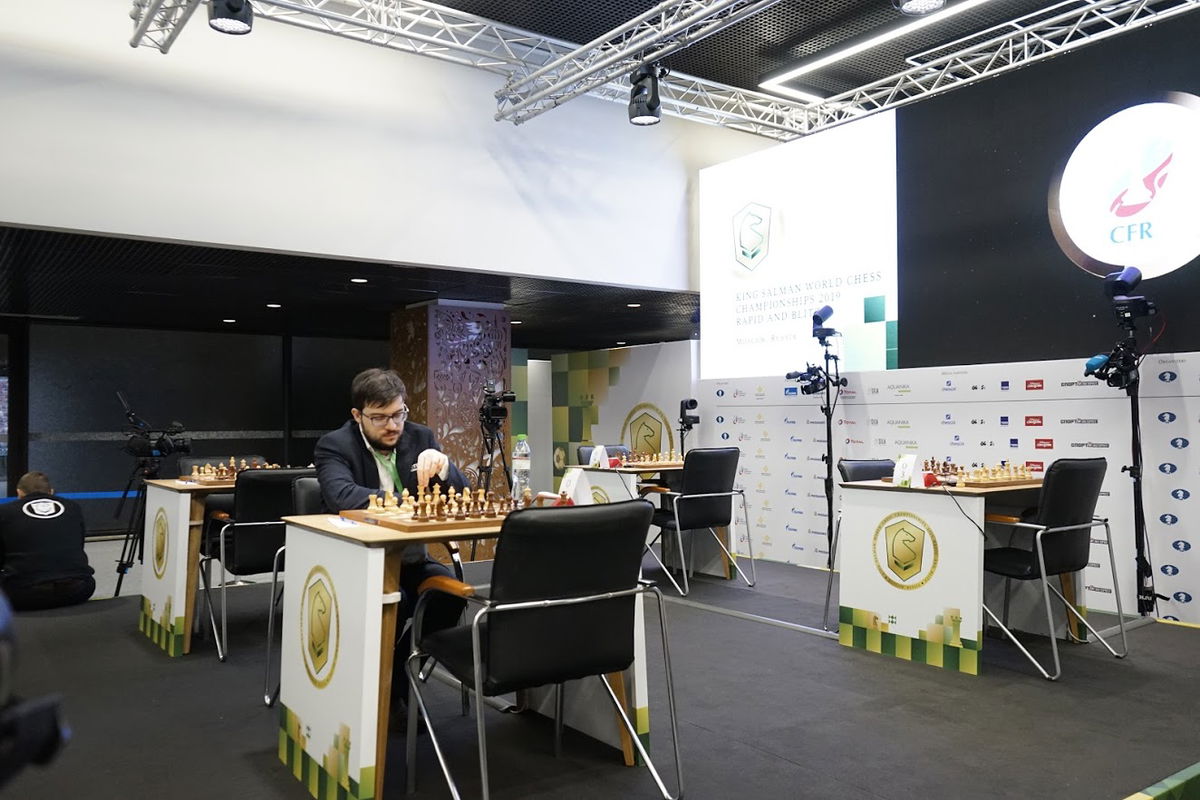 MVL played 1.e4 and played the open Sicilian against Magnus' Sveshnikov. It always seemed as if White was better, but Carlsen made his moves quickly. He didn't really have a plan, but waited for MVL to do something. When the French GM had to be accurate in the middlegame, he erred and Carlsen equalized without any difficulties. In fact at some point he was also in with a chance to win the game, but finally it all petered out into equality.
In round 12, Carlsen faced the tough task of playing Levon Aronian with black. Putting his trust in the Tarrasch, Magnus once again essayed something unusual in the opening. To a person not well versed with theory, it seemed as if Carlsen had simply blundered a pawn on h5. However, this was really deep understanding of the position. Magnus realized that his central and queenside majority was more potent than Aronian's kingside pawns.
Levon Aronian - Magnus Carlsen, Round 12
The World Champion began to dominate in the position and very soon built up a winning advantage. However due to time pressure, things started to spiral out of hand and Aronian got some counterplay. And then something shocking happened! A queen blunder!
The win against Aronian extended Magnus' lead. In the 13th round Carlsen faced Mamedyarov. One of the fiercest attackers of the game, Mamedyarov, somehow is just not able to be himself against Magnus. Even in this encounter Mamedyarov was unrecognizable. He played a solid but passive system. Made some grave positional errors and before you knew it, the game was already over!
After these two back to back wins Magnus had a lead of 1.5 points over the rest of the field. He decided to take it easy in the 14th round against Dominguez and drew his game. In the final round he was pitted against Hikaru Nakamura. In case if Hikaru was able to beat Magnus, we would have gone into the playoffs to decide the champion. However, nothing of that sort happened. Nakamura tried a bit in the opening, but once he realized that Magnus was well prepared and his position was solid, he offered a draw, which was gladly accepted. Magnus, thus became the World Rapid Champion 2019. His third World Rapid title.
Transcript of the above interview
A group of journalists gathered around Magnus and asked him different questions. All of these are transcribed below:
Magnus Carlsen: For me I took some time to get going and made some draws. Some people were quite far ahead of me but I think today I had a difficult game against Aronian but in general I was in relatively good control and I am very happy with my performance.
Q: What do you have to say about your opponents?
Magnus Carlsen: I would say my opponents are very strong, they are very solid but I think some of them perhaps lacks the cutting edge. I think lot of my opponents were very happy to finish in the top places and have good chances for medals. But I think in such a tournament to win it all you need to have an even more attacking mindset. I think lot of people here performed well but they could have pushed for more.
Q: Who do you think was your toughest opponent?
Magnus Carlsen: It is hard to say. I feel like I have played all the best players [Smiles]. But if I had any bad positions it was probably on the first day against [Rauf] Mamedov, [Hrant] Melkumyan, [Aleksandr] Rakhmanov and also against Wang Hao I had some difficulties. I defended some worse positions for sure but I think I was never lost, and that's a great thing, to have played fifteen rounds without being lost in single one of them is something I take great pride in.
Q: How do you feel now that you have won your third rapid title?
Magnus Carlsen: I feel very good. I am very happy with my performance. I think today I handled it fairly well, although I wasn't very happy to draw against Dominguez because I knew after that the last round would be very difficult, someone just a point could as well catch-up with me. But as it turned out [Hikaru] Nakamura was just happy to secure a medal and I am thankful for that.
Q: How would you celebrate now? Would you play football?
Magnus Carlsen: Maybe I will play football. But most of all, the job is half done for me! I want to win the blitz as well so there's no time to rest on laurels. So if I play football it will only be because I think it is a good way to unwind that way before the blitz.
Q: What do you think about the organization of the event this year in russia?
Magnus Carlsen: I think the organization has been superb. I am very very happy and so is my team. To me it feels a bit similar to last year in St. Petersburg. Nice playing hall, lots of people coming to watch. It feels great and I am looking forward to the last two days.
Q: There are a lot of fans here, what do you feel about them?
Magnus Carlsen: I am very happy to see all the fans but I just ask for a little understanding. It has been a tense day for me and if I don't have the time or energy for autographs and such in between games then it is nothing personal. It is just about being as well prepared as possible for a nice game.
Q: What are your future plans?
Magnus Carlsen: The future plan is to play the blitz well. Don't want to look too far ahead, again super-motivated to do well there.
Q: Are you planning any holidays?
Magnus Carlsen: No, I am playing Wijk Aan Zee from the eleventh of January, so holidays will be after that.
Sagar Shah (SS): There were a lot of top players who were making draws quickly just to save energy but you gave in all, in the all the rounds. How did you manage to do it?
Magnus Carlsen: I think even though the days are pretty long but it is still possible to give your all in all the games. But I think it also helps that I am better than the others! [Laughs]. So for me it is easier to play for a win. Perhaps the others risk more if they do so. I think that's the brutal truth. If you are a bit better you can afford to take more risks. Maybe for some of the guys who were taking several short draws that was their optimal strategy but in order to win the event that's probably not the best idea. But in order to just do well that's not a bad but again it is not the way I play and it is partly because I can afford it.
SS: Do you follow a specific routine during the event? You were coming to the board just a few seconds before the game, what were you doing between the rounds?
Magnus Carlsen: I don't like to sit at the board and wait. It is as simple as that. I was just eating, drinking some water, watching some football, and also I was going out for walks. It is a big hall and you need fresh air sometimes.
Q: And what about fantasy football?
Magnus Carlsen: [Laughs] It's been terrible!
Q: You lost the number one right?
Magnus Carlsen: Yes, it's been terrible. My chess is going great but my fancy team is not doing well, it's bad but it doesn't matter!
Q: And lastly what did you feel when Aronian blundered his queen?
Magnus Carlsen: Happy! [Smiles] ... But seriously I think I was winning it anyway but it had gotten out of hands. So yes after a tough game there's no better feeling than capturing your opponent's queen for nothing!
Final standings after fifteen rounds
| | | | | | | | | | | | |
| --- | --- | --- | --- | --- | --- | --- | --- | --- | --- | --- | --- |
| Rk. | SNo | | | Name | FED | Rtg | Pts. | TB1 | TB2 | TB3 | TB4 |
| 1 | 1 | | GM | Carlsen Magnus | NOR | 2886 | 11,5 | 128,5 | 136,0 | 2719 | 0,0 |
| 2 | 69 | | GM | Firouzja Alireza | FID | 2614 | 10,5 | 130,0 | 137,0 | 2706 | 0,0 |
| 3 | 3 | | GM | Nakamura Hikaru | USA | 2819 | 10,5 | 125,5 | 131,5 | 2698 | 0,0 |
| 4 | 8 | | GM | Artemiev Vladislav | RUS | 2756 | 10,5 | 120,5 | 126,0 | 2653 | 0,0 |
| 5 | 6 | | GM | Aronian Levon | ARM | 2784 | 10,0 | 130,5 | 136,5 | 2684 | 0,0 |
| 6 | 9 | | GM | Dominguez Perez Leinier | USA | 2755 | 10,0 | 128,5 | 135,5 | 2719 | 0,0 |
| 7 | 13 | | GM | Duda Jan-Krzysztof | POL | 2751 | 10,0 | 128,5 | 135,0 | 2693 | 0,0 |
| 8 | 11 | | GM | Dubov Daniil | RUS | 2752 | 10,0 | 122,5 | 129,5 | 2681 | 0,0 |
| 9 | 4 | | GM | Korobov Anton | UKR | 2818 | 10,0 | 114,5 | 120,0 | 2629 | 0,0 |
| 10 | 30 | | GM | Anton Guijarro David | ESP | 2709 | 10,0 | 114,5 | 120,0 | 2613 | 0,0 |
---