Maxime Vachier-Lagrave and Bibisara Assaubayeva are the World Blitz 2021 champions
Maxime Vachier-Lagrave ended Levon Aronian's fantastic momentum in Round 17 and tied three-way for the first place along with Jan-Krzyzstof Duda (POL) and fellow countryman, Alireza Firouzja. As per tournament regulations, only top two according to the tie-break had to play the Playoffs. MVL beat Duda 2-1 in the Playoffs to win his first world title, World Blitz 2021. Previous day leader, 17-year-old IM Bibisara Assaubayeva continued her dominance as she won the World Blitz Women 2021 with a round to spare and finished 1.5 points ahead of the competition. The cash prize for top three were US$ 60000, 50000 and 40000 in Rapid and Blitz event each respectively. There will be separate overviews of Indian performances in both Rapid and Blitz event. Photo: Lennart Ootes/FIDE
The year of the 17-year-olds
If anyone has followed the recent performance trajectory of GM Nodirbek Abdusattorov (UZB) and IM Bibisara Assaubayeva (KAZ), one would not be surprised by their triumph. The hunger to prove to the world burns brighter and makes them work that much hard to become stronger among the younger talent than the older battle-hardened ones.
World Rapid 2021 champion - Nodirbek Abdusattorov 9.5/13
Abdusattorov's key victory or the turning point of the tournament was certainly his win against the defending champion, Magnus Carlsen in Round 10.
Abdusattorov - Carlsen, Round 10
One of the simplest draw in the endgame was in the above position. 51...Qxh5 52.Qxh5 Ng3+ and the game ends in a draw. Of course, Magnus did not miss it. He did not want to go for a draw, instead he wanted to test himself and his opponent, whether he can get wrrigle himself out of the position and get a full point, or is my opponent capable of converting a win when it matters the most. The latter turned out to be true. The player side of Magnus was definitely shattered as he lost the lead, however, the chess lover Magnus must have been delighted to find someone like who can seize his opportunity even in tough situations, even if he is only 17 years of age.
Just to jog your memory, two years back Abdusattorov gave a hard time to Magnus at World Blitz 2019.
Four players - Nodirbek Abdusattorov, Ian Nepomniachtchi, Magnus Carlsen and Fabiano Caruana scored 9.5/13 each. However, as per the tournament regulations, only top two according to the tie-breaks will get to play the Playoffs. Thus Abdusattorov and Nepomniachtchi had to play the Playoffs to determine the World Rapid 2021 winner. It is obvious that Caruana was unaware of the exact tie-break rules, else he certainly would not have drawn the game in a mere six moves.
Nepomniachtchi - Abdusattorov, Playoff 1
White offered a momentary sacrifice of the bishop at g5 as he will regain it via Rd1. Abdusattorov was not worried about the e4-bishop pinning the c6-knight. He accepted it anyway, 16...hxg5 17.Rad1 Nb4 18.Qxc3 Bxf2+ 19.Kxf2 Nd5. It is immaterial what the evaluation says after 19...Nd5. what's more important is Abdusattorov showed nerves of steel and did not seem to faze by Nepomniachtchi's attempt at a conjuring trick. Although White got substantial advantage in the end, you have to factor in the time and the pressure of World Rapid title on the line. The first 3' + 2" Blitz Playoff ended in a draw.
In the second Blitz game, Nepomniachtchi overpushed and things got out of hand.
Abdusattorov - Nepomniachtchi, Playoff 2
After 32.dxe5 Black had to play 32...f5 to continue the fight. Instead, 32...fxe5 just turned things in White's favor 33.exd5 cxd5 34.e4. Later White may have missed mate in two twice but you cannot fault him for that. After all, he is 17-years-old, playing against the World Championship 2021 Challenger for the World Rapid championship, stakes were at an all time high for him. The young talent prevailed and created history.
World Rapid Women 2021 champion - Alexandra Kosteniuk
Valentina Gunina was completely winning against Kosteniuk in Round 5.
Gunina - Kosteniuk, Round 5
Black's position is completely lost. 28.Nxg6 is the best and simple way for White to win. Instead, White opted for a flashy 28.Rxg6 which allowed Black to restore some kind of semblance to the position 28...fxg6 29.Nf7 Kh7 30.Nxd8 Re1 and Black is out of the woods. Eventually Black won the game. This win certainly breathed a new life into Kosteniuk whereas a loss could have had a huge impact in the final standings.
Humpy was the only other who got real close to beating Kosteniuk in Round 9.
Humpy - Kosteniuk, Round 9
White already has a protected center passed pawn. 32...Nxd4 did not help Black's case. Sure, Black was looking to create a center passed pawn of her own and get rid of White's deadly bishop, but the resultant pawn mass at the center was definitely more powerful than Black wanted it to be. White was unable to capitalize on her advantage and a series of mistakes allowed Black to escape with a draw via perpetual check.
World Blitz 2021 champion - Maxime Vachier-Lagrave 15.0/21
Three players - Maxime Vachier-Lagrave, Jan-Krzysztof Duda and Alireza Firouzja finished the Blitz event with the same score 15.0/21. As per tournament regulations, only top two players according to tie-breaks will get to play Playoffs. Thus, MVL and Duda played the Playoff matches. Before we get to that, one must not forget that Levon Aronian was dashing towards the finish line as he was the sole leader 13.0/17, heading into Round 17. It was the France no.2 MVL who derailed Aronian's momentum.
Vachier-Lagrave - Aronian, Round 17
30.f4 traps the rook for a while and keept it out of play for a while. White went for 30.Re1 and eventually won the endgame after a back and forth battle.
Vachier-Lagrave won a topsy-turvy battle against Magnus in the final round.
Vachier-Lagrave - Carlsen, Round 21
18.Qe4 is a mistake because of 18...Nxe3 19.Qxb7 Nexg2 and Black is completely winning because White's kingside is completely wrecked. However, Magnus was not in his element. He had already lost five Blitz games which is the highest in over five years at the same event. After several mutual errors, Vachier-Lagrave came out on top and tied for the first place with Duda and Firouzja.
After first two Playoff games ended in draws, it was time for Golden game. It's very much like Golden Goal in football, first person to score a win, clinches the Playoff and the World Blitz title. Beating the final boss, Magnus Carlsen in the final round increased Vachier-Lagrave's confidence by that much. Moreover, Duda had the intangible psychological pressure of playing in his home country, Poland.
Vachier-Lagrave - Duda, Playoff 3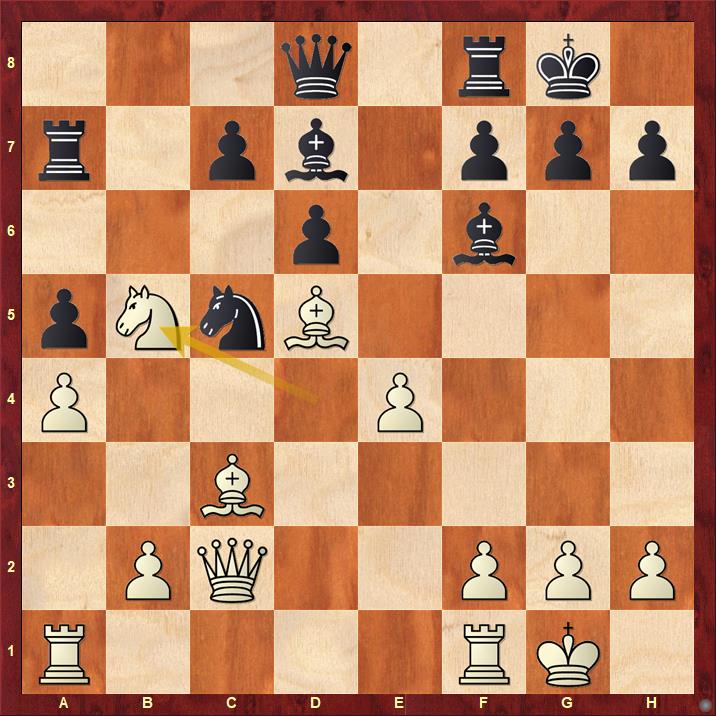 Duda's big decisive mistake turned out to be 20...Bxb5. 21.axb5 tied Black's pieces especially the rook at a7. White also got a stronghold by putting his bishop at c6 which did not help Black's case either. The result became evident and Vachier-Lagrave won the match.
World Blitz Women 2021 champion: Bibisara Assaubayeva
17-year-old IM Bibisara Assaubayeva (KAZ) decimated the field as she beat the likes of GM Anna Muzychuk (UKR), GM Alexandra Kosteniuk (RUS), IM Elisabeth Paehtz (GER), IM Polina Shuvalova (RUS), IM Vaishali R, GM Koneru Humpy, GM Aleksandra Goryachkina (RUS). She lost only two games against GM Valentina Gunina (RUS) and GM Kateryna Lagno (RUS). Then also she managed to win the tournament with a round to spare, that shows her dominance.
Kosteniuk - Bibisara, Round 6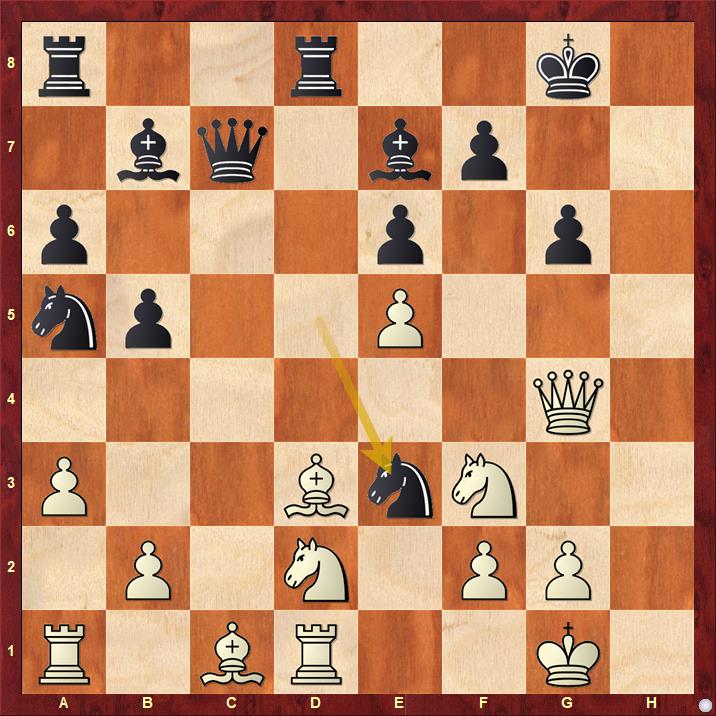 White was already having a difficult position. 19...Ne3 kind of accelerated things in Black's favor. 20.fxe3 Rxd3 21.Rf1 Rxe3 22.b4 Nc6 23.Qf4 Re2 24.Ne4 Nxb4 and things just fell apart quickly for White.
Some tweets
MVL after winning the tournament
World champion, Magnus Carlsen who lost both of his Rapid and Blitz titles, congratulated both MVL and Duda
Nepomniachtchi on the event
Nakamura congratulated both MVL and Abdusattorov
Photo Gallery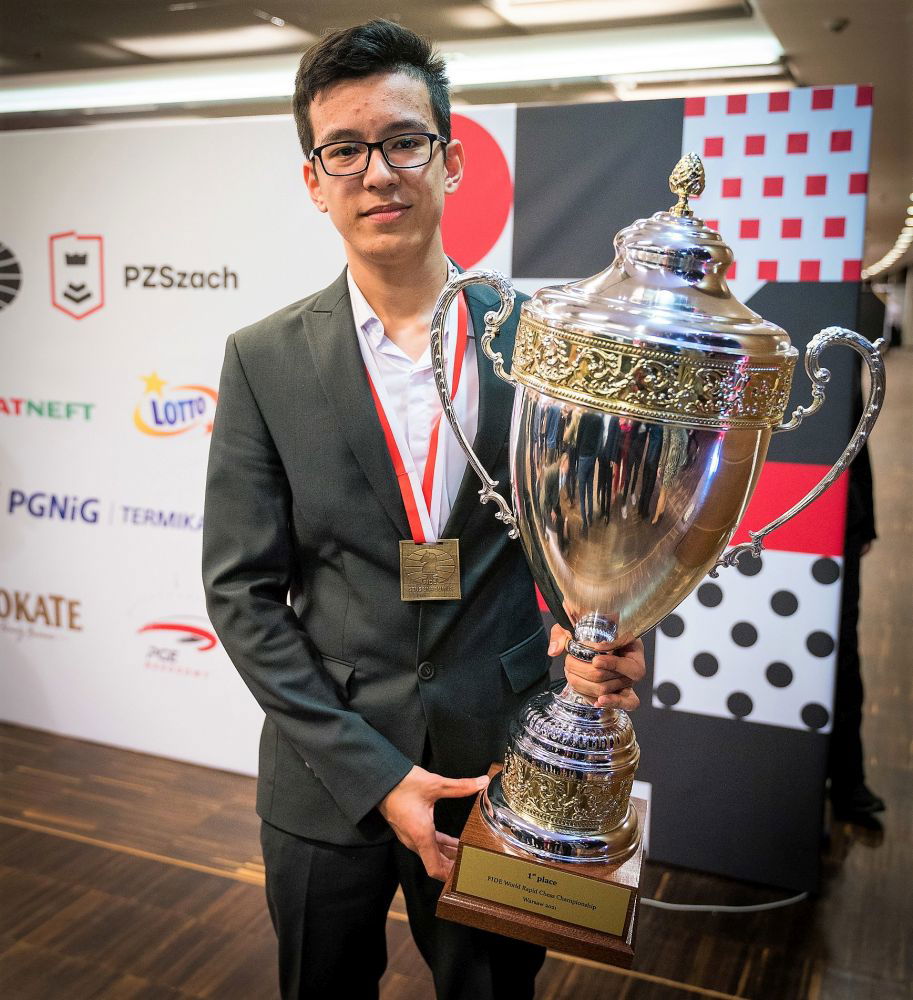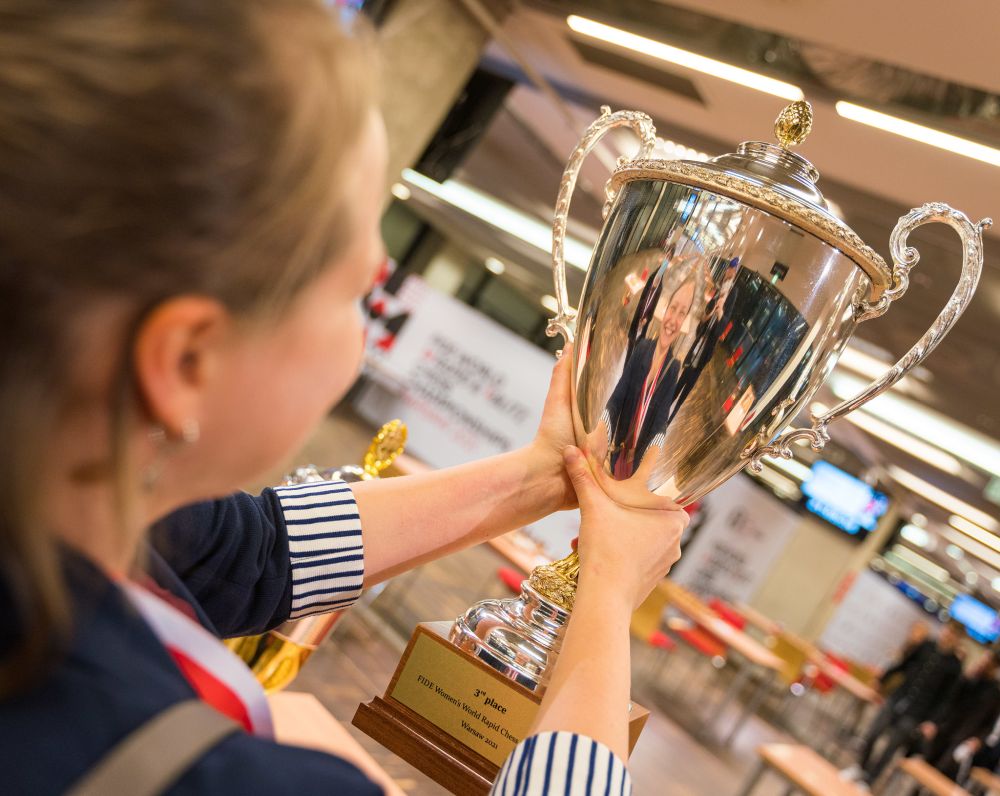 Video Gallery
Replay Blitz Open Round 13-21 and Playoff games
Replay Blitz Women Round 10-17 games
Final standings in Blitz Open
| | | | | | | | | | | | |
| --- | --- | --- | --- | --- | --- | --- | --- | --- | --- | --- | --- |
| Rk. | SNo | | | Name | FED | Rtg | Pts. | TB1 | TB2 | TB3 | TB4 |
| 1 | 8 | | GM | Vachier-Lagrave Maxime | FRA | 2787 | 15,0 | 244,0 | 251,5 | 2660 | 0,0 |
| 2 | 6 | | GM | Duda Jan-Krzysztof | POL | 2792 | 15,0 | 242,0 | 249,5 | 2640 | 0,0 |
| 3 | 4 | | GM | Firouzja Alireza | FRA | 2810 | 15,0 | 237,0 | 245,5 | 2609 | 0,0 |
| 4 | 14 | | GM | Dubov Daniil | CFR | 2749 | 14,5 | 253,5 | 262,0 | 2670 | 0,0 |
| 5 | 15 | | GM | Aronian Levon | USA | 2740 | 14,0 | 256,0 | 264,5 | 2682 | 0,0 |
| 6 | 12 | | GM | Mamedyarov Shakhriyar | AZE | 2754 | 14,0 | 249,5 | 258,5 | 2640 | 0,0 |
| 7 | 3 | | GM | Artemiev Vladislav | CFR | 2830 | 14,0 | 245,0 | 253,5 | 2646 | 0,0 |
| 8 | 133 | | GM | Sindarov Javokhir | UZB | 2452 | 13,5 | 259,0 | 269,5 | 2689 | 0,0 |
| 9 | 22 | | GM | Fedoseev Vladimir | CFR | 2690 | 13,5 | 258,5 | 267,0 | 2674 | 0,0 |
| 10 | 76 | | GM | Oparin Grigoriy | CFR | 2580 | 13,5 | 256,0 | 266,0 | 2678 | 0,0 |
| 11 | 19 | | GM | Martirosyan Haik M. | ARM | 2707 | 13,5 | 252,5 | 262,0 | 2659 | 0,0 |
| 12 | 1 | | GM | Carlsen Magnus | NOR | 2892 | 13,5 | 252,0 | 262,5 | 2664 | 0,0 |
| 13 | 47 | | GM | Kravtsiv Martyn | UKR | 2638 | 13,5 | 250,5 | 258,5 | 2641 | 0,0 |
| 14 | 11 | | GM | Grischuk Alexander | CFR | 2757 | 13,5 | 248,5 | 257,0 | 2665 | 0,0 |
| 15 | 105 | | GM | Kobalia Mikhail | CFR | 2532 | 13,5 | 247,5 | 257,5 | 2677 | 0,0 |
| 16 | 9 | | GM | Giri Anish | NED | 2778 | 13,5 | 247,5 | 256,5 | 2651 | 0,0 |
| 17 | 30 | | GM | Alekseenko Kirill | CFR | 2663 | 13,0 | 247,0 | 257,0 | 2619 | 0,0 |
| 18 | 52 | | GM | Vidit Santosh Gujrathi | IND | 2628 | 13,0 | 238,5 | 247,0 | 2594 | 0,0 |
| 19 | 20 | | GM | Nihal Sarin | IND | 2705 | 13,0 | 236,0 | 244,0 | 2584 | 0,0 |
| 20 | 28 | | GM | Sarana Alexey | CFR | 2672 | 13,0 | 234,5 | 243,5 | 2576 | 0,0 |
| 21 | 26 | | GM | Mamedov Rauf | AZE | 2686 | 13,0 | 225,0 | 233,5 | 2569 | 0,0 |
| 22 | 45 | | GM | Dreev Aleksey | CFR | 2641 | 13,0 | 225,0 | 233,5 | 2549 | 0,0 |
| 23 | 33 | | GM | Quparadze Giga | GEO | 2658 | 13,0 | 223,0 | 231,5 | 2548 | 0,0 |
| 24 | 10 | | GM | Erigaisi Arjun | IND | 2765 | 12,5 | 252,0 | 260,0 | 2664 | 0,0 |
| 25 | 7 | | GM | Nepomniachtchi Ian | CFR | 2792 | 12,5 | 249,0 | 258,0 | 2658 | 0,0 |
Final standings in Blitz Women
| | | | | | | | | | | | |
| --- | --- | --- | --- | --- | --- | --- | --- | --- | --- | --- | --- |
| Rk. | SNo | | | Name | FED | Rtg | Pts. | TB1 | TB2 | TB3 | TB4 |
| 1 | 29 | | IM | Assaubayeva Bibisara | KAZ | 2285 | 14,0 | 170,0 | 177,5 | 2328 | 0,0 |
| 2 | 5 | | GM | Kosteniuk Alexandra | CFR | 2475 | 12,5 | 157,5 | 164,5 | 2274 | 0,0 |
| 3 | 6 | | GM | Gunina Valentina | CFR | 2452 | 12,0 | 173,0 | 181,5 | 2332 | 0,0 |
| 4 | 24 | | IM | Shuvalova Polina | CFR | 2306 | 12,0 | 167,5 | 174,0 | 2271 | 0,0 |
| 5 | 3 | | GM | Koneru Humpy | IND | 2483 | 11,5 | 168,5 | 176,0 | 2326 | 0,0 |
| 6 | 43 | | IM | Buksa Nataliya | UKR | 2199 | 11,5 | 167,5 | 173,5 | 2329 | 0,0 |
| 7 | 11 | | GM | Dzagnidze Nana | GEO | 2394 | 11,5 | 156,5 | 164,0 | 2193 | 0,0 |
| 8 | 7 | | GM | Goryachkina Aleksandra | CFR | 2441 | 11,0 | 166,5 | 174,0 | 2298 | 0,0 |
| 9 | 2 | | GM | Muzychuk Anna | UKR | 2509 | 11,0 | 161,0 | 168,5 | 2274 | 0,0 |
| 10 | 1 | | GM | Lagno Kateryna | CFR | 2592 | 11,0 | 156,5 | 163,0 | 2274 | 0,0 |
| 11 | 4 | | GM | Stefanova Antoaneta | BUL | 2477 | 11,0 | 152,0 | 158,0 | 2230 | 0,0 |
| 12 | 9 | | IM | Paehtz Elisabeth | GER | 2412 | 11,0 | 148,5 | 155,5 | 2234 | 0,0 |
| 13 | 36 | | GM | Girya Olga | CFR | 2262 | 11,0 | 144,5 | 150,5 | 2183 | 0,0 |
| 14 | 21 | | IM | Vaishali R | IND | 2313 | 10,5 | 168,5 | 174,5 | 2307 | 0,0 |
| 15 | 38 | | WGM | Mamedjarova Zeinab | AZE | 2250 | 10,5 | 155,5 | 162,0 | 2263 | 0,0 |
| 16 | 26 | | IM | Gaponenko Inna | UKR | 2292 | 10,5 | 149,0 | 156,0 | 2217 | 0,0 |
| 17 | 10 | | IM | Bodnaruk Anastasia | CFR | 2406 | 10,5 | 147,0 | 154,0 | 2195 | 0,0 |
| 18 | 34 | | IM | Kulon Klaudia | POL | 2265 | 10,5 | 145,5 | 151,5 | 2206 | 0,0 |
| 19 | 14 | | IM | Zatonskih Anna | USA | 2371 | 10,5 | 144,0 | 150,5 | 2190 | 0,0 |
| 20 | 12 | | GM | Abdumalik Zhansaya | KAZ | 2380 | 10,0 | 170,0 | 174,5 | 2281 | 0,0 |
Replay the Live Stream
Links
Tournament Regulations: Open and Women
---