Vidit Gujrathi is the top Indian performer at World Blitz 2021
India no.2 Vidit Gujrathi and currently India no.4 Nihal Sarin, both of them scored 13.0/21 at World Blitz 2021. They were placed 18th and 19th according to tie-breaks. However, it was Arjun Erigaisi who was India no.1 in Blitz, went to the tournament with a lot of expectations on his shoulder and he did not disappoint. He might have scored 12.5/21 and secured 24th place, if you take a look at the opponents he faced and how he fared, that will give you a real picture of what he went through. Gukesh finished 32nd place 12.5/21. In the Open section, India got three places in top 30 and four in top 50, which is quite impressive. Among the women, GM Koneru Humpy secured fifth place and IM Vaishali R was placed 14th. Photo: Anna Shtourman/FIDE
Arjun Erigaisi lives up to all expectations and more
Points table may tell you a different story, however, it is clear that Arjun Erigaisi had a fantastic debut at the World Blitz 2021. It might be his first time at the World Blitz, however he has already played against world's best players in summer 2021, starting from Goldmoney Asian Rapid of Meltwater Champions Chess Tour. At World Blitz 2021, he drew with Magnus Carlsen, Levon Aronian, Daniil Dubov and Ian Nepomniachtchi. Only three consecutive losses against Vachier-Lagrave, Firouzja and Kravtsiv hurt his final ranking but one certainly cannot take away anything from the fact that he faced the world's best and managed to hold his own.
Vidit Gujrathi 13.0/21
Vidit's highlight of the first day at World Blitz was certainly his win against the eventual champion, Maxime Vachier-Lagrave in Round 4. He started the second day scoring 1.5/2, before suffering two consecutive losses. Then he scored 4.0/5 in the next five games including a nice victory against Anton Korobov (UKR) in Round 17 which had an unusual funny ending, not on the board but off it.
Replay Vidit's games
Nihal Sarin 13.0/21
Nihal started the second day with two losses, then he scored 5.5/7. He defeated bullet specialist, Andrew Tang (USA) on time, in a completely lost position. However, the best would have to be against Netherlands no.2 Jorden van Foreest in Round 18.
Nihal - Jorden, Round 18
Black needed to play 24...Qg5 first before playing Rh8. Can you find out the subtle difference between the move order?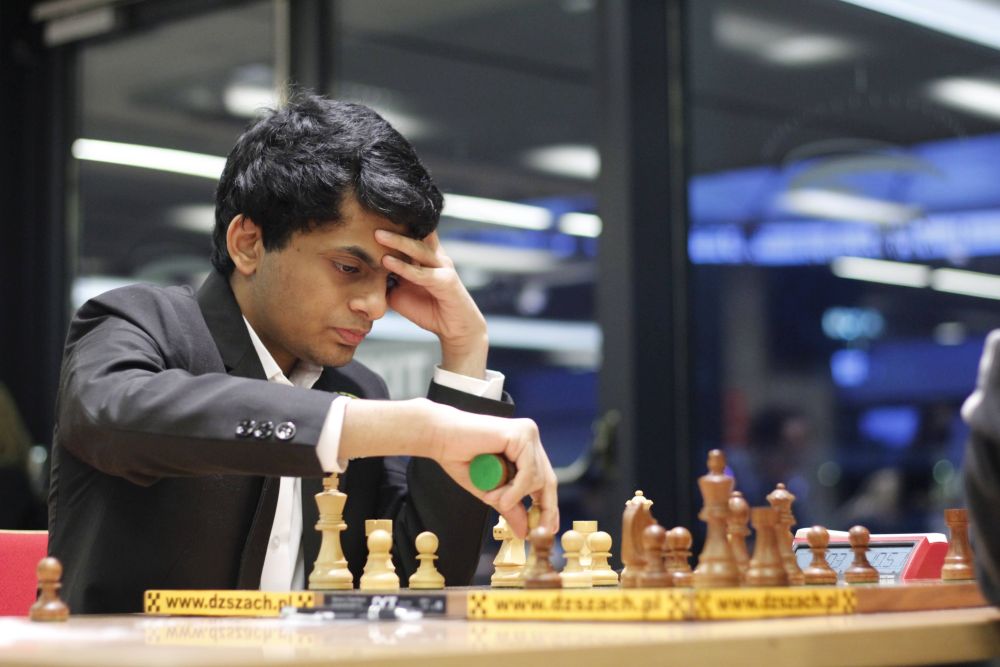 Replay Nihal's games
Arjun Erigaisi 12.5/21
Arjun Erigaisi had a brilliant start on the second day. He beat Javokhir Sindarov (UZB), drew with Levon Aronian (USA), then beat Parham Maghsoodloo (IRI), drew with Daniil Dubov (RUS) and Ian Nepomniachtchi (RUS), before losing the next three round against Maxime Vachier-Lagrave (FRA), Alireza Firouzja (FRA) and Martyn Kravtsiv (UKR). Until those three losses, Arjun was 11.5/16, just 1.5 points behind the leader Aronian. Arjun managed to save a tough position against Aronian.
Aronian - Arjun, Round 14
Black's position looks incredibly difficult. 30...Nfd7 is the correct way for Black to proceed. However, the game continued 30...f6 and Arjun eventually managed to salvage a draw.
Replay Arjun Erigaisi's games
Gukesh finished with the same score as Arjun Erigaisi 12.5/21, he was placed 32nd according to the tie-breaks. He started the second day with a score of 3.5/4, includin wins over Sanan Sjugirov (RUS), Salem Saleh (UAE) and Rauf Mamedov, drew with Ivan Cheparinov (BUL), pictured above.
Sjugirov - Gukesh, Round 13
Gukesh persevered a difficult position and ended with a very pretty 58...Nh6#.
Replay Gukesh's games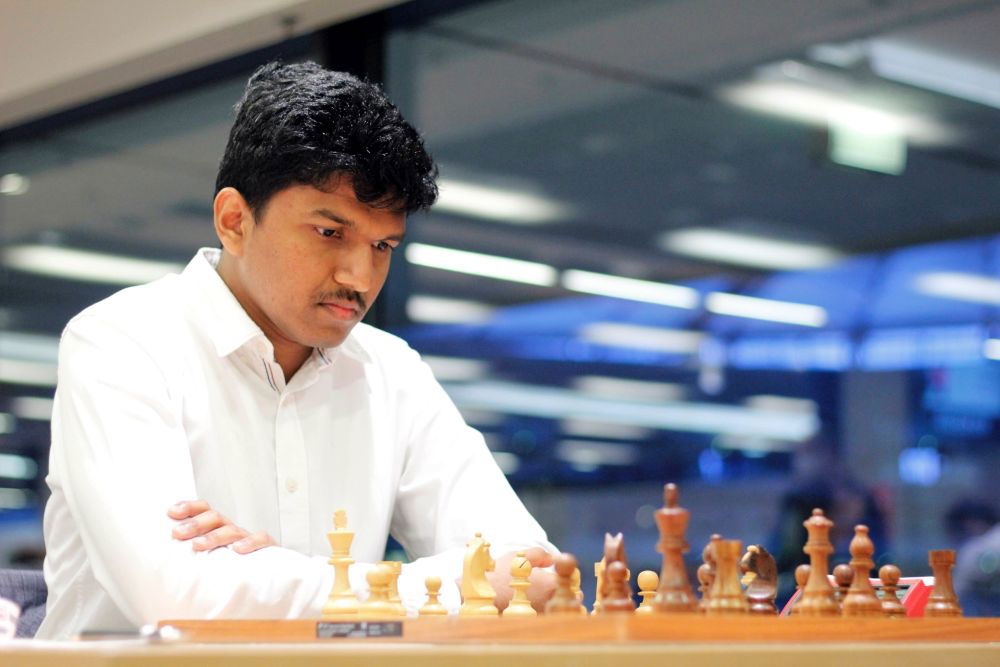 Harsha had a tough second day, as he scored 4.5/9 and suffered four losses including one against Caruana from a promising position. The notable wins are against GM Radoslaw Wojtaszek (POL) and GM David Anton Guijarro (ESP). He defeated Anton using Bird's opening. Yes the opening does not make a huge difference, however trying something new at a tough tournament takes a lot of courage which Harsha showed.
Harsha - Wojtaszek, Round 13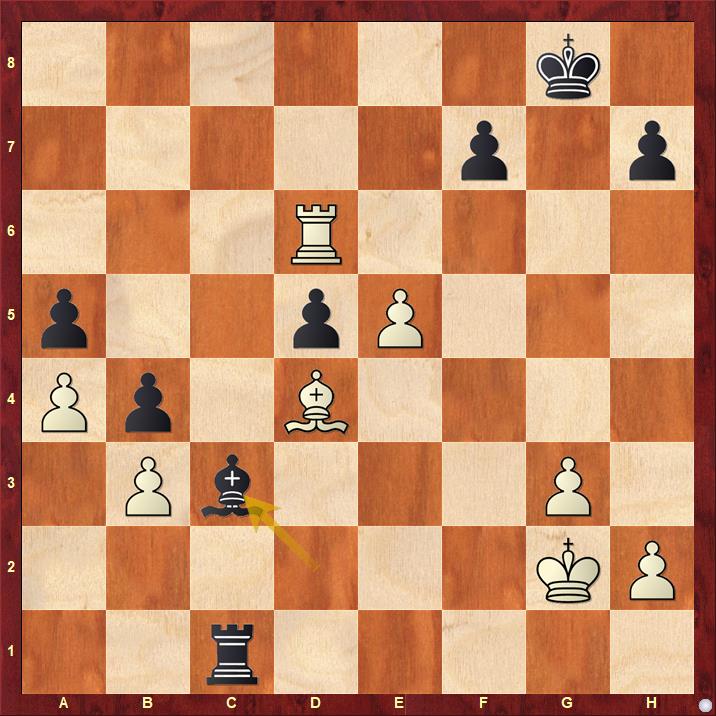 A couple of moves ago, 32...Rc3 was winning for Black and now 35...Bc3 is completely winning for White. Find out why it is winning for White in the above position.
Harsha - Caruana, Round 15
Both sides are trying to launch an attack on both wings. White continued 30.h5 a4 31.h6 g6 and so on. However, there was a way for White to speed things up. Find out what it was. Had Harsha won this game, he might have been top Indian finisher at the World Blitz event for the second consecutive edition.
Replay Harsha's games
Replay Harikrishna's games
Replay Raunak's games
Replay Mitrabha's games
Replay Narayanan's games
Replay Abhimanyu's games
Replay Aditya Mittal's games
Replay Sankalp's games
Koneru Humpy 11.5/17
Humpy needed a win in the last round for a medal. However, the loss against IM Polina Shuvalova (RUS) cost her a podium finish. Humpy started the day with a win against Kosteniuk in Round 10. However, a loss against the eventual champion, IM Bibisara Assaubayeva in Round 11, diminished her championship hopes, as the gap increased to two points.
Replay Humpy's games
Vaishali R 10.5/17
IM Vaishali R started the day with a loss against IM Bibisara Assaubayeva (KAZ). She bounced back strong by beating GM Aleksandra Goryachkina (RUS) in the next round. After another loss, she defeated former World Rapid and Blitz Women champion, GM Anna Muzychuk (UKR). Then she lost the next two games against Humpy and Kosteniuk, thus she was out of a medal chance.
Replay Vaishali's games
Replay Vantika's games
Replay Padmini's games
Final standings of all Indian players at World Blitz 2021
| | | | | | | | | | | | | | | | | | | | | | | | | | | | | |
| --- | --- | --- | --- | --- | --- | --- | --- | --- | --- | --- | --- | --- | --- | --- | --- | --- | --- | --- | --- | --- | --- | --- | --- | --- | --- | --- | --- | --- |
| SNo | | Name | Rtg | FED | 1 | 2 | 3 | 4 | 5 | 6 | 7 | 8 | 9 | 10 | 11 | 12 | 13 | 14 | 15 | 16 | 17 | 18 | 19 | 20 | 21 | Pts. | Rk. | Group |
| 10 | GM | Erigaisi Arjun | 2765 | IND | ½ | 1 | 1 | 0 | 1 | 1 | ½ | 1 | ½ | ½ | 1 | ½ | 1 | ½ | 1 | ½ | ½ | 0 | 0 | 0 | ½ | 12,5 | 24 | Open |
| 20 | GM | Nihal Sarin | 2705 | IND | 1 | ½ | 0 | 1 | ½ | 1 | ½ | 1 | 0 | ½ | 1 | ½ | 0 | 0 | 1 | ½ | 1 | 1 | ½ | 1 | ½ | 13,0 | 19 | Open |
| 52 | GM | Vidit Santosh Gujrathi | 2628 | IND | 1 | ½ | 1 | 1 | 0 | 1 | 0 | 0 | ½ | 1 | 1 | ½ | ½ | 1 | 0 | 0 | 1 | ½ | 1 | ½ | 1 | 13,0 | 18 | Open |
| 57 | GM | Harikrishna Pentala | 2614 | IND | 0 | 1 | ½ | 1 | 1 | ½ | ½ | 0 | ½ | ½ | ½ | 1 | ½ | ½ | 0 | 1 | 0 | ½ | ½ | ½ | 0 | 10,5 | 84 | Open |
| 79 | GM | Harsha Bharathakoti | 2576 | IND | 1 | 0 | 1 | 1 | 0 | ½ | 1 | ½ | 0 | 1 | ½ | 0 | 1 | 0 | 0 | 1 | 1 | ½ | 1 | 0 | 0 | 11,0 | 68 | Open |
| 85 | GM | Narayanan.S.L | 2570 | IND | 1 | 0 | 1 | 0 | ½ | 0 | ½ | 0 | 1 | 1 | 0 | ½ | ½ | 1 | 0 | ½ | 0 | 0 | 1 | 1 | ½ | 10,0 | 112 | Open |
| 88 | GM | Sadhwani Raunak | 2562 | IND | 0 | ½ | 1 | 1 | ½ | 1 | 0 | 0 | 1 | 1 | 0 | 0 | 1 | 0 | 1 | 0 | 1 | ½ | 1 | 0 | 0 | 10,5 | 86 | Open |
| 119 | GM | Gukesh D | 2506 | IND | 0 | 1 | 0 | 1 | 0 | 0 | 0 | 1 | 1 | 1 | ½ | 1 | 1 | 1 | ½ | 1 | 0 | 1 | 1 | ½ | 0 | 12,5 | 32 | Open |
| 138 | GM | Puranik Abhimanyu | 2437 | IND | 1 | 1 | 1 | ½ | 1 | 0 | 1 | 0 | ½ | 0 | 0 | ½ | 0 | 0 | 1 | ½ | 0 | 1 | 0 | 0 | 0 | 9,0 | 131 | Open |
| 154 | IM | Mitrabha Guha | 2370 | IND | ½ | 0 | 1 | ½ | ½ | ½ | 1 | 0 | 1 | 0 | 0 | 1 | 0 | 0 | 1 | ½ | 1 | 0 | 1 | 0 | 1 | 10,5 | 89 | Open |
| 163 | IM | Sankalp Gupta | 2323 | IND | 0 | 1 | ½ | 0 | ½ | 1 | 1 | 0 | ½ | 0 | 0 | 1 | 1 | ½ | 0 | 0 | 0 | 0 | ½ | 0 | 1 | 8,5 | 150 | Open |
| 169 | IM | Aditya Mittal | 2245 | IND | 1 | 0 | ½ | 0 | 0 | 0 | 0 | 0 | 1 | 0 | 0 | 1 | 1 | ½ | 0 | 0 | 1 | 1 | 0 | 1 | 1 | 9,0 | 141 | Open |
| 3 | GM | Koneru Humpy | 2483 | IND | 1 | 1 | 0 | 1 | 1 | ½ | ½ | 1 | 1 | 1 | 0 | 1 | 0 | 1 | ½ | 1 | 0 | | | | | 11,5 | 5 | Women |
| 21 | IM | Vaishali R | 2313 | IND | 1 | 1 | ½ | 1 | 0 | 1 | 1 | 1 | 1 | 0 | 1 | 0 | 1 | 0 | 0 | 1 | 0 | | | | | 10,5 | 14 | Women |
| 31 | IM | Padmini Rout | 2276 | IND | 1 | 0 | 1 | 0 | 0 | ½ | 1 | 0 | 1 | 0 | 1 | 1 | 0 | 1 | 1 | 0 | 0 | | | | | 8,5 | 55 | Women |
| 86 | WGM | Vantika Agrawal | 1917 | IND | 1 | 1 | 1 | 0 | 1 | ½ | 0 | ½ | 0 | 0 | 1 | 1 | 0 | 0 | 1 | ½ | 1 | | | | | 9,5 | 30 | Women |
Links
Tournament Regulations: Open and Women
---