Julius Baer CCT Finals: Praggnanandhaa dominates Keymer to reach the Finals
by Shahid Ahmed - 17/10/2021
Vincent Keymer might have been the favorite as he won more number of events in the tour, however Praggnanandhaa showed who is the better player as Keymer lost to him 0.5-2.5 in the Semifinals of Julius Baer Challengers Chess Tour Finals. Pragg once again did not give any chance to his opponent as he was completely solid in all three games. He was winning the third game too but decided to draw as it was enough to secure his place in the Finals. GM Awonder Liang could not recover from his first round loss as he lost the next two also against IM Christopher Yoo who is known to have a GM strength. Pragg-Yoo Finals will start today at 7:30 p.m. IST. Photo: Rupali Mullick
Yoo overpowers Liang
IM Christopher Yoo defeated countryman GM Awonder Liang in all three games to secure his spot in the Finals.
Keymer - Praggnanandhaa: 0.5-2.5
Praggnanandhaa scored an emphatic victory in the first game after Keymer made a strange decision in the endgame.
Keymer - Praggnanandhaa, Game 1
White needed to play 27.bxa5 to make sure things do not go out of hand. 27.Bh5 was a phantom threat as nothing is happening on f7. After 27...axb4 28.axb4 Rd4 29.Rb1 Bd5 30.b5 c5 31.b6+ Kc6 Black gained complete advantage.
Praggnanandhaa once again played endgame beautifully in the second game against Keymer.
Praggnanandhaa - Keymer, Game 2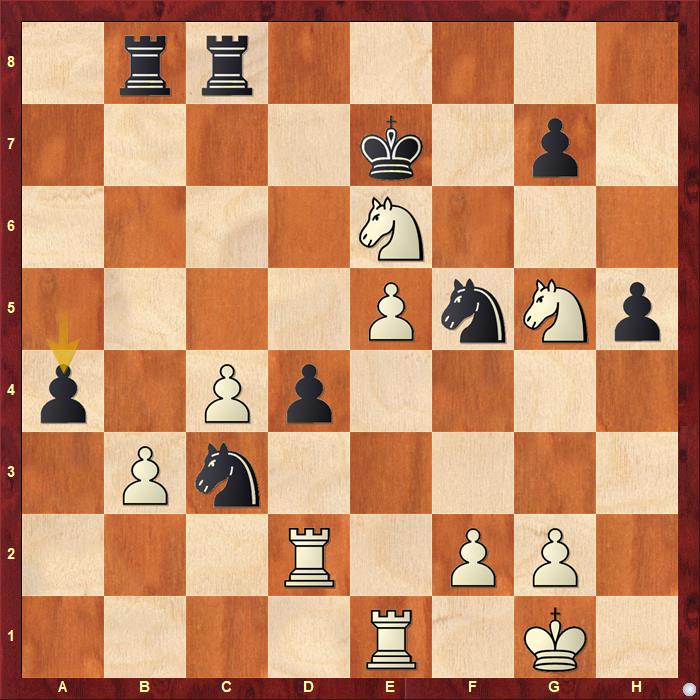 31...Rxb3 would have kept things balanced for Black. 31...a4 exchange only helps White as Black has no more threats left and White's knights are relatively better placed and menacing. A couple of more inaccuracies later, Keymer arrived at a completely lost position. Pragg gained a 0-2 lead.
Being in a must-win situation, Keymer tried too hard and arrived at a lost position in the final moments of the double rook endgame. Praggnanandhaa decided to repeat moves and make a draw as it was enough for him to win the Semifinals and advance to the Finals.
Replay all games of Semifinals
Replay the live stream
Brackets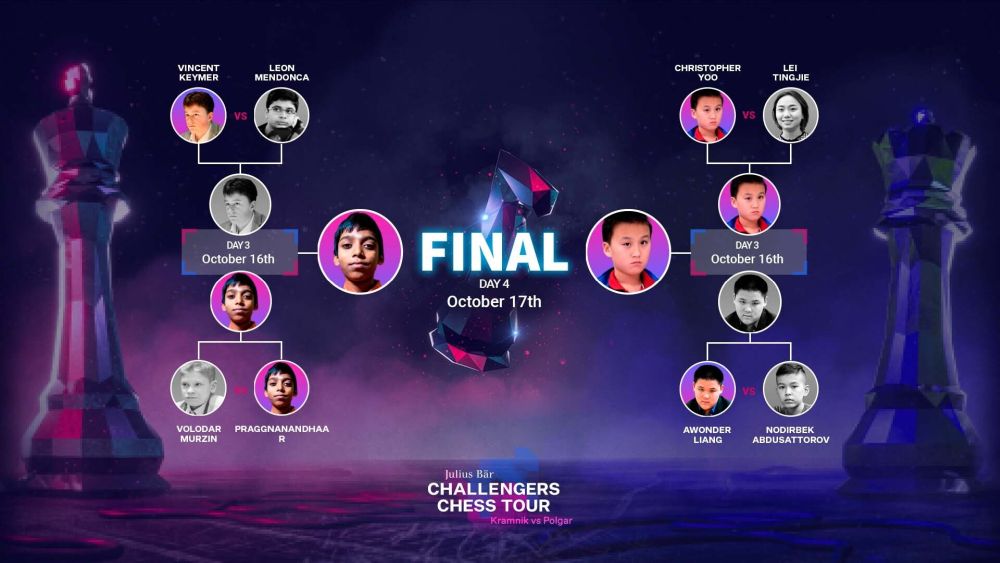 Schedule
Every day between 14th and 17th October, game starts at 7:30 p.m. IST.
Format
The format for the final eight-player knockout will be four rapid games with 10 minutes per player for each game, plus a 5-second increment added each move. If the score is level at 2:2 a playoff will feature two 5+3 blitz games. If needed, there will be Armageddon to decide the winner of the match.
Links
---
Related news
:
Praggnanandhaa wins Julius Baer Challenger Championship

@ 14/12/2022 by Shahid Ahmed (en)
Julius Baer Challenger Championship: Praggnanandhaa takes 2-0 lead

@ 13/12/2022 by Shahid Ahmed (en)
Julius Baer Challenger Championship: Praggnanandhaa wins Match 1

@ 12/12/2022 by Shahid Ahmed (en)
Astounding Pranav Venkatesh wins Challengers Final Four and Challengers Chess Tour 2022

@ 31/10/2022 by Shahid Ahmed (en)
Invincible Pranav Venkatesh wins Magnus Academy Challenge 2022, Bharath Subramaniyam third

@ 10/10/2022 by Shahid Ahmed (en)
Magnus Academy Challenge 2022 R1-8: Pranav, Ilamparthi and Bharath in a four-way lead

@ 09/10/2022 by Shahid Ahmed (en)
Five Indian juniors will feature in Magnus Chess Academy Challenge starting today

@ 08/10/2022 by Shahid Ahmed (en)
Raunak Sadhwani second at Julius Baer Challenge 2022, advances to the Tour Finals

@ 05/09/2022 by Shahid Ahmed (en)
Julius Baer Challenge 2022 R1-7: Prraneeth and Leon make an unbeaten start

@ 04/09/2022 by Shahid Ahmed (en)
Six Indian juniors will feature in Julius Baer Challenge starting today

@ 03/09/2022 by Shahid Ahmed (en)
भारत के प्रग्गानंधा नें जीता चैलेंजर चैस टूर का खिताब

@ 18/10/2021 by Niklesh Jain (hi)
Praggnanandhaa wins Julius Baer Challengers Chess Tour Finals

@ 18/10/2021 by Shahid Ahmed (en)
Julius Baer CCT Finals: Vincent Keymer eliminates Leon Mendonca in tie-breaks

@ 16/10/2021 by Shahid Ahmed (en)
Julius Baer CCT Finals: Praggnanandhaa storms into Semifinals

@ 15/10/2021 by Shahid Ahmed (en)
Challengers Chess Tour Finals featuring Leon and Praggnanandhaa starts today

@ 14/10/2021 by Shahid Ahmed (en)
Vincent Keymer wins Hou Yifan Challenge

@ 22/09/2021 by Shahid Ahmed (en)
Hou Yifan Challenge Day 3: Leon does a rare mate with two knights

@ 21/09/2021 by Shahid Ahmed (en)
जूलियस बेर टूर - प्रग्गानंधा नें जीते लगातार 9 मुक़ाबले

@ 20/09/2021 by Niklesh Jain (hi)
Hou Yifan Challenge Day 2: Praggnanandhaa stays perfect 9.0/9

@ 20/09/2021 by Shahid Ahmed (en)
Hou Yifan Challenge Day 1: Praggnanandhaa makes a blazing start 5.0/5

@ 19/09/2021 by Shahid Ahmed (en)
Aditya Mittal and Vaishali make their tour debuts in Hou Yifan Challenge

@ 18/09/2021 by Shahid Ahmed (en)
Vincent Keymer wins Kramnik Challenge

@ 16/08/2021 by Shahid Ahmed (en)
Kramnik Challenge Day 3: Liang remains at the top

@ 15/08/2021 by Shahid Ahmed (en)
Kramnik Challenge Day 2: Abdusattorov remains unbeaten

@ 14/08/2021 by Shahid Ahmed (en)
Kramnik Challenge Day 1: Tough start for Leon

@ 13/08/2021 by Shahid Ahmed (en)
Leon Mendonca stars in Kramnik Challenge starting today

@ 12/08/2021 by Shahid Ahmed (en)
Gukesh bests Pragg and wins Gelfand Challenge

@ 14/06/2021 by Shahid Ahmed (en)
Gelfand Challenge Day 3: Keymer takes sole lead, Praggnanandhaa still in the hunt

@ 13/06/2021 by Shahid Ahmed (en)
Gelfand Challenge Day 2: Praggnanandhaa makes a brilliant comeback and joins the lead 8.0/10

@ 12/06/2021 by Shahid Ahmed (en)
Gelfand Challenge Day 1: Awonder Liang makes a perfect start 5.0/5

@ 11/06/2021 by Shahid Ahmed (en)
Nihal, Praggnanandhaa, Gukesh and Leon will battle in the Gelfand Challenge

@ 10/06/2021 by Shahid Ahmed (en)
Nihal Sarin beats Magnus Carlsen clean

@ 21/04/2021 by Shahid Ahmed (en)
Praggnanandhaa dominates Julius Baer Challengers Chess Tour Polgar Challenge

@ 12/04/2021 by Shahid Ahmed (en)
Can Praggnanandhaa win the Polgar Challenge?

@ 11/04/2021 by Shahid Ahmed (en)
Polgar Challenge Day 2: Praggnanandhaa takes sole lead 8.5/10

@ 10/04/2021 by Shahid Ahmed (en)
Polgar Challenge Day 1: Praggnanandhaa, Yoo and Abdusattorov share the lead 4.0/5

@ 09/04/2021 by Shahid Ahmed (en)
जूलियस बेर टूर - निहाल, प्रग्गा ,गुकेश और लियॉन खेलेंगे , जूडिथ और क्रामनिक की टीम में होगा मुक़ाबला

@ 06/04/2021 by Niklesh Jain (hi)
Nihal, Praggnanandhaa, Gukesh and Leon will feature in Julius Baer Challengers Chess Tour

@ 06/04/2021 by Shahid Ahmed (en)